YBN University is located in Ranchi, Jharkhand, India. The main campus is situated in Namkum. YBN is the leading education group in India, with large numbers of students studying across the country; it expanded over 57 acres of its Campus.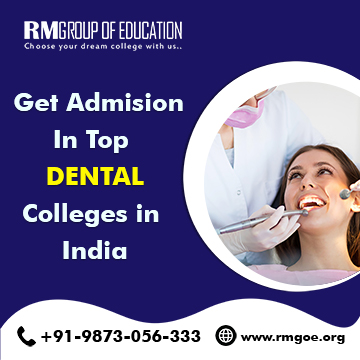 In the article, we will share all the essential details about YBN University Ranchi, like Facilities, Courses, Admission Guidance, Fee Structure, How to Apply, Eligibility, Cutoff, Result, Counselling, Contact Details etc.
Subscribe to RM Group of Education Newsletter, Get Admission, Fees, Seats etc.
Table of Contents
YBN University Ranchi
The University was established in 2017 and is affiliated with NCTE, PCI, INC, and UGC. YBN University offers students from around the world the ability to tailor their studies to meet their needs and, at the same time, connect closely with industry and professional communities.
College Summary
Before we complete the college review, let us look at the essential details of YBN University Ranchi.
| | |
| --- | --- |
| College Name | YBN University Ranchi |
| Location | Ranchi, Jharkhand, India |
| Establishment | 2017 |
| Institution Type | Private |
| Affiliation | UGC, PCI, INC, NCTE |
| Counselling Conducted Authority | Jharkhand Combined Entrance Competitive Examination Board (JCECEB) |
| Courses Offered | Diploma in Dental Lab Assistant |
| Hostel Facilities | Yes |
| Category | Dental College in Jharkhand |
Affiliation, Recognition, and Achievement
Affiliated with: UGC, PCI, INC, NCTE
Aid Status: Private
Environment: Ragging-free
Student Support
Anti Ragging
Counselling Services
Healthcare Services
Hostel(Male and Female)
Query
Report
Technical Issues
Facilities
| | |
| --- | --- |
| Excellent Library | A Satellite Centre |
| Yeoman Service | A highly sophisticated ceramic and casting lab with imported equipment |
| Sophisticated equipment and machinery to start Post Graduation Courses | Ragging & Tobacco-Free Campus |
Courses Offered
YBN University Ranchi offers quality dental programs under the supervision of highly qualified faculty and state-of-the-art infrastructure.
| | |
| --- | --- |
| UG Courses | Duration |
| Diploma in Dental Lab Assistant | 2 Years |
Intake Capacity
Note: The intake may be subject to change.
BDS Syllabus
Here in this selection, we will let you know about YBN University Ranchi BDS Syllabus. Let's have a look.
Semester
Subjects Covered
One year
>General Anatomy, including Embryology and Histology
>General Human Physiology and Biochemistry
>Dental Anatomy, Embryology and Oral Histology
Two years
>General Pathology and Microbiology
>General and Dental Pharmacology and Therapeutics
>Dental Materials
>Pre-Clinical Conservative Dentistry
>Pre-Clinical Prosthodontics & Crown & Bridge
Three years
>General Medicine
>General Surgery
>Oral Pathology and Oral Microbiology
Four years
>Oral Medicine and Radiology
>Paediatric and Preventive Dentistry
>Orthodontics and Dentofacial Orthopaedics
>Periodontology
>Prosthodontics and Crown and Bridge
>Conservative Dentistry and Endodontics
>Oral and Maxillofacial Surgery
>Public Health Dentistry
BDS Internship (Main aims of the Dental Internship)
Improve dental knowledge of intern.
Improve clinical skills.
Develop confidence in his/her skills and abilities. Improve communication skills.
Develop professionalism skills.
Develop scientific research skills.
Enhance community and volunteer dental projects.
Faculty & Staff
This College provides a good ratio of well-trained and highly educated faculty members equipped with modern technology. It also provides sufficient numbers of non-technical staff to provide an ambience of self-learning to the students. As faculty members of YBN University Ranchi, they are responsible for contributing to and sustaining the standards of medical education in the institution. All the faculty of the Campus comply with the relevant policies, which are given below:
Describe appropriate care based on the best available scientific evidence.
Reduce inappropriate variation in value-based practices
Provide more rational and practical behaviour towards the subject Taught.
Focussing more and more on continuing education
To promote efficient use of available resources
To act as the focus for quality control, including audit
To highlight shortcomings of existing literature and suggest appropriate future research
Admission Process
Admission to various Programmes at YBN University Ranchi is based on the candidate's performance in NEET. These valuable resources will benefit you if you apply for YBN University Ranchi. Let us have a look.
Fees Structure
The YBN University Ranchi fee structure for various courses is affordable and is mentioned below.
| | |
| --- | --- |
| Courses | Fees |
| Diploma in Dental Lab Assistant | 64,000/- |
Note: The fee structure may be subject to change.
Cutoff
The College Cut-off is the minimum marks prescribed by the selection board for the admission of students. A merit list will be designed on these Cutoff scores. Aspirants who apply for the Institute need to clear the Cutoff for various courses.
Aspirants are required to obtain minimum qualifying percentile marks in NEET 2022 entrance examination in order to qualify for further admission process.
Candidates who belong to SC/ ST/ OBC are required to obtain marks equivalent to at least 40thpercentile to be considered for AIQ and state counselling process.
Aspirants who belong to the UR category are required to score equivalent to at least 50thpercentile
NEET 2022 Percentile and Scores (Out)
This Section will provide you with the NEET 2022 Announced Cutoff for SC/ST/OBC. Let's check the NTA released Cutoff.
Category
NEET 2022 cutoff
NEET cut-off marks
UR/EWS
50th percentile
715-117
OBC/SC/ST
40th Percentile
116-93
UR / EWS &
PH
45th Percentile
116-105
OBC/SC/ST & PH
40th Percentile
104-93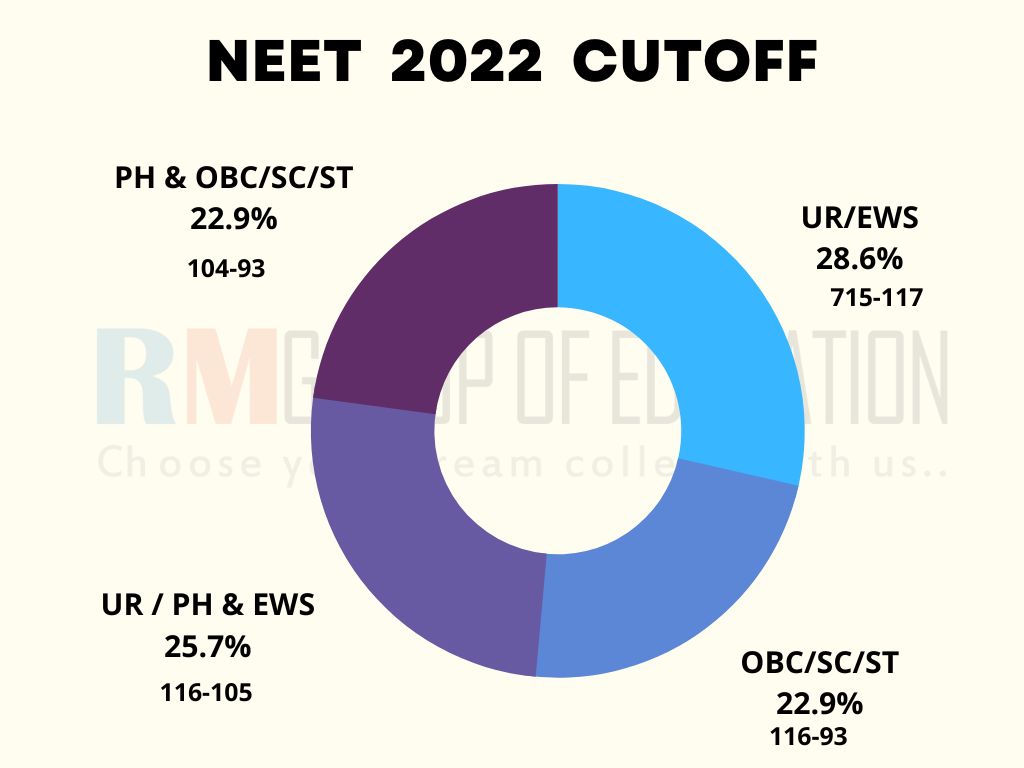 NEET 2021 & 2020 result qualifying percentile & scores (Released)
| | | | |
| --- | --- | --- | --- |
| Category | Qualifying Criteria | Cut-off marks 2021 | Cut-off marks 2020 |
| UR | 50th Percentile | 720-138 | 720-147 |
| OBC | 40th Percentile | 137-108 | 146-113 |
| SC | 40th Percentile | 137-108 | 146-113 |
| ST | 40th Percentile | 137-108 | 146-113 |
| UR / EWS & PH | 45th Percentile | 137-122 | 146-129 |
| OBC & PH | 40th Percentile | 121-108 | 128-113 |
| SC & PH | 40th Percentile | 121-108 | 128-113 |
| ST & PH | 40th Percentile | 121-108 | 128-113 |
Jharkhand NEET 2022 Counselling
THE Jharkhand NEET counselling 2022 applications process is expected to start in the 2nd week (tentatively). No official dates have been published about the counselling process by the MCC and JCECEB. The counselling will be conducted online, and candidates who wish to participate in it need to register on the official website of JCECEB. Jharkhand NEET 2022 Counselling information is mentioned in this PDF here.
Candidates must check the Jharkhand NEET merit list declared on the official website JCECEB.
Such candidates included in the merit list for Jharkhand NEET Counselling will have to report to the designated centre with essential documents for Jharkhand NEET counselling 2022.
Candidates will have first to get their documents verified at the allotted centre, following which they will have to select their choice or preference of college and course, considering their rank in the state merit list.
Those candidates who do not get any seat allotted for themselves in the first round of counselling for Jharkhand NEET will be eligible to participate in the subsequent rounds.
Documents Required
Candidates who will be allotted a seat in this college will be asked to report to complete the admission formalities with the following documents.
Admit Card
Scorecard or Rank Letter
Class 10 certificate and mark sheet (for date of birth)
Class 12 certificate and mark sheet
ID proof (Aadhar/PAN Card/Driving License/Passport)
Eight passport-size photographs
Provisional Allotment Letter
Caste Certificate (if applicable)
PwD Certificate (if applicable)
Ranking and Reputation
| | |
| --- | --- |
| Name of Institute | YBN University Ranchi |
| Reputation | Good |
| Education | Good |
| Faculty | Good |
| Infrastructure | Excellent |
Contact Details
YBN University Ranchi
Address: Power Grid Road Rajaulatu, Namkum, Ranchi, Jharkhand 834010
Official Website: https://www.ybnuniversity.in/
Frequently Asked Questions (FAQs)
Q. How many seats are there for dental aspirants in YBN University Ranchi?
A. The total intake of dental aspirants in Binod Bihari Mahto Koyalanchal University Department of Dental Sciences Dhanbad 60.
Q. Does YBN University Ranchi have a hostel?
A. Yes, YBN University Ranchi provides hostel facilities.
Q. How to get admission to YBN University Ranchi?
A. Students have to score good marks in the NEET exam to get admission to YBN University Ranchi.
Q. Can I know the exact location of the YBN University Ranchi?
A. Sardar Patel Nagar, Dhanbad, Jharkhand 826001
Q. Is YBN University Ranchi?
A YBN University Ranchi is Private.