BDS (Bachelor of Dental Surgery) is a 5-years undergraduate program and the only approved professional dental course in India. It is a compulsory course for students aspiring to work as dentists at government or private hospitals. BDS is one of the most popular medical courses after MBBS in India. The entrance exam is named National Eligibility cum Entrance Exam ( NEET ) and is held annually as a national-level exam. There is generally only one entrance exam conducted all over India.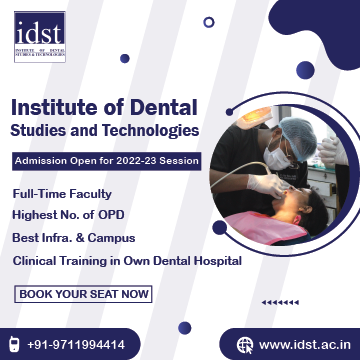 BDS mainly focuses on training and introducing students to the dental sciences and surgeries. The 5-year program involves 4 years of classroom education and 1 year of compulsory rotating internship. The subjects taught in the program include Dental Histology, Oral Pathology, Oral Surgery, etc. The degree is regulated by the Dental Council of India ( DCI ).
Subscribe to RM Group of Education Newsletter, Get Admission, Fees, Seats etc.
BDS Course Highlights
Course Full Name
Bachelor's Degree of Surgery (BDS)
Duration
Course Duration of Bachelor of Dental Science [BDS] is 5 Years.
Admission
1. The aspiring candidate must have passed the 10+2 qualifying exam or an equivalent degree with a minimum of 50% aggregate from a recognised institute.
2. They must have studied the subjects of Physics, Chemistry and Biology compulsorily in their 10+2.
3. In almost every college offering this course, the admissions are based on the result of NEET. The student must clear the exam's cut-off to be eligible for admission.
4. If the students qualify for the entrance, they need to appear for the counselling sessions organised by the colleges.
There are generally three rounds of counselling sessions held.
Age
The minimum age limit is 17 years
Educational Qualification
For admission to BDS courses, students must qualify for a 10+2 exam or an equivalent degree with at least 85% from a recognised institute.
Eligibility
After Qualifying NEET
Career Opportunities after BDS
After finishing five years of the BDS course, including four years of academics and a one-year internship, candidates look for opportunities in this field. BDS offers a bright career prospect to students due to the high demand for graduates in India and abroad in various medical and dental science domains. There are multiple avenues where BDS students can make careers at. In terms of career, this field is one of the most enticing, where graduates are paid a decent annual salary. The career options are broadly classified as follows. Learning about the different career options after B.D.S can help you decide the career path you would like to choose. This article discusses the top 14 career options you can pursue after a B.D.S. course. Here is a list of career options after B.D.S:
1. Master's degree in dental surgery
After completing your B.D.S. course, pursuing a Master of Dental Surgery (M.D.S.) can give you a more profound knowledge of the field. It is the highest educational degree in dentistry and can improve your chances of getting a job as a dentist in reputed institutions. You can enrol on a government or private college depending on your performance in the National Eligibility cum Entrance Test for the Masters of Dental Surgery (N.E.E.T. M.D.S.) entrance exam. You can choose your area of specialisation depending on your interests. Some specialisation options during M.D.S. are prosthodontics, orthodontics, operative dentistry and conservative dentistry.
2. Master's degree in public health
Once you have completed your B.D.S. course, pursuing a Master of Public Health (M.P.H.) can be a good idea if you want to study abroad. It is a two-year graduate-level degree focusing on public health and is a non-clinical role. Several colleges in Australia, the USA, the UK and European countries offer this course. As public health is becoming a priority, there are plenty of job opportunities in this field, and you can contribute to the general health and well-being of others. You can also continue your dental career after completing your M.P.H. degree.
3. Master's degree in business administration
Suppose you want to shift to a non-clinical or managerial role after completing your B.D.S. In that case, you can pursue a Master of Business Administration (M.B.A.) with a focus on hospital management or healthcare management. Due to the need for a good healthcare system in the country, there is a lot of scope in this field. M.B.A. after B.D.S. is a popular career choice among dentistry students. The standard entrance exams to get into an M.B.A. college are the Common Admission Test (CAT), Graduate Management Admission Test (GMAT) and Xavier Aptitude Test (XAT).
4. Lecturer
If you have previous experience as a dentist, becoming a lecturer can be a career path as several dental colleges look for dental faculty with previous experience. Depending on the college, the experience can be between three and five years. After completing five years as a professor and five years as a practitioner in a medical institution, you can even become the dean of a dental college. If you have just completed your B.D.S. course, you can get hired as a tutor or a demonstrator.
5. Clinical practice
After completing your B.D.S. course, you can start your clinic, work in a clinic associated with a hospital or work in private clinics. Starting your clinic can require a substantial investment initially, but once your practice begins, earnings can be high. Some other factors that you may consider are where you would set up your clinic, how to charge for your services and how to attract customers.
6. Overseas career as a dentist
Becoming a dentist overseas is also a career option after B.D.S. You can apply for an M.D.S. degree abroad or start your dental practice there. For this, the first step is to choose the country you want to work in and understand its eligibility criteria. Different countries have different standards for dentists. You may require to clear the National Board Dental Examination (NBDE) Part 1 and Part 2 exams first and then enrol into a dental college and earn a Doctor of Dental Surgery to practise in the US.
7. Government Career as a dentist
After completing your B.D.S., you can also apply for government jobs. There are many job openings for dentists in government hospitals or rural areas. You can even apply for non-clinical roles through several government entrance exams like Union Public Service Commission (UPSC), Staff Selection Commission (SSC), State Public Service Commission (SPSC), or work in public sector banks. But, if you would like to continue your career as a dentist and work for the government, there are several areas of employment like:
army dental corps
contractual dental officer in the navy or airforce
state government dental surgeon jobs
dental officers in the railways
8. Research
You can become a dental researcher as continuous research happens in areas like oral cancer, oral biology and others. With a B.D.S. degree, you can also become a clinical researcher where you investigate the efficiency of medicines, test healthcare devices and treatment procedures or help formulate new medicines. As a B.D.S. graduate, you can assume the role of a medical advisor, principal investigator or coinvestigator, drug developer, clinical research physician or regulatory affairs manager.
9. Dental cosmetology
With improving living standards, people are becoming conscious of their dental aesthetics, which has increased the scope for cosmetic dentists. Such medical professionals deal with enhancing the appearance of one's teeth and gums and correcting their bites. To become a cosmetic dentist, you may pursue an additional course in prosthodontics or orthodontics after your B.D.S. course or pursue an M.D.S. focusing on these two areas.
10. Dental blogging
While you can become a full-time blogger, you can pursue this career option alongside your full-time job. This can be an exciting career choice for those who are also passionate about writing and teaching others. You can create your website or a blog and start educating people about different areas in dentistry or help aspiring dentists. The scope of what you can share as a dental blogger is vast, and you can establish your presence on other social media channels.
11. Forensic dentistry
If you are interested in forensic science, forensic dentistry or forensic odontology can be an exciting career option after B.D.S., as you can help solve crimes. With a minimum of 55% in your B.D.S. course, you can enrol in some of the country's most well-reputed forensic science institutes. After B.D.S., you can pursue an M.S.c. in forensic odontology or an M.D.S. in forensic dentistry.
12. Medical Transcription
After completing your B.D.S. course, you can become a medical transcriptionist or a dental transcriptionist. As a general medical transcriptionist, familiarity with medical terminologies, good listening skills, typing skills and a good grasp of the language can help you do well at the job. For a career in dental transcription, knowing dental terminologies is essential. These transcriptionists convert oral dictations of doctors into reports, take consultation notes, create operative reports, and write discharge summaries and psychiatric evaluations.
13. Dental Consulting
Many hospitals look for dental consultants to improve their dentistry practices by guiding and training other dentists and enhancing their marketing and human resource practices. Having a B.D.S. degree and knowledge about hospital management can be an advantage.
14. Insurance
Several insurance companies offer dental insurance as one of their products and hire qualified dentists for research, claim reviews and even administrative tasks. Along with a B.D.S. degree, having a diploma in management or an MBA, in several cases, can help your resume get noticed by recruiters of esteemed insurance companies.