Pursuing MBBS in other countries is like a dream many young Indian aspirants behold. As agreed, medicine is known to be one of the noblest professions of all, and it is a prestigious pursuit to study it. Medical professionals are the most respected worldwide, especially when we are all living in. If, as a medical student, you are looking for the best country for MBBS or, more clearly, the best country for MBBS abroad, this might be the article for you. Read on as we have accumulated a list of the best places to study MBBS for Indian students. However, do keep in mind that our ranking is not in any particular order; we just have gathered all the top countries that are the best place to study MBBS abroad for you.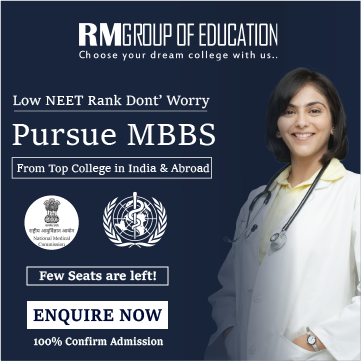 Before marching forward, you must know that every country has parameters for the medical students to practise medicine abroad for Indian students. Now, let's proceed. 
Subscribe to RM Group of Education Newsletter, Get Admission, Fees, Seats etc.
Study MBBS in the UK: The first one on our list of the best country to study MBBS for Indian students in Europe. The UK is one of the top countries for MBBS education. Looking for medicine abroad for Indian students, especially from a new university in Uk, will only add credibility to your portfolio and will make you unprecedented.
Study MBBS in the USA: Next up on the list as the best destination for MBBS from foreign countries is the USA. Here in the United States of America, you can choose between 172 medical colleges. However, you need to know that to study MBBS in the USA, and you will require a bachelor's degree in biology, chemistry, or neuroscience. And the degree given after completing the course is MD, not MBBS.
Study MBBS in Canada: Next best country to study MBBS in the world is Canada. Canada does not offer an MBBS degree; instead, an MD degree will be given to you. If you do not have a science degree, there are 5-year courses proffered in some Canadian colleges/universities. The good thing is that specialised NSERC scholarships help students study MBBS in Canada. Hence, Canada is the best destination to study MBBS abroad for Indian students.
Study MBBS in Germany: Known for the free education and being one of the best countries to study MBBS, Germany is another option to look forward to. However, kindly remember that the courses offered in the English medium are limited. And since the patients will be Germans, knowledge of the German language is advisable.
Study MBBS in Russia: Marking as the last destination on our list of pursuing mBBS in other countries, Russian medical colleges are like a treat wrapped in newspaper. Means, being on the cheaper side with no compromise in the quality of education, Russia proves to be a great option to study MBBS abroad. Russia is one of the best countries for MBBS for Indian students because the courses are offered in Russian and English. However, basic knowledge of the native language is required for clinical purposes.
Now marking the end of our list of the best destinations for pursuing MBBS from foreign countries, we hope that this article proves to be a little help for your decision-making.