New Zealand is not just about its earthly marvel but is also home to some of the Best Medical Universities globally, providing quality education at the most affordable fees. MBBS in New Zealand, one of the most beautiful countries globally, is a dream to many because it never hurts to treat yourself with the dosage of education and nature's divine serenity. That is why we will talk about MBBS in New Zealand—the land of the Long White Cloud.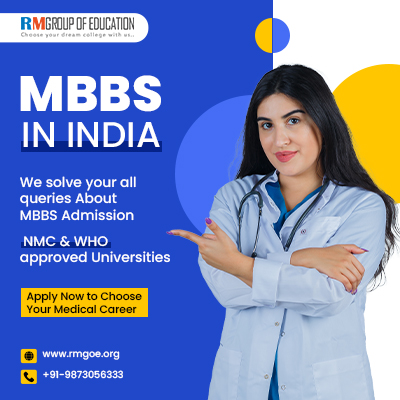 MBBS colleges in New Zealand have become a superior choice for several Medical Aspirants in India. As the country meets world-class education standards, why not make it your dream education destination? This article will be all about MBBS in New Zealand in 2023. Admission to MBBS New Zealand will help you from the admission procedure to getting settled there safely. So hold on and enjoy the read.
Subscribe to RM Group of Education Newsletter, Get Admission, Fees, Seats etc.
Table of Contents
Country Summary
No doubt, New Zealand is one of the most picturesque and photogenic places on earth. Active volcanoes, spectacular caves, deep glacier lakes, and long sandy beaches make this island country a true epitome of natural wonder. With one of the minor populations globally, New Zealand is still a land of great contrasts and diversity.
Population
5,132,960
Area
263,310 km2 (101,665 sq mi)
Capital City
Wellington
Other largest cities are Auckland, Christchurch, Hamilton, and Tauranga.
Language
English, Māori, NZ Sign Language
Climate
New Zealand has a largely temperate climate
Literacy Rate
99.00%
Time Zone
UTC+12
Currency
New Zealand dollar ($) (NZD)
Religion
48% Christianity
Quick facts
Before reading the complete information about MBBS in New Zealand, let's look at Quick facts about MBBS in New Zealand.
| | |
| --- | --- |
| Course Offered | MBBS |
| Course Duration | 6 Years |
| Basic Eligibility | Class 12th in Science, with PCB and English subjects with 75%. |
| Medium of Teaching | English |
| Universities Recognition | NMC & WHO accredited |
| Cost of Living in New Zealand | INR 23,000 /Month |
| Minimum Course Fee | 35,000 NZD |
| Entrance Exam | NEET (Qualified only) |
Recognition of New Zeland Medical College
Checking the affiliation, recognition and other affiliating parameters are the most critical factors that decide good and the best medical college. New Zeland MBBS Colleges are affiliated with these authorities.
Ministry of Education, New Zealand.
NMC (National Medical Commission)
WHO (World Health Organization)
MBBS in New Zealand 2023 Fact Check
New Zealand's higher medical education has gained a remarkable reputation globally due to high educational standards with advanced and sophisticated teaching methods and scientific approaches. Apart from this, New Zealand's preferred destination for medical studies is the easy Admission Procedure. Some safety measures to follow in New Zealand for Indian Students are mentioned below.
Things to Follow
Always be aware of your surrounding. Don't wander in the notorious areas of the city and avoid the wrong crowds. Always keep your phone with you and support the contact of authorities on speed dial.
Always carry a copy of your enrolment credentials, student visa, passport, and registration papers while leaving campus.
Eligibility Criteria
New Zealand has become one of the top preferred destinations for Indian and international students to pursue their Medical Degree Courses. If you too want to Study MBBS in New Zealand, check the eligibility criteria for the MBBS Colleges in New Zealand below:
Age
Your age should be at least 17 on or before 31st December of the admission year.
Qualification
Class 12th in Science, with PCB and English subjects from a board recognized by the authorities in India.
Minimum Qualifying (%)
50% in 10+2 (UR)
45% (SC/OBC/ST)
Qualifying Entrance
NEET
IELTS/TOEFL
Yes, Compulsory
Admission Starts
September and February Session
Graphical Representation of Eligibility Criteria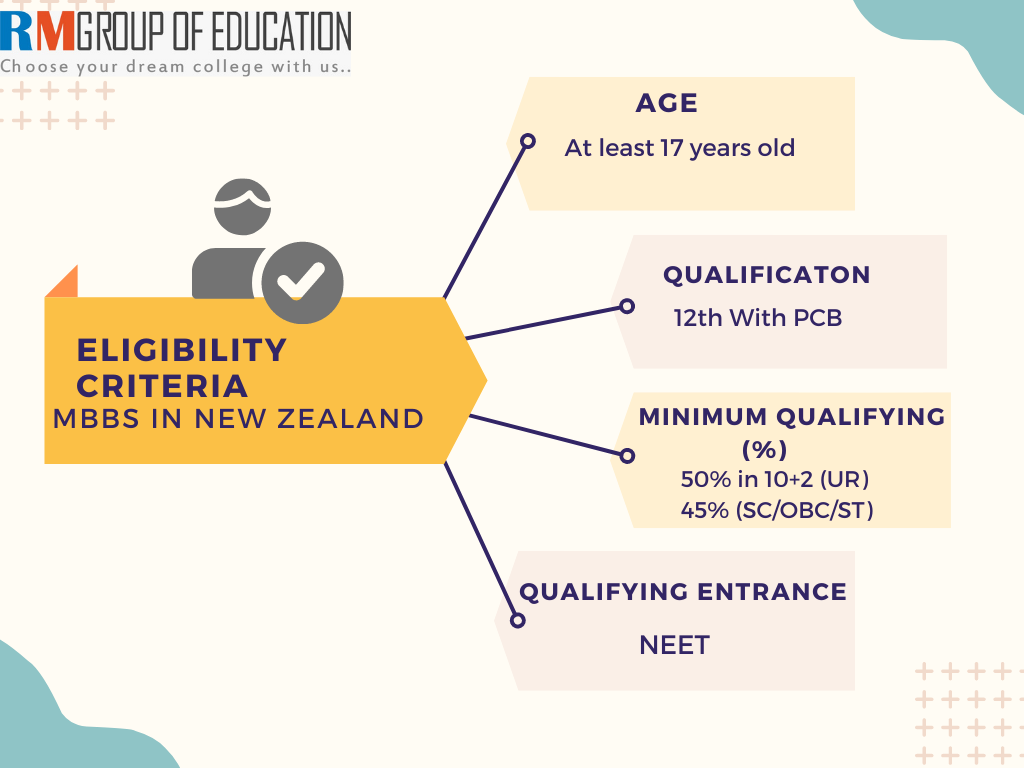 Admission Procedure
If you want to be Admission to MBBS New Zealand, you must qualify for the National Eligibility Entrance Exam (NEET). One must remember that you only have to be eligible for the exam. Here are the valuable resources for NEET Exam that will help you boost preparing for the NEET exam.
Documents Required
Before admission to Medical College New Zealand, please do not forget to carry all these related documents.
Passport (Minimum 18 months validity).
Class 10th Passing Certificate & Mark sheet.
Class 12th Passing Certificate & Mark sheet.
Birth Certificate.
10 passport-size photographs
Official Invitation letter from the Medical University of New Zealand.
Authorization of all documents from the Ministry of External Affairs, New Delhi.
Legalization of all documents from the Russian Embassy.
Visa fees.
Bank receipt of University 1st year Tuition fee (required for some Universities).
HIV test documents.
MBBS Syllabus in New Zealand
Before going for Admission to a Medical college in New Zealand, please compare the MBBS Syllabus of some of the Top-ranked, NMC-approved medical universities in New Zealand. Please click here to see the structure and the pattern of MBBS given below.
Top MBBS Colleges in New Zealand
Below is the updated list of 2023-24 of all Medical or MBBS Colleges in New Zealand officially made by the Medical Council of India. To know detailed info about Fees Structure, Courses offered, Admission Procedure, Placement Stats, Cut-off, and Facilities available and complete the college review, click the college link or Read more link will provide the list of best medical colleges. Read More>>
| | | |
| --- | --- | --- |
| S. No. | Name of Colleges | Official Website |
| 1 | University of Otago | https://www.otago.ac.nz/ |
| 2. | University of Auckland | https://www.auckland.ac.nz/en. |
Fees Structure
The university is perceived by UGC, NMC, and many other international medical bodies. The MBBS in New Zealand Fee Structure is more minor than various Indian Medical Colleges. Let's look at the New Zealand MBBS Fees for Indian Students.
Fee for University of Otago
QUALIFICATION
FEES
(NZ$ PER YEAR)
POINTS
DURATION
(YEARS)
Bachelor of Medicine and Bachelor of Surgery
–
726
6
Health Sciences First Year (HSFY)
36,272
126
1
Years 2–3
81,567
240
2
Years 4–6
90,889
360
3
NOTE: The fee mentioned above is approximate and is subject to change.
Future Career Opportunity After MBBS in New Zealand
Students can do Post Graduation after completing MBBS if they clear their respective county's medical licence examination.
Complete assistance for the preparation of USMLE is available in colleges.
Clinical rotation programs are conducted in any country.
Indian students can return to India after passing the NEXT exam.
Pros & Cons
Do you know New Zealand offers the highest percentage of public funding in education in the world? Several indices rate New Zealand as the number one country in the world for education. New Zealand natives believe in giving everyone the education that they deserve. The government is excellent at providing their public schools with the money they need; many parents are just as happy using the public system. There are a lot of advantages to studying in New Zealand, here are just a few:
Advantages of Study in New Zealand
New Zealand medical universities and colleges have far better education when compared to Indian private medical colleges. The main focus here is to enable students to acquire practical expertise. Students also have access to advanced technologies and devices.
The MBBS degree is recognized by the WHO and UNESCO and accepted worldwide.
Research-based education model which provides a high-quality learning experience.
Easy entry. There is not a lot of competition for getting into college.
A variety of food options is available.
MBBS in New Zealand Admission going through my university.
Left-hand side driving on the road.
Medical students in New Zealand are provided with opportunities to gain practical knowledge through experiments and clinical clerkship.
The hostels' infrastructure and facilities are excellent, and Indian cuisines are served at the hostels to give students a homely feeling.
Students studying in New Zealand can complete their internship program at world-class medical colleges and hospitals worldwide.
Disadvantages of Study in New Zealand
Expensive travel to India.
Opposite climate scenario from India.
Frequently Asked Questions (FAQs)
Q. Which country is best for MBBS abroad?
A. New Zealand, Ukraine, Kyrgyzstan, Germany and the Philippines are the top 5 destinations to study MBBS abroad.
Q. Is MBBS good in New Zealand?
A. New Zealand is known for providing quality education at a low cost. Its excellence in teaching and research makes it a popular destination for MBBS.
Q. How much does MBBS cost in New Zealand?
A. It might cost you somewhere around 20-25 lakh.
Q. How many years is MBBS in New Zealand?
A. The duration of MBBS in New Zealand is of 6 years.
Q. Which country is best for MBBS, China or New Zealand?
A. New Zealand is better for MBBS abroad than China for specific reasons: Method of education, Language, MCI clearing rate, Observership Program, and Education fees.
Q. What is MBBS called in New Zealand?
A. Bachelor of Medicine, Bachelor of Surgery (MBBS) programs offered by New Zealand universities.
Q. Is New Zealand Good for medical studies?
A. New Zealand is well-known for providing world-class education at a very considerable cost.
Q. Why is MBBS cheap in New Zealand?
A. The cost of pursuing MBBS in New Zealand is low because the New Zealand government provides subsidies for education.
Q. Is NEET required for MBBS in New Zealand in 2022?
A. Yes, NEET is required for MBBS in New Zealand.