| | |
| --- | --- |
| Download MCC NEET UG Counselling 2023 eBook (College Wise Cutoff, Fees, Seat Matrix etc.) | Download |
| Download MCC NEET PG Counselling 2023 eBook (College Wise Cutoff, Fees, Seat Matrix etc.) | Download |
| Download All State NEET UG Counselling 2023 eBook (College Wise Cutoff, Fees, Seat Matrix etc.) | Download |
The MBBS Course is basically divided into three broad phases – pre-clinical, para-clinical and clinical. The syllabus comprises subjects like Anatomy, Biochemistry, Physiology, Pathology, Pharmacology, Microbiology, Psychiatry, Dermatology, etc. The hands-on training is also imparted to students in different wards and departments of the hospital attached to their respective colleges during the course of the MBBS programme. The students learn different treatment stages and standard protocols like disease history, examination, diagnosing, patient management etc., during their practical classes.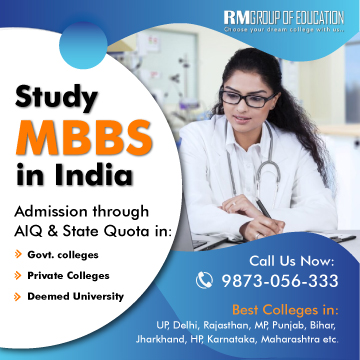 Course Overview
| | |
| --- | --- |
| Particulars | Description |
| Course Name | MBBS (Bachelor of Medicine and Bachelor of Surgery) |
| Course Duration | 5.5 years (4.5 years academic education + 1-year mandatory internship) |
| Course Eligibility | For admission to in MBBS course in India, students have to pass their 10+2 with Physics, Chemistry and biology and a minimum score of 50% marks (In the case of the reserved category, 40%). |
| Age Criteria | The age criteria are between 17 years to 25 years. |
Why Study MBBS?
Everybody will advise you of the many benefits of studying for an MBBS and how you should begin a career committed to protecting lives and promoting healthcare. In the U.S., both MBBS degrees are granted individually as the M.D. (Doctor of Medicine) & D.O. (Doctor of Osteopathic Medicine). A single bachelor's degree gives the students qualified to carry the title "doctor" with their name. Here are some of the best reasons to choose MBBS-
Subscribe to RM Group of Education Newsletter, Get Admission, Fees, Seats etc.
You'll study the inside-out of the human body, which is fascinating.
This course can be studied anywhere around the world.
Earn a good salary with perfect job security.
You can practice anywhere around the world; you have to clear the licensing exam.
You can enjoy choosing any discipline from various specializations like pharmacy, toxicology, nutrition etc.
With the advancement of technology in medical science, you'll have the latest technology at your fingertips.
Medicine Courses
Course duration
Though MBBS is an undergraduate programme, the course duration is five and a half years, unlike other graduate programmes. Generally, the duration of undergraduate programmes in India is three years, except for four-year duration UG Engineering programmes.  The MBBS course duration is a five-and-a-half-year course, including one year of compulsory rotating internship, so actually, the academic course duration stands at four and a half years distributed in 9 semesters.
| | | |
| --- | --- | --- |
| Distribution of Semesters | Subjects Taught | Examinations |
| First and Second Semester | Pre-Clinical | 1st Professional Examination |
| Third, Fourth and Fifth Semester | Para-Clinical | 2nd Professional Examination |
| Sixth and Seventh Semester | Clinical | 3rd Professional Examination Part I |
| Eighth and Ninth Semester | Clinical | 3rd Professional Examination Part II |
Admission Procedure
Admissions to the MBBS courses are made through the entrance exam, and Admission to other reputed medical colleges is done through the National Eligibility Entrance Test (NEET). Below we have mentioned some entrance names for admission to the MBBS Course.
Eligibility for MBBS
The eligibility criteria for pursuing MBBS are-
| | |
| --- | --- |
| Qualification | The basic criteria to pursue MBBS are that the student should have completed his/her 10+2 examinations and scored a minimum of 50% in Physics, Chemistry, and Biology by a recognized board. |
| Age Limit | To apply for the medical entrance test, the applicant must be at least 17 years old on or before 31st December of the year of admission. The upper age limit is 25 years of age. |
| Entrance Exam | The student also needs to give various other National Level Examination conducted by the CBSE, New Delhi, i.e. NEET 2023 (National Eligibility Cum Entrance Test), to book their place in the 15% of the total seats of medical and dental courses of the likewise colleges run by the Union of India. Students also apply for AIIMS & JIPMER MBBS Entrance Exam, CET, and AIMEE to get admission into the MBBS programme. |
Entrance Exam
The only way to get into prestigious universities is to pass an entrance exam. For the purpose of creating the final merit list, the best MBBS colleges in India undertake entrance exams. The merit of a candidate for admission is considered by the entrance exam. The cutoffs for the admission exam differ by university and are listed online, along with information about MBBS programmes. An overview of the MBBS admission exam is provided below:
The admission test is often performed offline.
It will take three hours or so to finish the test.
Examiners will analyze candidates' understanding of the subject, data interpretation skills, and qualitative skills.
Job Description
After completing the MBBS degree successfully, there are two options for the students either start their venture or go for a job in the medical field. Students can also go for government jobs as doctors or join a private health firm. There are good future scopes in the field of medicine. The demand for medical professionals is developing due to the unfortunate upsurge in diseases and ailments. There are good job and career opportunities for the students after getting a degree in medicine. It is a professional field with 100% job placement. Job titles: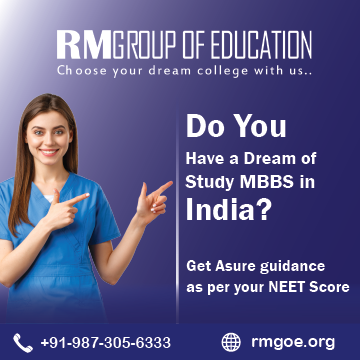 Below you can get the job profiles of the MBBS may be following:
Junior Surgeons
Junior doctors
Doctors
Physician
Researcher
Scientist
Medical Professor or Lecturer
Below you can get some Employment Areas:
Nursing Homes
Medical Colleges
Health Centres
Hospitals
Laboratories
Biomedical Companies
Pharmaceutical and Biotechnology Companies
Average Salary
The beginning salary of a medical graduate doctor may be Rs. 20,000 to Rs. 35,000 per month. After gaining experience and good hands-on in this domain, the applicant may receive a salary of 8 to 10 lakh per annum. There are more job opportunities to work in the US and the UK in the medical field with handsome salaries.
Top MBBS Colleges With Fees Structure
Here in this section, we have mentioned some best MBBS colleges. Let's check.
| Top MBBS Colleges | Tuition Fees |
| --- | --- |
| Christian Medical College, Vellore | Rs. 1.53 Lakhs |
| BHU – Banaras Hindu University, Varanasi | Rs. 1.64 Lakhs |
| King George's Medical University, Lucknow | Rs. 3.00 Lakhs |
| Aligarh Muslim University, Aligarh | Rs. 2.55 Lakhs |
| Vardhman Mahavir Medical College and Safdarjung Hospital, New Delhi | Rs. 1.98 Lakhs |
Frequently Asked Questions (FAQ)
When is the RM Group of Education established?
RM Group of Education was established in 2008.
What does RM Group of Education do?
RM Group of Education provides career counselling, foreign admission assistance, and admission assurance in some top colleges.
How many courses does RM Group of Education deal with?
RM Group of Education engages in 120+ courses, including top courses like engineering, law, medical, Ayush, pharma, dentistry etc.  
Why choose RM Group of Education?
RM Group of Education is an ISO 9001:2018 certified centre; it has satisfied more than 5000 students since its establishment.
Does RM Group of Education have an accredited, trustworthy authority?
RM Group of Education is ISO 9001:2018 certified; it collaborates with National Skill Development Corporation and National Career Service.