Advantages and Disadvantages of Studying MBBS in Bangladesh: Bangladesh, a nation in South Asia, offers MBBS. Its borders are with Myanmar and India. The 92nd-largest sovereign state in the world is Bangladesh. It is one of the nations with the highest population density, and the majority of its citizens are Muslims. The easternmost and largest portion of the Bengal area in Bangladesh. There can be both Advantages & Disadvantages to Studying MBBS in Bangladesh for Indian students. No doubt that MBBS is one of the most popular disciplines of study among Indians, but what is problematic is the scarcity of institutions, the low number of available seats, and the astronomical costs of medical care at the many private medical colleges in India. You won't believe this, but there is a competition for admission to reputable medical universities, and approximately a lakh students ultimately fall short. There are countries abroad for MBBS that offer MBBS at a low cost for Indian Students.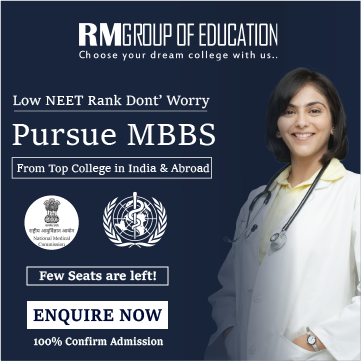 | | |
| --- | --- |
| Course Offered | Bachelor of Medicine and Bachelor of Surgery(MBBS) |
| Course Duration | 5 Years |
| Basic Eligibility | 10+2 (PCB) with 50% |
| Medium of Teaching | English language |
| Universities Recognition | NMC & WHO |
| NEET Entrance Exam | NEET Qualified (Only) |
MBBS in Bangladesh Syllabus
Before applying for the Bangladesh University of Professionals, please compare the MBBS Syllabus of some of Bangladesh's top-ranked, NMC-approved medical universities. The structure and the pattern of MBBS in Bangladesh are as follow:
Subscribe to RM Group of Education Newsletter, Get Admission, Fees, Seats etc.
Phase
Duration
Subject Covered
1st Phase
11⁄2 year
Anatomy, Physiology, Biochemistry
2nd Phase
1 year
Community Medicine, Forensic Medicine
3rd Phase
1 year
Pharmacology & Therapeutics, Pathology,
Microbiology
4th Phase
11⁄2 year
Medicine & Allied subjects, Surgery & Allied
subjects, Obstetrics and Gynaecology
Advantages and Disadvantages of Studying MBBS in Bangladesh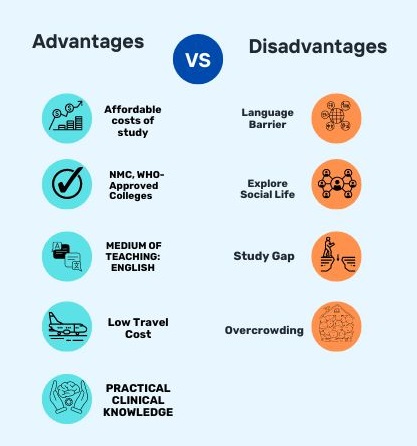 Advantages of Studying MBBS in Bangladesh
Do you know that Bangladesh's Ministry of Education is in charge of the country's educational system? One of the most renowned universities, such as the University of Dhaka, Rajshahi, is associated with hundreds of colleges. In Dhaka, several medical colleges and a postgraduate medical institute offer medical education. A complete hospital is a part of every college or institute. There are a lot of advantages to studying in Bangladesh, here are just a few:
1. Affordable Costs of Study
The affordability of studying MBBS in Bangladesh is the main benefit. The tuition is less expensive here. Once more, there is no donation required to obtain entry. The costs for each year of the course are made public by the medical colleges. After they finish the course, several institutions pay stipends to interns. Here, hostel fees are less expensive.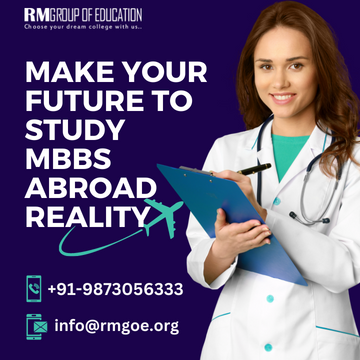 2. NMC, WHO-Approved Colleges
All public universities have NMC approval. Numerous colleges have received WHO approval. Degrees conferred by the WHO are accepted all throughout the world. It increases your professional options.
3. Medium of Teaching: English
Teaching is done in English in medical colleges. Therefore, language training is not needed for international students. Asian students have a good understanding of English. They have no trouble understanding lecturers or interacting with peers.
4. Practical Clinical Knowledge
Bangladesh can be reached at a very low cost of transportation. It is definitely advisable to study MBBS in Bangladesh if you are an Indian student. From Kolkata to Dhaka, flying costs roughly 4900INR. It costs 1400 INR to go by road. Approximately 1200 INR is spent on trains to Dhaka.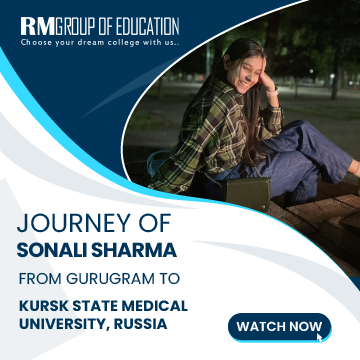 5. Low Travel Cost
The medical colleges' abundance of hospital beds allows the students to interact with a greater variety of patients. A few public universities have hospitals with close to 1000 beds. As a result, several patients are shown to the students. They gain valuable, real-world expertise as a result. The OPD is well-equipped in Bangladeshi medical colleges. Students can learn a lot about various patient types.
Disadvantages of Studying MBBS in Bangladesh
In Bangladesh, a five-year medical degree is broken up into four sections that are assessed by exams, in addition to a one-year internship that involves clinical rotations and lab sessions where students are taught to research diagnoses on actual patients. There is no denying that studying MBBS in Bangladesh is a good option for students looking for high-quality education at an affordable price, but we also cannot ignore the fact that there are some drawbacks to studying MBBS in Bangladesh, and applicants to Bangladesh must be aware of these drawbacks in advance.
1. Language Barrier
The language of the country where the student is studying is another issue that they have. The majority of the staff and students still use Bangla, despite the fact that colleges use English as their primary language of instruction, making it challenging for overseas students to converse with them. Students who live off campus will eventually have to engage with people in the outside world.
2. Explore Social Life
When a student chooses to study abroad, he would like to discover and experience a different way of life, but there isn't one in Bangladesh. You won't encounter any celebrations, performances, clubs, tourist attractions, nightlife, discos, etc., in Bangladesh. You won't have many chances to explore and enjoy life to the fullest here. Simply said, there aren't many social opportunities here.
3. Study Gap
After receiving their high school diplomas, many students now take study breaks to reflect on the future or occasionally to get ready for competency exams, etc. Study gaps can occur for a variety of reasons, and they are rather typical among students in the modern world. However, there is a strict limit in Bangladesh, which is 2 years. This implies that students who have more than 2 years between finishing high school and beginning their studies will not be admitted to private colleges in Bangladesh for the MBBS programme.
4. Overcrowding
As was already mentioned, the country is the most densely populated and most crowded in the globe, making it rather busy for international students. The most populous city in Bangladesh is Dhaka, which is also its capital. Additionally, because of the excessive population, there will be traffic on the roads and people everywhere in the marketplaces.
Conclusion
However, when compared against the advantages, these few disadvantages seem incredibly insignificant. Bangladesh's climate is similar to that of the majority of other Asian nations. If your hostel room doesn't have an AC, you won't have many issues. Additionally, those that enrol here are international students who have good chances. We advise you to consider carefully the advantages and disadvantages of studying MBBS in Bangladesh. Then you will understand. If you are from Asia and seeking better educational and professional prospects, we advise you to study MBBS in Bangladesh.
Frequently Asked Questions (FAQs)
Is Bangladesh good for MBBS?
MBBS undergraduate programme is incredibly well-known in India. Indian students who wish to pursue MBBS overseas are increasingly choosing to do so in Bangladesh. One of the best options for students thinking about starting a future in the medical field is the MBBS programme in Bangladesh.
What is the cost of MBBS in Bangladesh?
In Bangladesh, the average cost of an MBBS degree ranges from INR 30 Lakhs to INR 45 Lakhs.
How to apply for MBBS in Bangladesh?
You have to qualify NEET exam to get admission to medical college, and for further admission guidance and details you can contact us at – +91-9999709233.