Georgian American University (GAU) is a private university located in Tbilisi, Georgia. It was founded in 2001 by a group of Georgian and American educators with the goal of providing high-quality, internationally recognized education to students from Georgia and around the world. Georgian American University is Affiliated by the Ministry of Education and Science of Georgia. Georgian American University offers a wide range of undergraduate and graduate programs in a variety of fields, including business, law, social sciences, diplomacy, informatics, engineering, humanities, liberal arts and medicine.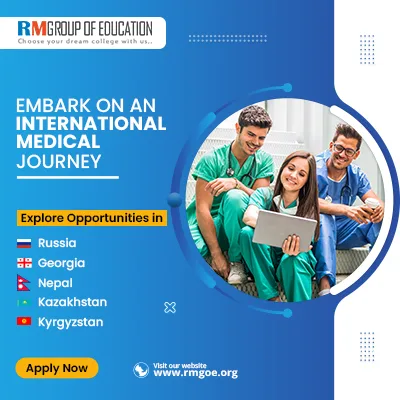 Since 2005, Georgian American University has been serving to establish international standards of education, forming competitive professionals and successful individuals. GAU unites about 2,000 students and about 250 lecturers in 5 different faculties. In all its activities, the GAU Tbilisi builds a culture that gives students immediate attention. The university encourages students to use all the opportunities that allow them to participate in the cultural and intellectual diversity of the university and develop on its basis.
Subscribe to RM Group of Education Newsletter, Get Admission, Fees, Seats etc.
Table of Contents
College Summary
Before we go through the detailed information of Georgian American University, let's look at the college's essential details.
Name of Institute
Georgian American University Tbilisi, Georgia
Popular Name
GAU Tbilisi, Georgian American University Tbilisi
Location
Tbilisi, Georgia
Year of Establishment
2001
University Type
Private
Language of Teaching
English & Georgian Language
Approved By
NMC & WHO
Affiliated by
Ministry of Education and Science of Georgia
Courses offered
MBBS
Georgian American University Ranking
Country Rank: 24
Wold Rank: 9680
Official Website
https://www.gau.edu.ge/en
Talk to our Abroad Counsellor
Call Now > +91-9873056333
Category
Medical Colleges in Georgia
Student Support
Georgian American University Student Support are:
Academic Support: Tutoring and academic counselling to help students excel in their studies.
Counselling Services: Psychological and emotional support services to help students deal with stress, homesickness, and personal challenges.
Health Services: Access to healthcare facilities or guidance on local healthcare services.
Career Guidance: Counseling and resources for career planning and development.
Language Support: Language assistance for non-native speakers, including language courses or language exchange programs.
Legal and Administrative Assistance: Help with administrative processes, such as registration, documentation and navigating local regulations.
Extracurricular Activities: Information about student clubs, societies, and recreational activities.
Facilities
Georgian American University Facilities are shown in the data mentioned below to the students who ensure their GAU Admission 2024:
Classrooms and Lecture Halls: Well-equipped classrooms and lecture halls for theoretical instruction.
Laboratories: Specialized laboratories for practical training in subjects such as anatomy, physiology, biochemistry and pathology.
Library: A comprehensive medical library with a vast collection of books, journals and research materials.
Teaching Hospitals: Affiliated teaching hospitals where students gain hands-on clinical experience under the supervision of experienced medical professionals.
Hostel Accommodation: On-campus or affiliated hostel accommodations for students, especially for international students.
Cafeterias and Dining Facilities: On-campus dining facilities or cafeterias provide meals for students.
International Student Support Services: Services dedicated to supporting the needs of international students, including cultural integration programs and language assistance.
Courses Offered
Georgian American University (GAU Tbilisi) offers quality medical programs under the supervision of highly qualified faculty and state-of-the-art infrastructure. The College is famous for its medical programs (MBBS).
| | |
| --- | --- |
| Courses | Duration |
| Bachelor of Medicine and Bachelor of Surgery (MBBS) | Six years |
| Dentistry | – |
| Pharmacy (pharmaceuticals) | – |
| Orthopaedic Dentistry | – |
| Nursing | – |
| Laboratory Diagnostics | – |
| hairdressing and Decorative Cosmetics (Cosmetologist) | – |
| Nursing (younger Nursing Sister) | – |
Admission Procedure for Indian Students
If you want to take admission in 2024, you must qualify for the National Eligibility Entrance Exam (NEET). One must keep in mind that you only have to be eligible for the exam. Here are the valuable resources for the NEET exam that will help you to boost your NEET exam preparation. How to do an MBBS from Russia? See the Complete Admission Procedure Here!
Eligibility Criteria
Georgia has been one of the top preferred destinations for international students to pursue their Medical Degree Courses. If you too want to Study MBBS at the Georgian American University, check the eligibility below.
Age
Your age should be at least 17 years old on or before 31st December of the admission year.
*No Upper Age Limit.
Qualification
Class 12th in Science, with PCM and English subjects from a board recognized by the authorities in India.
Minimum Qualifying (%)
50% in 10+2 (UR)
45% (SC/OBC/ST)
Qualifying Entrance
NEET
Medium of Teaching
English & Georgian Language
Duration of Course
6 Years
Georgian American University Fee Structure
Georgian American University Fee Structure 2024 for the MBBS course is stated in the section.
| | | | | | | |
| --- | --- | --- | --- | --- | --- | --- |
| Particular | Year 1 | Year 2 | Year 3 | Year 4 | Year 5 | Year 6 |
| Tuition Fee in USD | $4560 | $4560 | $4560 | $4560 | $4560 | $4560 |
Note: 1 USD = 83 INR. The mentioned fee is approximate and will be subject to change.
Georgian American University Ranking 2024
According to 4icu.org/, the following is the country and world ranking for Georgian American University:
| | |
| --- | --- |
| Particulars | Ranking |
| Country Rank | 24 |
| World Rank | 9680 |
MBBS Syllabus in Georgia
Before applying for Georgian American University, please compare the MBBS Syllabus of some of the Top-ranked, NMC-approved medical colleges in Abroad.
Year
Semester
Subjects
1st year
1st semester
Anatomy
2nd semester
Anatomy and Histology
2nd year
3rd semester
Histology, Biochemistry, Physiology, Cell Biology, Microbiology, General Pathology
4th semester
Biochemistry, Micro-Biology, Physiology
3rd year
5th semester
Pathology, Pharmacology, Micro-Biology, Path physiology
6th semester
Pathology, Path Physiology, and Pharmacology, Genetics
4th to 6th year
7th-12th semester
General Surgery, Neurology, Primary Care Medicine, Obstetrics and Gynecology, Oncology, Internal Medicine, Pediatrics, Internal medicine, Neurology and Psychiatry, Psychology, ENT, Emergency Medicine, and Cardiology
Documents Required
Before taking admission to GAU Tbilisi, please do not forget to carry all these related documents.
Passport (Minimum 18 months validity).
10th Certificate & Mark sheet.
12th Certificate & Mark sheet.
Birth Certificate.
10 passport-size Photographs
Official Invitation letter from the Medical University of Georgia.
Authorization of all documents from the Ministry of External Affairs, New Delhi.
Legalization of all documents from the Georgian Embassy.
Visa fees.
Bank receipt of University 1st year Tuition fee (required for some Universities).
HIV test documents.
About Georgia
Georgia is a sovereign state in the Caucasus region of Eurasia. It was located at the crossroads of Western Asia and Eastern Europe. The country has two official languages- Georgian and Abkhazian. The first thing that tourists say when visiting Georgia is that it is green, clean, and safe compared to other countries; it has excellent roads. The capital of Georgia, Tbilisi is a vibrant city with a mix of old and new. Georgia is a friendly and welcoming country.
Population
3,723,500 (estimate)
Area
69,700 km2 (26,900 sq mi)
Capital City
Tbilisi
Other largest cities: Atlanta, Augusta, Columbus, Macon etc.
Language
Georgian and English
Climate
the humid subtropical maritime climate and the constant influence of warm and moist air
Literacy Rate
99.56% (Source- the global economy)
Time Zone
UTC+4 (GET)
Currency
Georgian Lari
Religion
Georgian Orthodox
About Tbilisi City, Georgia
Earlier Tbilisi was known as Tiflis.
The city is situated on the banks of the Kura River with a population of approximately 1.5 million people.
The city of Tbilisi has a humid subtropical climate with considerable continental influences.
The city experiences moderately cold winters and warm summers.
Throughout the year, Tbilisi receives significant rainfall.
The average annual temperature in Tbilisi is around 13.5 degrees Celsius.
Located about 17 km at the southeast of the city centre is Shota Rustaveli Tbilisi International Airport which is Tbilisi's only airport.
Temperature
Rainfall
Daylights

Contact Details
Georgian American University
Address: 10 Merab Aleksidze Str., 0160, Tbilisi, Georgia
Phone: +91-9999709233 (For Indian Students)
E-mail: info@rmgoe.org
Frequently Asked Questions (FAQs)
Where is Georgian American University located?
GAU is located along 10 Merab Aleksidze Str., 0160, Tbilisi, Georgia.
What scholarships and grants are available to students?
Various scholarships and service grants are available to deserving students. The Study Now, Pay Later Plan is also available on a case-to-case basis.
Does Georgian American University accept transferees?
GAU Tbilisi accepts transferees on a case-to-case basis.
Can non-Catholics study and work at Georgian American University?
Yes, Georgian American University Tbilisi does not discriminate against the admission and employment of non-Catholics.