MBBS in Georgia: Georgia is a sovereign state in the Caucasus region of Eurasia. It is located at the crossroads of Western Asia and Eastern Europe. The first thing tourists say when visiting Georgia is that it is green, clean, safe, and has excellent roads compared to other countries. The country has two official languages- Georgian and Abkhazian. Georgia has successfully made a name for itself and is considered one of the best places for studying medicine in the world for quality learning.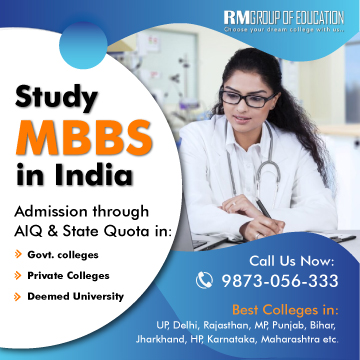 There is no denying that MBBS is one of the most preferred fields of education among Indians, but what is terrible is the lack of colleges, actual seats and the vast amount of medical fees in various Indian private medical colleges. It is a war for scoring a seat in reputed medical universities, and you will not believe it, but students lose that battle in the end, around a lakh.
Subscribe to RM Group of Education Newsletter, Get Admission, Fees, Seats etc.
But what if we say that you can still complete your dream of being a doctor in a place that provides quality education at an affordable price? Yes, we are talking about MBBS in Georgia, and yes, you might have many questions like Is MBBS in Georgia good, or what after MBBS in Georgia? To name a few. Hold on to your gear as we talk about that and all other things that will aid you in completing your dream of being a doctor.
Table of Contents
Key Features of studying MBBS in Georgia
Georgia is renowned for its medical education worldwide, so studying MBBS there has consistently proven to be one of the best options for Indian students. Additionally, Georgia's MBBS tuition is not very costly. For Indian students who want to study MBBS in Georgia, the fact that NMC, WHO, and other medical organisations recognise Georgia's universities is a huge bonus. So, here are the top 5 reasons to study MBBS in Georgia for Indian students: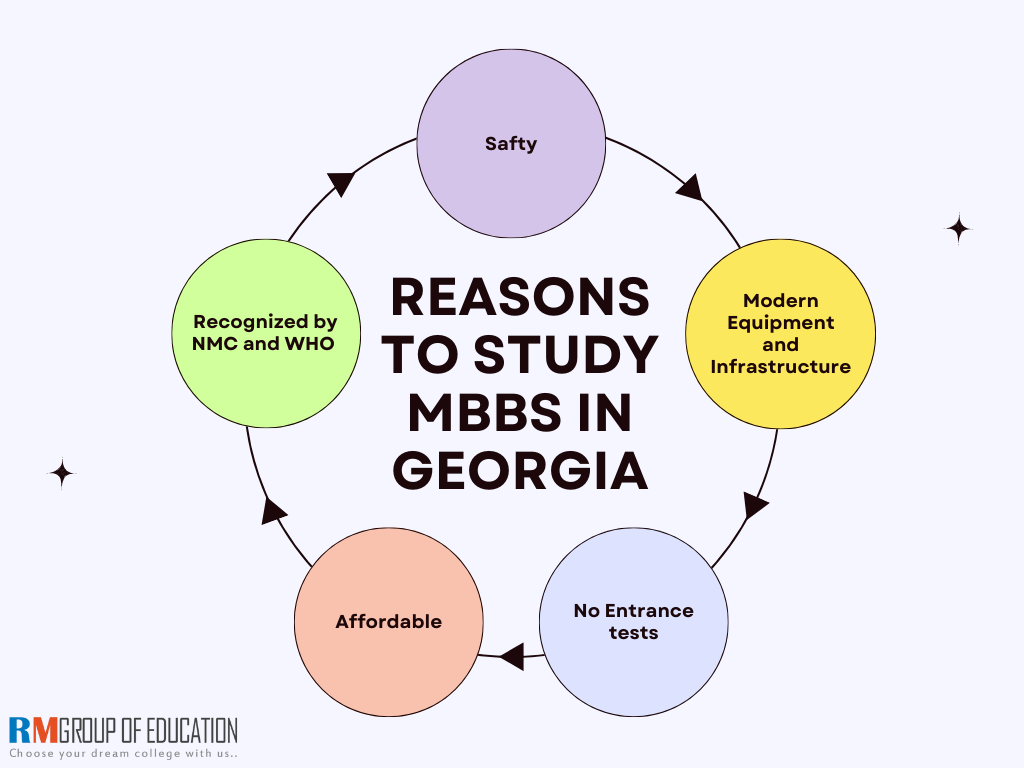 1. Recognized by NMC and WHO
In addition, Georgia has roughly 18 medical universities accredited by the NMC, the WHO, and other reputable medical organisations. Medical Colleges in Georgia offer top-notch education. Because of this, it's a fantastic alternative for Indian students looking to pursue MBBS abroad.
2. Modern Equipment and Infrastructure
Georgia's medical universities are equipped with advanced technology and first-rate facilities. Since they can conduct studies and do clinical internships as early as their first semester, students also gain practical experience with the real world.
3. No Entrance tests
Students who desire to study MBBS abroad in Georgia can apply with ease. The student's performance in the 12th-grade science classes of physics, chemistry, and biology determines whether or not they are admitted to a medical university in Georgia. Students can enrol in Georgia's MBBS programme if they receive at least 50% in these topics.
4. Affordable
Many medical schools in Georgia provide low-cost MBBS options for students who desire to pursue their studies abroad. Additionally, international students receive a 50% travel discount. This lowers their daily expenses, which is a major benefit for Indian students looking to pursue an MBBS abroad.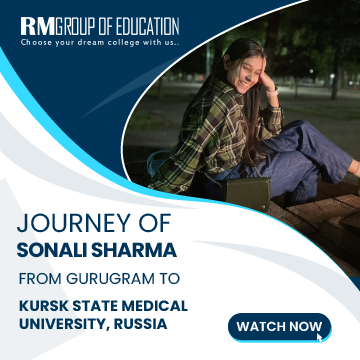 5. Safety
Both male and female students can feel very safe in Georgia. They have very low crime rates because they are a developed nation. Students can use public transportation safely. Additionally, there are separate hostels for men and women. Georgia has the highest living standards in the world.
Country Summary
Georgia is a country of Transcaucasia situated at the end of the Black Sea. It is bounded north and northeast by Russia, east and southeast by Azerbaijan, south by Armenia and Turkey, and west by the Black Sea.
Population
3,970,907(estimate)
Area
69,700 square kilometres (26,900 sq mi)
Capital City
Tbilisi
Other largest cities: Atlanta, Augusta, Columbus, Macon etc
Language
Georgian and Abkhazian
Climate
The humid subtropical maritime climate and constant influence of warm and moist air
Literacy Rate
99.8 %
Time Zone
UTC+4 (GET)
Currency
Georgian Lari
Religion
Georgian Orthodox Church
Quick facts
Before reading the complete information about MBBS in Georgia, let's look at Quick Facts about Study MBBS in Georgia.
| Particulars | Description |
| --- | --- |
| Course Offered | Bachelor of Medicine and Bachelor of Surgery (MBBS) |
| Duration of MBBS in Georgia | 5 Years |
| Basic Eligibility | 10+2 (PCB) with 50% |
| Medium of Teaching | English language |
| Universities Recognition | NMC, WHO, WFME & many more |
| Cost of Living in Georgia | Rs.12-15 Thousand/Month |
| Minimum Course Fee | Rs.2.52 Lakhs/Year |
| NEET Entrance Exam | NEET Qualified (Only) |
| MBBS Georgia at 10 Lakh | |
| Talk to our Abroad Counsellor | +91-9999709233 (India) |
Eligibility Criteria
Georgia has been one of the top preferred destinations for international students to pursue their Medical Degree Courses. If you, too, want to study MBBS in Georgia, check the eligibility below.
Particulars
Description
Age
You are at least 17 years old on or before 31st December of the admission year.
No Upper Age Limit.
Qualification
Admission Seekers should complete their Higher Secondary Education
with a minimum 50% mark covering Physics, Chemistry and Biology streams.
Minimum Qualifying (%)
50% in 10+2
Qualifying Entrance
NEET
Medium of Teaching
English
Duration of Course
6 Years
Minimum Course Fee (Approx.)
Rs.2.52 Lakhs/Year
Maximum Course Fee (Approx.)
Rs.5 Lakhs/Year
Cost of Living in Georgia(Approx.)

Rs.12-15 Thousand/Month
Admission Starts
August-September
Read also: Direct Admission in MBBS in Georgia
Admission Procedure
If you want to take MBBS Admission in Georgia, you must qualify for the National Eligibility Entrance Exam. One must remember that you only have to be eligible for the exam. Here are the valuable resources for NEET-UG Exam that will help you boost preparing the NEET exam.
Documents Required
Before admission to Medical college in Georgia, please do not forget to carry all these related documents. Passport (Minimum 18 months validity).
Birth Certificate. 10th Certificate & Mark sheet.
12th Certificate & Mark sheet.
Birth Certificate
10 passport-size photographs
Official Invitation letter from the Medical University of Georgia.
Authorization of all documents from the Ministry of External Affairs, New Delhi.
Legalization of all documents from the Georgia Embassy.
Visa fees.
Bank receipt of University 1st year Tuition fee (required for some Universities).
Medical test documents.
MBBS Syllabus in Georgia
Before going to Georgia for Medical, Studies compare the MBBS Syllabus in Georgia's top-ranked, NMC-approved medical universities.
Year
Subject Covered
1st Year
Anatomy, Medical Genetics, Medical Genetics, Biochemistry,
Molecular Biology, Cardiovascular & Respiratory Systems, History
of Medicine, Clinical & Professional Skills I, Clinical & Professional
Skills II
2nd Year
Haematology, Immunology, Biophysics, Introduction to Public Health,
Clinical & Professional Skills III, Endocrine, Renal & Reproductive
Systems, Nanomedicine, Philosophy
Recognition of Georgia Medical College
Checking the affiliation, recognition and other affiliating parameters are the most critical factors that decide good and the best medical college. Medical colleges in Georgia are affiliated with these authorities.
Ministry of Education, Georgia.
ECFMG (Educational Commission for Foreign Medical Graduates)
FAIMER (The Foundation for Advancement of International Medical Education and Research)
MBBS Colleges in Georgia
Below is the updated list of 2023-24 of all MBBS or Medical Colleges in Georgia officially made by India's Medical Council.
Top MBBS Colleges in Georgia
we will guide you through the Top NMC & WHO recognised Universities/Colleges in Georgia for Indian Students that you should look forward to if you want to pursue an MBBS in Georgia in the year 2023. In this section provide information about colleges with MBBS fees in Georgia.
| S.No. | Name of the Universities | Tuition Fees/Year | Hostel Fees/Year | Annual Fees/Year |
| --- | --- | --- | --- | --- |
| 1 | Batumi Shota Rustaveli State University | Rs. 4,20,000 | Rs. 2,10,000 | Rs. 6,30,000 |
| 2 | New Vision University Georgia | Rs. 4,90,000 | Rs. 2,00,000 | Rs. 6,90,000 |
| 3 | Akaki Tsereteli State University | Rs. 4,30,000 | Rs. 40,000 | Rs. 4,70,000 |
| 4 | David Tvildiani Medical University | Rs. 7,34,000 | Rs. 40,000 | Rs. 7,74,000 |
| 5 | European University | Rs. 3,50,000 | Rs. 70,000 | Rs. 4,20,000 |
Top MBBS Colleges in Georgia (Graphical Representation)
Read also: Is it Good to do MBBS Abroad?
Comparison between MBBS in Georgia & MBBS in India
| | |
| --- | --- |
| MBBS in Georgia | MBBS in India |
| The cost of studying medicine in Georgia is relatively low. | The cost of studying medicine in India is relatively high. |
| MBBS course duration in Georgia is six years. | The duration of the MBBS course in India is six years. |
| An entrance test is not mandatory in almost every university in Georgia. | Entrance test required. |
| A donation is not required at the time of admission. | Various colleges in India take donations for admission to medical courses. |
| Degree awarded as MD in Medicine. | Degree awarded as MBBS in Medicine. |
Pros & Cons
Do you know Education in Georgia is free of charge and compulsory from 6 to 17-18 years old? There are twenty-four state higher education institutions and their fourteen branches in Georgia. In addition, 81 private higher education institutions have passed the accreditation process. There are a lot of advantages to studying MBBS in Georgia, here are just a few:
Advantages of Study in Georgia
Georgian medical universities and colleges have far better education when compared to Indian private medical colleges. The main focus here is to enable students to acquire practical expertise. Students also have access to advanced technologies and devices.
The MBBS degree is recognized by the WHO and UNESCO and accepted worldwide.
Georgia medical students are given opportunities to gain practical knowledge through experiments and clinical clerkship.
The infrastructure and facilities of hostels are excellent and Indian cuisines are served at the hostels to give students a homely feeling.
Students studying in Georgia can complete their internship program at world-class medical colleges and hospitals worldwide.
Disadvantages of Study in Georgia
As Georgian is the local language in Georgia, students might feel the tongue is a barrier (outside the university campus).
Georgia has no embassy in India. Students may face problems in meeting certain conditions laid down by the country.
Georgia doesn't exercise strict rules over the receipt of capitation fees.
TOEFL or IELTS exams are mandatory in many Georgian universities.
The country is also suffering from the rise of many fake universities.
Read more: Advantages and disadvantages of MBBS abroad.
Frequently Asked Questions (FAQs)
Which country is best for MBBS abroad?
Russia, Ukraine, Kyrgyzstan, Germany, and Georgia are supposed to be the top 5 destinations to study MBBS abroad.
Is MBBS abroad a good option?
Yes, MBBS abroad is a good option for Indian students. It provides a chance to learn from some of the best professors globally and exposure to different people. Also, MBBS abroad allows you to work in India or any foreign country.
What are the fees for MBBS abroad?
It can cost you around 20-25 lakh minimum. However, in some countries, the amount can go up to 30 to 35 lakhs.
Which country is best for MBBS in Europe?
Romania, Poland, Germany, Belarus, and Georgia are some of Europe's most popular destinations for MBBS.
How much does MBBS cost in Georgia?
It might cost you somewhere around 20-25 lakh.
What is MBBS called in Georgia?
MBBS is known as "Physician in General Medicine". It is the same thing, just the difference in terminology.
Why is MBBS cheap (Low Budget) in Georgia?
The tuition fee for MBBS in Georgia is subsidized by the Georgia Education Ministry, making it reasonable to pursue MBBS in Georgia for Indian students. The MCI/NMC and WHO-approved medical colleges/universities in Georgia, and the degree has worldwide recognition.
What is the admission procedure for MBBS in Georgia?
Candidates must have passed 10+2 or equivalent with PCB and English. The student must have passed with an aggregate of 50% marks and 50% marks. Candidates must have completed 17 years, and students must have qualified for the NEET entrance exam.
Which country is best for MBBS, China or Georgia?
The course structure, duration, and quality of education in the medical universities of both countries are pretty similar. Even the fees and cost of living in these countries for Indian students are almost identical, with MBBS in Georgia being the lowest and MBBS in China not far behind.
Which country has the lowest fee structure for Indian students?
Russia, Kyrgyzstan, Kazakhstan, China, and Georgia are examples of the lowest fee structure for Indian students.
Can an Indian student get an education loan?
Yes, Indian students get an education loan; students can get a loan of up to INR 20 Lakh. After six months (if you get a job) of completing the course, you must start your loan repayment.
Read Also: