Is MBBS in Nepal Worth It for Indian Students? Is the cost of studying MBBS in Nepal for Indian students justified? The MBBS curriculum is a five-year undergraduate degree in Nepal, nonetheless. There are two parts to the course: pre-clinical and clinical. Anatomy, physiology, biochemistry, pathology, and pharmacology are all included at the pre-clinical level. Obstetrics and gynaecology, paediatrics, psychiatry, and neurology are all in the clinical stage.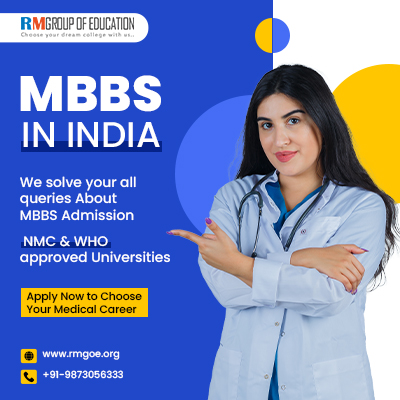 Due to its low living costs and attractive MBBS tuition Fees, Nepal has long been a popular choice for medical students. Because of the high calibre of education they can obtain at a reasonable cost, medical students from all over the world choose to study here. One of the most searched professions worldwide is medicine. People aspire to work as nurses and doctors. They want to improve people's lives and help those in need. However, not everyone can pay to attend college and earn a degree. Medical school is costly worldwide, not just in the United States.
Subscribe to RM Group of Education Newsletter, Get Admission, Fees, Seats etc.
Medical experts are in low supply in Nepal. Therefore, the nation's top objective is to train more doctors and make them accessible in outlying areas. Nepal is renowned for having some of the world's leading medical schools, which are also flexible and affordable for students who want to pursue careers as doctors and nurses. Pre-medical, medical, and post-graduate programmes are Nepal's three divisions of medical education. There are two categories of pre-medical courses: science and humanities. Many medical schools exist in Nepal. However, the Institute of Medicine (IOM), Kathmandu Medical College (KMC), and Tribhuvan University School of Medicine are the most famous.
Table of Contents
Why Study MBBS in Nepal?
Many people believe enrolling in an MBBS programme in Nepal is a lousy option because they think obtaining residency in other nations will be difficult. However, several countries recognise the Nepali MBBS as equivalent to their medical degree. Since Nepal has very affordable medical school tuition, you may utilise the money you save to fund your studies, save for the future, or even purchase real estate if you plan to move abroad after graduation. Both inhabitants and visitors in Nepal require the services of doctors. It is a  rewarding profession that offers the chance to contribute to society.
It needs additional doctors to care for its citizens and provide medical services to foreigners who travel to the government for treatment. The demand for more doctors is rising along with the nation's tourism economy. Foreigners worldwide have been flocking to the government in recent years to receive medical care at rates lower than those available at home, growing the country's medical tourism business dramatically.
The Nepali medical education system comprises a five-year undergraduate programme and a one-year internship. In Nepal, studying is relatively safe and secure. The nation is an excellent area for kids to learn about many civilisations because of its wide range of people, cultures, languages, faiths, and lifestyles. Because of the reasonable tuition, overseas students can enrol without worrying about their finances.
MBBS in Nepal for Indian Students
There are many advantages to thinking about getting your MBBS in Nepal. The nation is close to India and is easily accessible. Nepal offers many options for Indian students studying an MBBS overseas.
Nepal is a popular destination for Indian students who want to study medicine. Among other advantages, students can gain from the country's affordable tuition fees, a wide range of universities, and vast clinical experience.
Nepal is one of the most economical places to study medicine because it provides several scholarships for Indian students. In addition, Nepal offers very high-quality medical education, with many of its colleges receiving WHO accreditation. Nepal is an excellent option if you're seeking a place to study medicine that gives exceptional value for the money.
Because of Nepal's affordable tuition and good standard of education, students from India are drawn there. Not only is MBBS in Nepal reasonably priced, but it also offers a high-quality education on par with that of any university in India.
The following are a few reasons why medical education in Nepal is less expensive than in India:
| Reason | Description |
| --- | --- |
| 1 | Compared to most other nations, Nepal has lower living expenses. Living abroad (in India) can be expensive due to high rent and food costs. |
| 2 | The value of the Nepalese Rupee has drastically declined in recent weeks due to a sharp decline in the US dollar value. |
Is MBBS in Nepal Valid in India?
MBBS from Nepal is recognised in India. A degree awarded by medical schools is called a Bachelor of Medicine and Bachelor of Surgery, or MBBS. One needs to have an MBBS degree from a medical school accredited by the National Medical Commission (NMC) to practice medicine in India. Since numerous medical institutions in Nepal have received NMC recognition, an MBBS degree is accepted in India. Once you obtain your medical degree from Nepal, you must pass the NMC screening test for it to be recognised in India.
Eligibility Criteria
Nepal has become one of the top preferred destinations for international students to pursue medical degree courses. When You decide on the colleges to pursue your MBBS degree, you must know the eligibility criteria; In this section, we provide details about the MBBS in Nepal eligibility Criteria; let's have a look.
| Particular | Eligibility Criteria |
| --- | --- |
| Age Limit | A student must be at least 17 years old. |
| Education Qualification | They should have obtained at least 50% in each primary subject and an overall grade in 10+2 English and Science. The students are required to present eligibility documents issued by NCM. |
Fees Structure
In Nepal, the cost of an MBBS degree is highly reasonable and relatively modest compared to other nations. Fees may be paid in manageable instalments. Since it is simple to document, students from all over the world are welcome to apply for the medical programme in Nepal. While Hindi is the favoured language, English is Nepal's primary language of communication.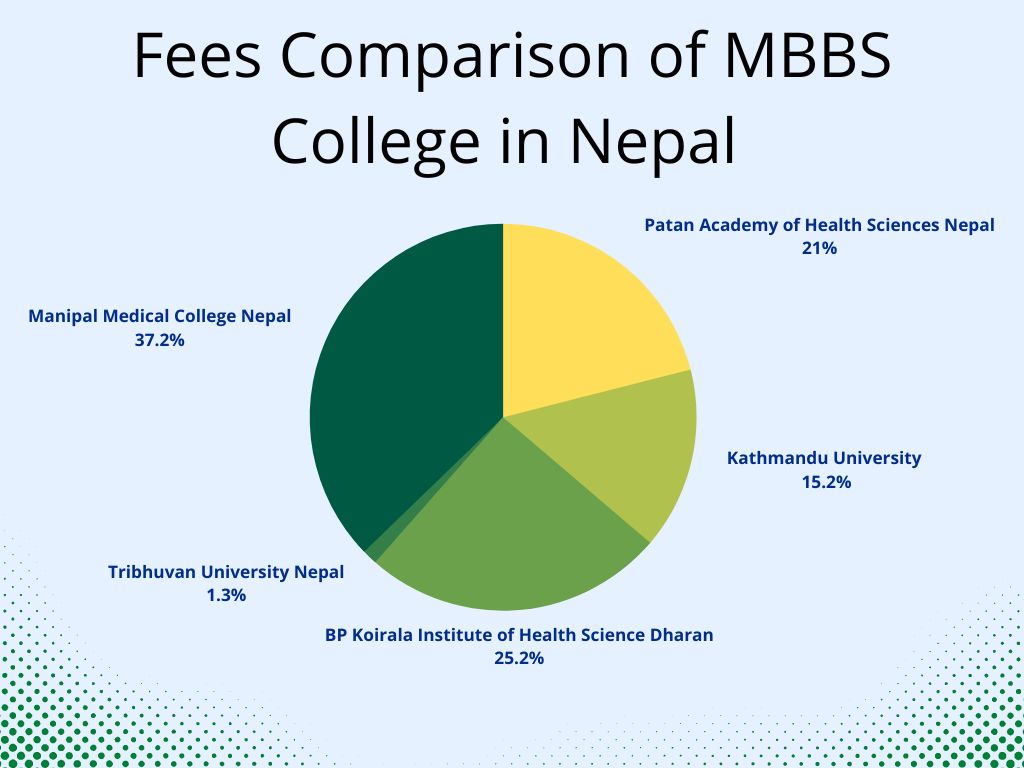 Nepali Medical Colleges with NMC Approval
There are various NMC-approved medical colleges in Nepal if you pursue a medical career. Students from medical schools in  Nepal who have received NMC approval are qualified to practice medicine in India with the same degree as students from other nations. You will study for the MBBS exam in Nepal for five years, including an internship.
What is the cost of MBBS in Nepal?
In Nepal, MBBS tuition costs are relatively low compared to other nations. Even after accounting for additional expenses like food and lodging, the cost of living in Nepal is modest. It is for this reason, among others, that international students favour Nepalese medical schools. The same advantages to Indian students are also available to international students at reasonable tuition costs. The cost of an MBBS in Nepal varies depending on the university. The majority of colleges will want you to have finished your secondary schooling. Your fees will range from INR 30 to 60 lakhs depending on the college.
Frequently Asked Questions (FAQs)
Is the MBBS degree from Nepal valid in India?
Yes, the MBBS degree from Nepal is 100% valid in India. Nepal has NMC-approved medical universities which have recognition globally.
Best colleges for MBBS in Nepal?
Is Hostel compulsory in MBBS in Nepal?
Yes, all the students must stay in hostels.
How much NEET score is required for MBBS in Nepal?
You have to qualify for the NEET exam to qualify for the eligibility criteria for MBBS. The exact score depends upon the University.
Is Nepal MBBS better than India?
MBBS in Nepal is much more affordable for students than in India, with high-quality education Students who dream of being a doctor can definitely consider Nepal an option.
Read Also: