MBBS in Nepal: Do you want to study MBBS Abroad but don't want to travel over seven oceans? MBBS in Nepal is then what you should aim for. It is the ideal location for providing quality and reasonably priced medical education for Indian students seeking to study MBBS in Nepal because it has earned a place among the world's top medical institutes. The average tuition fees for MBBS in Nepal range from 40 to 60 lakhs for the entire course. The cost of living in Nepal is also relatively low, so the total cost of studying MBBS in Nepal is much lower than in other countries. MBBS in Nepal for Indian Students are exposed to a rich cultural experience. Nepal's diverse culture, traditions, and natural beauty offer a unique backdrop to their educational journey. Studying MBBS in Nepal comes among the Top 5 Countries for Indian Students to Study MBBS Abroad at Low Cost.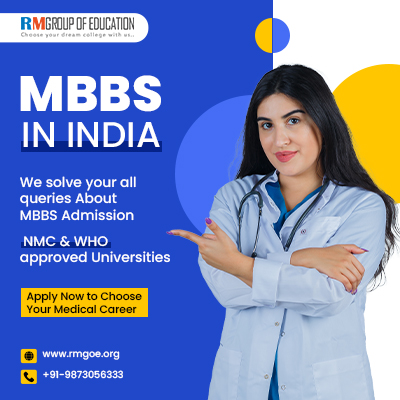 The fact that Nepal's MBBS Colleges have accreditation from some of the world's top organisations, like WHO, UNESCO, and NMC is proof that they are among the best medical universities. So if young aspirants desire to study MBBS in Nepal in 2024–25, please do so. If you are looking for a good quality and affordable medical education, Nepal is a great option. If you are interested in MBBS in Nepal, Talk to our Expert Abroad Counsellor at this Number +91 88596 37232 (India).
Subscribe to RM Group of Education Newsletter, Get Admission, Fees, Seats etc.
Table of Contents
Basic Information About Nepal
It is essential to learn about the country before opting for further education. As many people would know, Nepal is a country in Asia, extending along the southern slopes of the Himalayan mountain ranges. Nepal is a landlocked country in South Asia. It is bordered by China to the north and India to the south, east, and west. Nepal is known for its stunning natural beauty, including the Himalayas, which contain eight of the world's ten highest mountains, including Mount Everest, the highest mountain in the world. Nepal is a popular tourist destination, attracting visitors from all over the world.
| | |
| --- | --- |
| Population | 30,896,590 |
| Area | 147,516 km2 (56,956 sq mi) |
| Capital City | Kathmandu |
| Language | English & Nepali Language |
| Climate | Warm, Dry summers and Fairly Severe Winters |
| Literacy Rate | 63.9 Percent (males 76.4% & females 53.1%) |
| Time Zone | UTC+05:45 (Nepal Standard Time) |
| Currency | Nepalese rupee (NPR) |
| Religion | 81.3% Hinduism, 9% of Buddhism, 4.4% Muslim, 3.1% Kirat, 1.4% of Christianity |
Quick Facts
Before reading the complete information about MBBS in Nepal, let's look at Quick Facts.
Particulars
Descriptions
Courses Offered
Bachelor of Medicine and Bachelor of Surgery (MBBS)
Courses Duration
5 Years + (1 Year Internship)
Basic Eligibility
50% in 10+2 (UR)
45% (SC/OBC/ST)
Medium of Teaching
English and Nepali Language
Universities Recognition
NMC & WHO-accredited
Minimum Course Fee (Approx.)
8.10 Lakhs/ Year
Maximum Course Fee (Approx.)
9.50 Lakhs/ Year
Cost of Living in Nepal
5-10 Thousand/Month
Entrance Exam
NEET Qualified (Only)
Talk to our Abroad Counsellor
Call Now > +91 88596 37232
Recognition of Nepal Medical College
Checking the affiliation, recognition, and other affiliating parameters are the most critical factors that decide good and the best medical college. Nepal MBBS Colleges are affiliated with these authorities.
Ministry of Education, Nepal.
NMC (National Medical Commission)
WHO (World Health Organization)
ECFMG (Educational Commission for Foreign Medical Graduates)
FAIMER (The Foundation for Advancement of International Medical Education and Research)
Read also: Study MBBS in India.
Why Study MBBS in Nepal?
It is often the keen aim of every student to apply for admission to higher studies at a reputable university for medical education. In Nepal's medical universities, many students are now pursuing MBBS degrees. For various reasons, Nepal's medical universities dominate the list of student preferences. The primary factors that motivate Indian students to pursue MBBS in Nepal are the high-quality education provided; numerous diagnostics applied to learning; the chance to be innovative; or, more importantly, the disciplined faculty just as an ideal environment.
The cost is one of the key benefits of studying MBBS in Nepal for Indian students. You will discover that the education cost is lower compared to some of India's private medical schools.
There are many top universities in Nepal that NMC and international organisations like the WHO recognise.
English is the primary language of instruction in Nepal's medical colleges. As a result, it won't be difficult for Indian students to enrol on Nepal's medical education.
Nepal's medical education quality is high, and this country's universities have a strong academic basis.
Read Also: Study MBBS in Georgia.
Eligibility Criteria
Nepal has become one of the top preferred destinations for international students to pursue medical degree courses. If you want to study MBBS in Nepal, check the eligibility criteria below.
Particulars
Description
Age
Your age should be at least 17 on or before 31st December of the admission year.
Qualification
Class 12th in Science, with PCB and English subjects from a board recognized by the authorities in India.
Minimum Qualifying (%)
50% in 10+2 (UR)
45% (SC/OBC/ST)
Qualifying Entrance
NEET
Admission Starts
February to September
Graphical Representation of Eligibility Criteria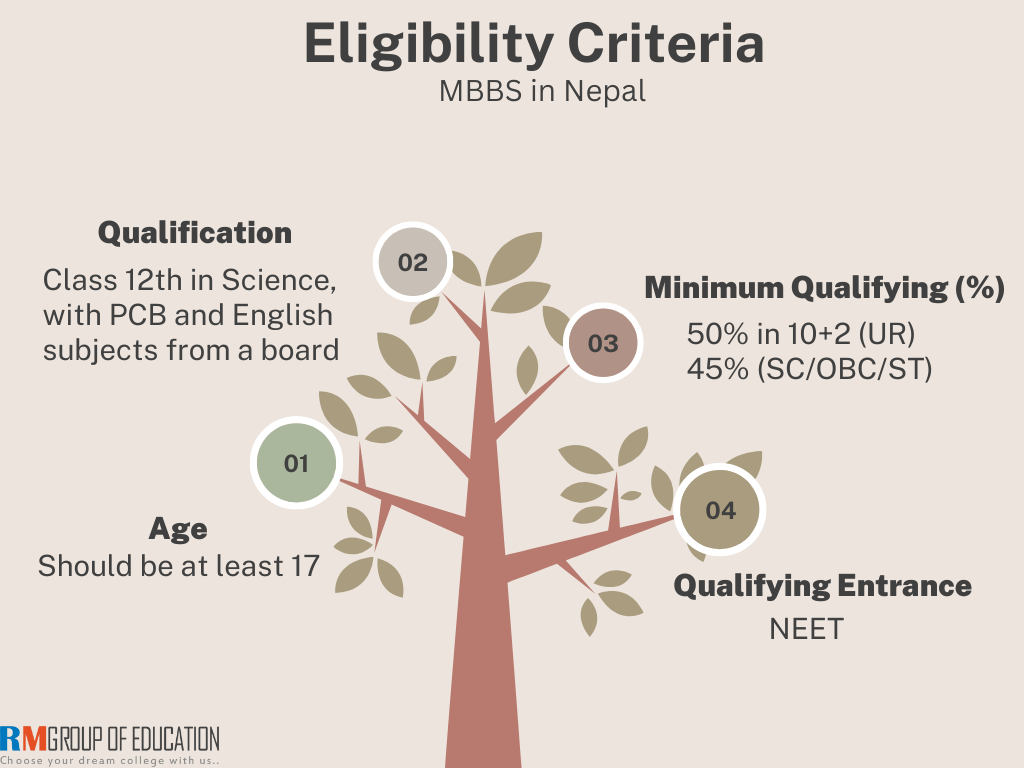 Read also: Which is the Best Country for MBBS for Indian Students.
Admission Procedure
To be admitted to Nepal Medical College, you must qualify for the National Eligibility Entrance Exam (NEET). One must keep in mind that you only have to qualify for the exam. Here are the valuable resources for the NEET Exam that will help you boost your preparation for the NEET exam.
Documents Required
Before admission to medical colleges in Nepal, do not forget to carry all these related documents.
Passport (Minimum 18 months validity).
Class 10th Passing Certificate & Mark sheet.
Class 12th Passing Certificate & Mark sheet.
Birth Certificate.
Ten passport size Photographs
Official Invitation letter from the Medical University of Nepal.
Authorization of all documents from the Ministry of External Affairs, New Delhi.
Legalization of all documents from the Nepal Embassy.
Visa fees.
Bank receipt of University 1st year Tuition fee (required for some Universities).
HIV test documents.
Also, Read MBBS in Nepal without NEET
MBBS Syllabus in Nepal
Before going to Nepal for medical studies, please compare the MBBS syllabus of some of the top-ranked, NMC-approved Nepal MBBS Colleges.
| | | |
| --- | --- | --- |
| Phase | Semesters | Subjects Covered |
| Pre-clinical | 1 – 2: Two Semesters | Anatomy, Bio-chemistry, Physiology |
| Para-clinical | 3 – 5: Three Semesters | Community Medicine, Forensic Medicine, Pathology, Pharmacology, Microbiology, Clinical postings inwards |
| Clinical | 6 – 9: Four Semesters | Community Medicine, Medicine and allied subjects, Obstetrics and Gynaecology, Paediatrics, Surgery and allied subjects, Clinical postings |
Top MBBS Colleges in Nepal with Fee Structure
The updated list of 2024-25 of all Medical or MBBS Colleges in Nepal is officially made by the Medical Council of India. For detailed info about Fee Structure, Courses offered, Admission Procedure, Placement Stats, Cut-off, Facilities available and complete college review, click the college link.
| S.No. | Name of College | Tuition Fees (Total)* | Hostel Fees (Per Year)* |
| --- | --- | --- | --- |
| 1 | Patan Academy of Health Sciences Nepal | Rs. 58,10,000.00/- | updated soon |
| 2 | Kathmandu University Nepal | Rs. 62,25,000.00/- | 50,000.00/- |
| 3 | BP Koirala Institute of Health Science Dharan | Rs. 61,42,000.00/- | updated soon |
| 4 | Tribhuvan University Nepal | Rs. 46,00,000.00/- | 60,000.00/- |
| 5 | Manipal Medical College Nepal | Rs. 62,25,000.00/- | 86,000.00/- |
| 6 | KIST Medical College Lalitpur | Rs. 62,25,000.00/- | updated soon |
| 7. | Nepalgunj Medical College | Rs. 62,25,000.00/- | 50,000.00/- |
| 8. | College of Medical Sciences Bharatpur | Rs. 62,25,000.00/- | 81,000.00/- |
| 9. | Nobel Medical College | Rs. 49,80,000.00/- | updated soon |
| 11. | Lumbini Medical College | Rs. 48,00,000.00/- | 47,250/- |
| 12. | Universal College of Medical Sciences Bhairahawa | Rs. 62,25,000.00/- | 8,000/- (Per Month) |
| 13. | Birat Medical College | Rs. 62,25,000.00/- | 1,46,250/- |
| 14. | Devdaha Medical College And Research Institute | 46,00,000.00/- | 45,000/- |
| 15. | Chitwan Medical College | Rs. 58,50,000 | Including tuition Fees |
| 16. | National Medical College | Rs. 62,25,000.00/- | updated soon |
| 17. | Gandaki Medical College | Rs. 55,00,000.00/- | Including tuition Fees |
| 18. | Janaki Medical College | Rs. 46,00,000.00/- | Including tuition Fees |
Note: The fees mentioned are approximate and subject to change.
Top MBBS Colleges in Nepal Fee Structure ( Graphical Representation)
Read Also: Comparison between MBBS in India Vs. MBBS abroad.
Top 5 MBBS Colleges in Nepal
The updated list of 2024-25 of all Medical or MBBS Colleges in Nepal is officially made by the NMC.
Future Career Opportunity After MBBS in Nepal
Students can do post-graduation after completing MBBS if they clear their respective county's medical licence examination.
Complete assistance for the preparation of USMLE is available in colleges.
Clinical rotation programs are conducted in any country.
Indian students can return to India after passing the NEXT exam.
Pros & Cons
Do you know that the Ministry of Education in Nepal is in charge of education policy? However, all colleges and universities are publicly run and subsidised by taxpayers' money. Nepal is the eleventh most common country of origin for foreign students in the USA. MBBS in Nepal is worth it or not? And what are the benefits of studying MBBS in Nepal or the drawbacks? Here are just a few of the many benefits and drawbacks of studying in Nepal:
Advantages of Studying in Nepal
The Indian students seeking admission are admitted to institutions recognized by the Medical Council of India for screening tests conducted by NMC.
The tuition fee is relatively low and affordable.
The cost of living for students is relatively low too.
Nepal MBBS courses follow the mode of the English language as it is one of the most spoken languages in the world.
Hostel accommodations are comfortable and up to the mark for a student's comfort.
Read also: Benefits of Studying MBBS in Nepal for Indian Students
Disadvantages of Studying in Nepal
As Nepal is the local language in Nepali, students might feel the tongue is a barrier (outside the university campus).
One might have to put extra effort into learning the Nepali Language after the class hour.
The climate of the country is cold most of the time. Therefore, it might be hard for students to adapt.
Those who wish to study and work together to cover their expenses may face difficulties because it requires self-study and concentration.
Know More about the Advantages and disadvantages of studying in Nepal
Frequently Asked Questions (FAQs)
Is MBBS abroad a good option?
Yes, MBBS abroad is a good option for Indian students. It provides a chance to learn from some of the best professors globally and exposure to different people. Also, MBBS abroad gives you the flexibility to practice in India or any foreign country.
What are the fees for MBBS abroad?
It can cost you around 20-25 lakh minimum. However, in some countries, the amount can go up to 30 to 35 lakhs.
Is MBBS in Nepal Goof for Indian Students?
Nepal is well known among Indian medical students for providing quality training, a top-notch medical framework, and practice-based learning at the most reasonable cost.
How much does MBBS cost in Nepal?
It might cost you somewhere around 20-25 lakh.
Why is MBBS cheap (Low Budget) in Nepal?
Nepal has the most reliable quality education, and the expense of medical training in Nepal is low. Nepal has numerous government-funded medical colleges, and bodies like NMC and WHO perceive many medical colleges.
What is the admission procedure for MBBS in Nepal?
Candidates must have passed 10+2 or equivalent with PCB and English. The student must have passed with an aggregate of 50% marks. Candidates must have completed 17 years, and students must have qualified for the NEET entrance exam.
Can an Indian student get an education loan?
Yes, Indian students get an education loan; students can get a loan of up to INR 20 Lakh. After six months (if you get a job) of completing the course, you must start your loan repayment.
Can I study MBBS in Nepal without NEET?
The qualification exam for the Neet is difficult and competitive. However, certain colleges in Nepal also provide an MBBS degree without the NEET.