MBBS in Belarus: Belarus is officially the Republic of Belarus, formerly known by its Russian name Byelorussia. The country has 2 official languages, Belarusian and Russian. When visiting Belarus, tourists first say that it is green, clean, safe, and has excellent roads compared to Russia and Ukraine. The Byelorussian SSR was one of the two Soviet republics that joined the United Nations, and the Ukrainian SSR was one of the original 51 members in 1945. According to November 2011, 58.9% of all Belarusians adhered to some religion; Eastern Orthodoxy (Belarusian Exarchate of the Russian Orthodox Church) made up about 82%.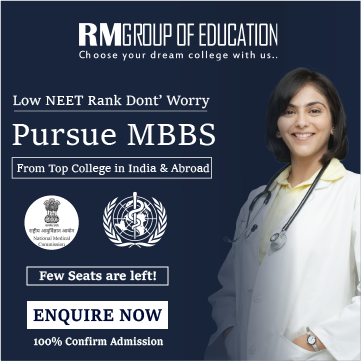 If we say that you can still complete your dream of being a doctor in a place that provides quality education at an affordable price, yes, we are talking about MBBS in Belarus, and yes, we know that you might have a lot of questions like is MBBS in Belarus good, or what after MBBS in Belarus? To name a few. Hold on to your gear as we talk about that and all other things that will aid you in completing your dream of being a doctor.
Subscribe to RM Group of Education Newsletter, Get Admission, Fees, Seats etc.
Country Summary
Population
9,491,800
Area
207,595 km2(80,153 sq mi)
Capital City
Minsk
Other largest cities: Gomel (Homel), Mogilev (Mahileu), Vitebsk etc.
Language
Belarusian and Russian
Climate
Continental influenced by hot, dry summers and (very) cold winters
Literacy Rate
99.7%
Time Zone
UTC+3 (FET)
Currency
Belarusian ruble (BYN)
Religion
Belarusians, Catholics (either Roman Catholic or Belarusian Greek Catholic), and 3.5% are other religions.
Admission Procedure
If you want to take MBBS admission in Belarus, you must qualify for the National Eligibility Entrance Exam (NEET). One must keep in mind that you only have to be eligible for the exam. Here are the valuable resources for NEET Exam that helps you boost preparing for the NEET exam.
Document Required
Before taking admission to the Medical College of Belarus, please do not forget to carry all these related documents. Passport (Minimum 18 months validity).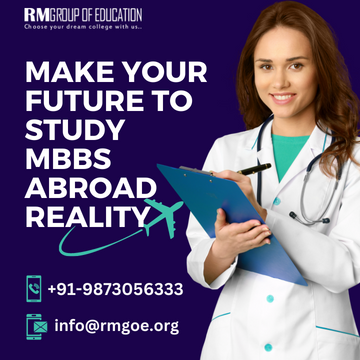 10th Certificate & Mark sheet.
12th Certificate & Mark sheet.
Birth Certificate.
10 passport-size Photographs
Official Invitation letter from the Medical University of Belarus.
Authorization of all documents from the Ministry of External Affairs, New Delhi.
Legalization of all documents from the Belarus Embassy.
Visa fees
Bank receipt of University 1st year Tuition fee (required for some Universities).
MBBS Syllabus in Belarus
Before going to Belarus for Medical, studies compare the MBBS in the Belarus Syllabus of some of Belarus's top-ranked, NMC-approved medical universities. You can see the
Year
Subjects Covered
1st Year
Anatomy, Bio-chemistry, Physiology
2nd Year
Community Medicine; Forensic Medicine,
Pathology, Pharmacology, Microbiology,
Clinical postings inwards, OPDs to begin
here;
Click here to see the difference between MBBS Syllabus in India and Belarus
Top MBBS Colleges in Belarus
Here is the updated 2022-23 of all Belarus MBBS Colleges officially made by India's Medical Council. To know detailed info about Fees Structure, Courses offered, Admission Procedure, Placement Stats, Cut-off, and Facilities available and complete the college review, click the college link or Read more link. It will provide a list of the best medical colleges.
| S.No. | Name of Colleges | Fee Structure | Hostel Fees |
| --- | --- | --- | --- |
| 1 | Belarusian State Medical University | 3,43,000 | 70,000 |
| 2 | Gomel State Medical University Belarus | 2,94,000 | 82,000 |
| 3 | Grodno State Medical University | 3,15,000 | 56,000 |
| 4 | Vitebsk State Medical University Belarus | 3,90,000 | 66,000 |
Top MBBS Colleges in Belarus

(Graphical Representation)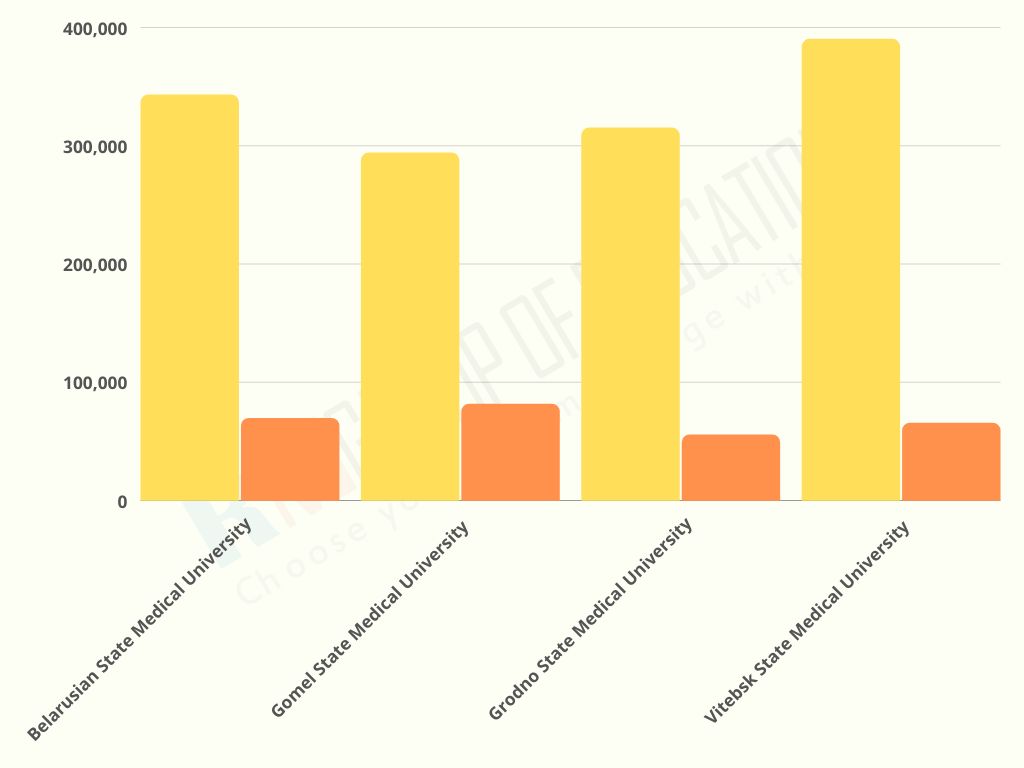 Advantages and Disadvantages of studying in Belarus
There is one Medical University of higher learning in Belarus. Enthralling, right? The higher education system is of high quality, and all leading universities offer programmes taught in English within study areas such as medicine, engineering, humanities, business and finance. There are a lot of advantages to studying in Poland, here are just a few: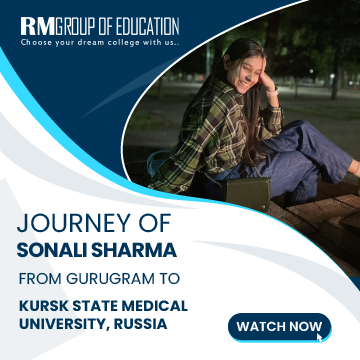 Advantages of studying in Belarus
The Indian students seeking admission are admitted to those institutions which are recognized by the medical council of India for screening tests conducted by NMC.
Colleges in Belarus don't ask for any kind of donation during the time of admission.
The tuition fee is affordable.
Medical colleges in Belarus are acknowledged by elite bodies like WHO and NMC.
The cost of living for Indian students can be easily earned by doing part-time work.
Disadvantages of studying in Belarus
As Polish is the local language in Belarus, therefore, students might feel the language is a barrier (outside the university campus).
One of want might have to put extra effort into learning the Polish Language after the class hour.
Those who wish to study and work together to cover their expenses may face difficulties. Because it requires a lot of self-study and concentration.
In hospitals, international students are not permitted to touch patients during an internship while studying MBBS in Belarus.
Frequently Asked Questions (FAQs)
Q. Is MBBS abroad a good option?
A. Yes, MBBS abroad is a good option for Indian students. It provides a chance to learn from some of the best professors globally and provides exposure to different people. Also, MBBS abroad gives you the flexibility to practice in India or any foreign country.
Q. Is MBBS Good in Belarus?
A. If you are looking for a decent MBBS university or college abroad, Belarus should be your top priority. Belarus is the ultimate destination for MBBS abroad.
Q. How much does MBBS cost in Belarus?
A. It might cost you somewhere around 20-25 lakh.
Q. What is MBBS called in Belarus?
A. MBBS is known as "Physician in General Medicine". It is the same thing, just the difference in nomenclature.
Q. Why is MBBS cheap (Low Budget) in Belarus?
A. The tuition fee for MBBS in Belarus is subsidized by the Ministry of Education of Belarus which makes it reasonable for to pursue MBBS in Belarus for Indian students. Medical colleges/universities in Belarus are approved by the MCI/NMC and WHO and the degree has worldwide recognition.
Q. What is the admission procedure for MBBS in Belarus?
A. Candidates must have passed 10+2 or equivalent with PCB and English. The student must have passed with an aggregate of 50% marks and 50% marks. Candidates must have completed 17 years and students must have qualified for the NEET entrance exam.
Q. Can an Indian student get an education loan?
A. Yes, Indian students get an education loan, and students can get a loan amount of up to INR 20 Lakh. After six months (if you get a job) of completion of the course, you have to start your repayment of the loan.