MBBS in Kyrgyzstan: One of the best options for pursuing an MBBS and completing your dream of becoming a doctor is an MBBS in Kyrgyzstan, which is affordable. The cost of top medical universities and accommodation is meagre compared to other European & Asian countries. No donation & capitation fees are required to study medicine in Kyrgyzstan. Universities have a full track record of producing world-class doctors and scientists since 1992.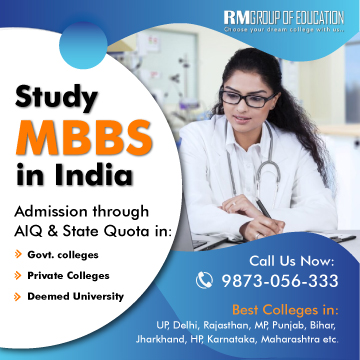 Let's say that you can still complete your dream of being a doctor in a place that provides quality education at an affordable price. We are talking about MBBS in Kyrgyzstan, and yes, we know that you might have a lot of questions like Is MBBS in Kyrgyzstan good, or what after MBBS in Kyrgyzstan? To name a few. Hold on to your gear as we talk about that and all other things that will aid you in completing your dream of being a doctor.
Subscribe to RM Group of Education Newsletter, Get Admission, Fees, Seats etc.
Country summary
Kyrgyzstan, officially the Kyrgyz Republic and known as Kirghizia, is a country in Central Asia. Kyrgyzstan is a landlocked country with mountainous terrain. Kazakhstan borders it to the north, Uzbekistan to the west and southwest, Tajikistan to the southwest, and Kyrgyzstan. Kyrgyzstan's history spans a variety of cultures and empires. Although geographically isolated by its highly mountainous terrain, Kyrgyzstan has been at the crossroads of several great civilizations as part of the Silk Road and other commercial routes. Kyrgyzstan is a member of the Commonwealth of Independent States.
Population
6,389,500
Area
199,951 km2 (77,202 sq mi) (85th)
Capital City
Bishkek
Language
Official State Language: Kyrgyz
Co-Official Language: Russian
Climate
40 °C (104 °F)
Literacy Rate
99.5 %
Time Zone
UTC+6 (KGT)
Currency
Som (c) (KGS)
Religion
Islam: 82.7%
Christianity: 16.0%
Others: 1.3%
Eligibility Criteria
Kyrgyzstan has been one of the top preferred destinations for international students to pursue their Medical Degree Courses. If you, too, want to study MBBS in Kyrgyzstan, check the eligibility below.
Age
You are at least 17 years old on or before 31st December of the admission year.
Qualification
Admission Seekers should complete their Higher Secondary Education with a minimum 50% mark covering Physics, Chemistry and Biology streams.
Minimum Qualifying (%)
50% in 10+2 (UR)
45% (SC/OBC/ST)
Qualifying Entrance
NEET
Medium of Teaching
English
Duration of Course
5 Years & 6 Years
Minimum Course Fee (Approx.)
1.60 Lacs/ year
Maximum Course Fee (Approx.)
15 lacs/ Year
Cost of Living in Kyrgyzstan (Approx.)
310 USD/ Month.
Talk to our Abroad Counsellor
+91-9999709233 (India)
Read also: Direct Admission in MBBS in Kyrgyzstan
Admission Procedure
If you want Admission to Kyrgyzstan, you must qualify for the National Eligibility Entrance Exam (NEET). One must remember that you only have to be eligible for the exam. Here are the valuable resources for NEET Exam that will help you boost preparing the NEET exam.
Documents Required
Before admission to the Medical College of Kyrgyzstan, please do not forget to carry all these related documents. Passport (Minimum 18 months validity).
Birth Certificate.
10th Certificate & Mark sheet.
12th Certificate & Mark sheet.
10 passport-size photographs
Official Invitation letter from the Medical University of Kyrgyzstan.
Authorization of all documents from the Ministry of External Affairs, New Delhi.
Legalization of all documents from the Kyrgyzstan Embassy.
Visa fees
Bank receipt of University 1st year Tuition fee (required for some Universities).
HIV test documents.
Recognition of Kyrgyzstan Medical College
Checking the affiliation, recognition and other affiliating parameters are the most critical factors that decide good and the best medical college. Medical colleges in Kyrgyzstan are affiliated with these authorities.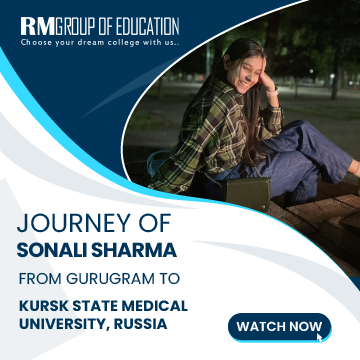 Ministry of Education, Kyrgyzstan.
NMC (National Medical Commission)
WHO (World Health Organization)
ECFMG (Educational Commission for Foreign Medical Graduates)
WFME (World Federation for Medical Education)
FAIMER (The Foundation for Advancement of International Medical Education and Research)
Read also: Why Study MBBS in Kyrgyzstan is the Best Option for Indian Students?
NMC Approved Universities for MBBS in Kyrgyzstan
So, now that we have covered the aspects of why MBBS in Kyrgyzstan is good and the eligibility criteria, let's get into the Best MBBS in Kyrgyzstan colleges updated and approved by NMC for the session 2023-2024. Below is the updated list of all the NMC-accredited Kyrgyzstan MBBS colleges and universities.
Read also: Top 5 Countries to study MBBS Abroad at Low Cost.
Top MBBS Colleges in Kyrgyzstan with Fees Structure
Kyrgyzstan MBBS Colleges are recognised by some of the world's elite bodies, such as WHO, NMC and UNESCO. Here is the list of Medical colleges in Kyrgyzstan with their Fee Structure.
| | | | |
| --- | --- | --- | --- |
| S.No. | Name of the University | Tuition Fees /Year | Hostel Fees / Year |
| 1 | Asian Medical Institute | 4,40,000 INR | 48,000 INR |
| 2 | International School of Medicine, Bishkek | 4,48,000 INR | 40,000 INR |
| 3 | Jalal-Abad State University, Jalal-Abad | 4,40,000 INR | 40,000 INR |
| 4 | Kyrgyz Russian Slavic University | 5,20,000 INR | 48,000 INR |
| 5 | Kyrgyz State Medical Academy | 3,15,000 INR | 39,000 INR |
| 6. | LN Medical College Kyrgyzstan | 3,00,000 INR | N/A |
| 7. | Osh State University Medical Faculty Kyrgyzstan | 4,000 US $ | 600 US $ |
NOTE: Above mentioned fee is approximate and is subject to change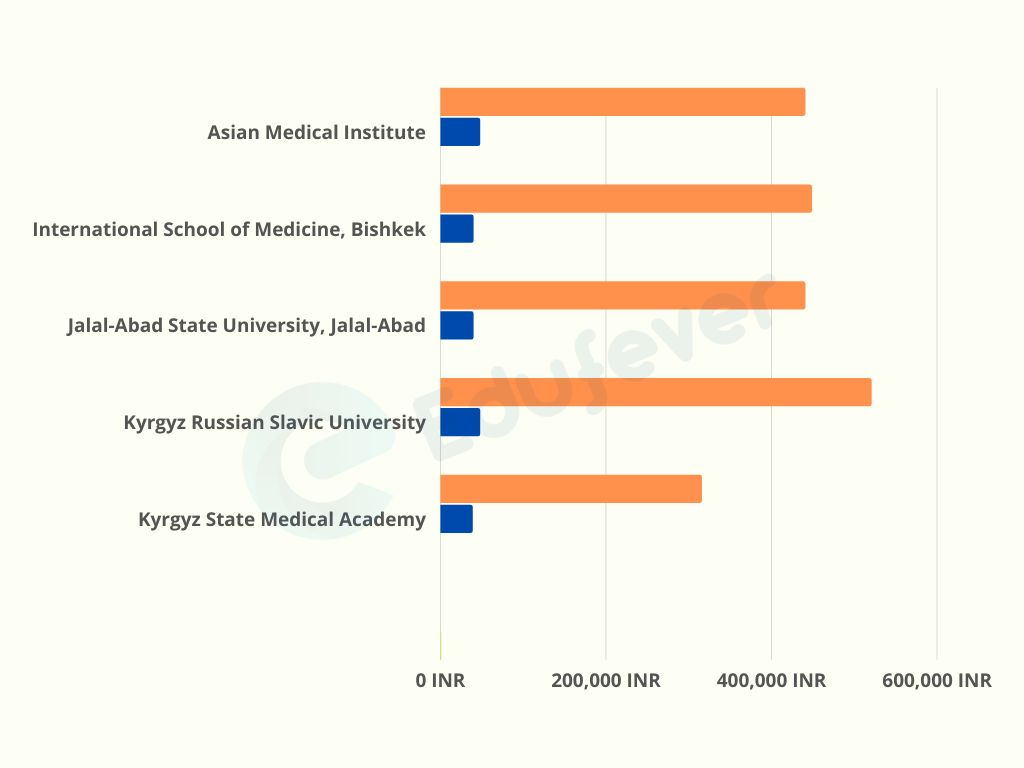 Advantages of Studying in Kyrgyzstan
No Entrance test is required to study at the Medical Universities of Kyrgyzstan (Only a NEET Qualification is enough).
Wide range of possibilities and broad exposure to clinical practice due to highly equipped multi-profile hospitals.
The tuition fee is relatively low and affordable.
Elite bodies like WHO and NMC acknowledge medical colleges in Kyrgyzstan.
The cost of living for students is relatively low too.
Kyrgyzstan's MBBS courses follow the mode of the English language as it is one of the most spoken languages in the world.
Hostel accommodations are comfortable and up to the mark for a student's comfort.
MBBS colleges in Kyrgyzstan provide excellent academics as well as sports.
Disadvantages of Studying in Kyrgyzstan
One might have to put extra effort into learning the Kyrgyz Language after the class hour.
The climate of the country is cold most of the time. Therefore, it might be hard for students to adapt.
Those wishing to study and work together to cover their expenses may face difficulties because it requires a lot of self-study and concentration.
Comparison between MBBS in Kyrgyzstan & MBBS in India
There is various basis on which MBBS in Kyrgyzstan differ from MBBS in India, like the cost of study, MBBS course duration, eligibility, admission and more. So, below we have mentioned the comparison between MBBS in Kyrgyzstan and MBBS in India. Let's take a look.
| MBBS in Kyrgyzstan | MBBS in India |
| --- | --- |
| The cost of studying medicine in Kyrgyzstan is relatively low. | The cost of studying medicine in India is relatively high. |
| MBBS course duration in Kyrgyzstan is 5 & 6 years. | The duration of the MBBS course in India is 6 years. |
| An entrance test is not mandatory in almost every university in Kyrgyzstan. | Entrance test required. |
| A donation is not required at the time of admission. | Various colleges in India take donations for admission to medical courses. |
| Degree awarded as MD in Medicine. | Degree awarded as MBBS in Medicine. |
Read also: MBBS in India vs MBBS Abroad.
Frequently Asked Questions (FAQs)
Can an Indian student get an education loan?
Yes, Indian students get an education loan; students can get a loan of up to INR 20 Lakh. After six months (if you get a job) of completing the course, you must start your loan repayment.
Which country has the lowest fee structure for Indian students?
Russia, Kyrgyzstan, Kazakhstan, China, and Georgia are examples of the lowest fee structure for Indian students.
Which country is best for MBBS, China or Kyrgyzstan?
The course structure, duration, and quality of education in the medical universities of both countries are quite similar. Even the fees and cost of living in these countries for Indian students are almost identical, with MBBS in Kyrgyzstan being the lowest and MBBS in China not far behind.
What is the admission procedure for MBBS in Kyrgyzstan?
Candidates must have passed 10+2 or equivalent with PCB and English. The student must have passed with an aggregate of 50% marks and 50% marks. Candidates must have completed 17 years, and students must have qualified for the NEET entrance exam.
Why is MBBS cheap (Low Budget) in Kyrgyzstan?
The tuition fee for MBBS in Kyrgyzstan is subsidized by the Kyrgyzstan Education Ministry, making it reasonable to pursue MBBS in Kyrgyzstan for Indian students. Medical colleges/universities in Kyrgyzstan are approved by the NMC and WHO, and the degree has worldwide recognition.
Is MBBS good in Kyrgyzstan?
MBBS is known as "Physician in General Medicine". It is the same thing, just the difference in terminology.
How much does it cost to study MBBS in Kyrgyzstan?
It might cost you somewhere around 20-30 lakh.
What are the fees for MBBS abroad?
It can cost you around 20-30 lakh minimum. However, in some countries, the amount can go up to 30 to 35 lakhs.
Is MBBS abroad a good option?
Yes, MBBS abroad is a good option for Indian students. It provides a chance to learn from some of the best and most highly qualified professors globally and provides exposure to different people. Also, MBBS abroad gives you the flexibility to practice in India or any foreign country.
Which country is best for MBBS abroad?
Russia, Ukraine, Kyrgyzstan, Germany, and Georgia are supposed to be the top 5 destinations to study MBBS abroad.
Is Kyrgyzstan MBBS degree valid in India?
MBBS from Kyrgyzstan is valid in India as some of the Kyrgyz universities are approved and authorized by WHO, UNESCO and NMC.
Read Also: