MBBS in Russia Admission Process for Indian Students: The land of the Russian Federation has always been quite popular for many reasons. Of course, education is among them. They are famous as a renowned destination for international students who wish to pursue MBBS right from Soviet Era. Russia boasts about occupying almost 30 positions among the top 100 ranking Medical Universities according to the World Health Organization (WHO)'s "Directory of World Medical Schools". Pass-outs from Russian Medical Universities are presently working in leading Hospitals across the globe. MBBS in Russia is a preferred choice for International students because of the Russian Ministry of Health & Education's highly subsidised fee compared to other western countries. High Quality of Education combined with this low cost is one of the main reasons for choosing the top medical universities of Russia for MBBS.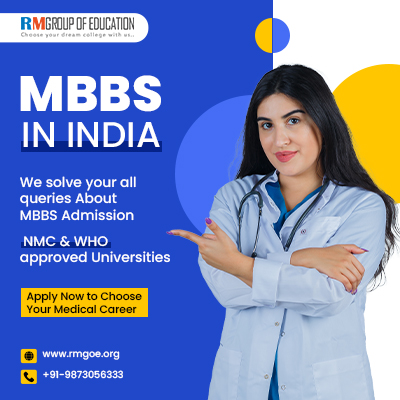 There has been a tenfold increase in international students travelling for MBBS in Russia in the past decade. All universities are recognized by the WHO & Medical Council of leading countries like the U.S.A, U.K, Middle East, Australia, India, Canada etc. If you wish to complete MBBS from Russia, particularly in the English medium, it will take you 6 years to complete your degree. On opting for Russian as a learning medium, it will take you 7 years to complete your degree, including one year in a Russian Language Training programme.
Subscribe to RM Group of Education Newsletter, Get Admission, Fees, Seats etc.
Now, let's talk something about the country itself. Situated in Asia and Eastern Europe, Russia is the largest country by land area. Moscow is the capital city and the country's official name in the Russian Federation. The Russian Federation government is based on a democratic form of rule. As stressed earlier, Russia is a preferred choice for International students because of the highly subsidized fee by the Russian Ministry of Health & Education compared to other western countries.
Table of Contents
Key Reasons to Study MBBS in Russia
Some of the key reasons that would clear your mind as to why Russia can be an excellent place for you to study MBBS are:
Affordable and feasible study
High FMGE Results
Technically Equipped Learning
Numerous Specialisation Courses
Goal-Oriented Learning
So, if you wish to choose the land of the Russian Federation as your destination to complete your MBBS degree or want to learn more about the topic, just let us know. From helping you find your dream destination to making you realise your potential specialisation to making sure you get admission to a top medical college or university, we are working for you here at the RM Group of Education. Your future, career, dreams, and aim, in short, you are the one for whom we are working.
Eligibility Criteria
Admission decisions are based on candidates' prior academic performance. Basic requirements for eligibility include:
• The applicant received at least 50% in science in their 10+2 grade.
• The applicant must be 17 years old by December 31 of the admissions year for Russian MBBS.
• To be admitted, Indian aspirants must pass the NEET exam.
• The applicant does not have any infectious diseases, such as HIV/AIDS, TB, or others
Documents Required
• Duly filled admission form,
• Class 12 pass certificate and mark sheet,
• Class 10 mark sheet,
• NEET UG Score Card (you can submit it later after the result is declared)
• Passport-size colour photograph on white background
• Scanned copy of Passport (First and Last Page)
Read also: Advantages and Disadvantages of Studying MBBS in Russia
Application dates and deadlines 2023
Admissions for MBBS programmes in Russia typically open between October- November each year. The deadline for submitting application forms is on the last of February. By the end of February, all applications must be received. Because there are many applications and there are a limited number of seats, we suggest students apply as soon as possible. Admissions are strictly offered based on availability and are given first come, first served. As a result, individuals that apply early receive an additional reward.
Read also: Why is MBBS Cheap in Russia? See the complete top reason here.
How to apply to a Russian medical university?
Here are the detailed instructions for MBBS in Russia Admission Process for Indian Students; If you are looking for admission to MBBS in Russia and want to learn the complete process of a Russian medical university, then you must know the step-wise procedure here.
Step 1
You can find information about Russian medical universities, eligibility requirements, MBBS tuition costs, admission requirements, and Continental Education Consultants' facilitation costs there. Parents and students must know all the details of Russian universities, academic programmes, and living expenses.

Step 2
After thoroughly weighing the benefits and drawbacks of studying in Russia, the applicant must submit a properly completed admission form together with scanned copies of their class 12 diplomas and transcripts.

Step 3
The student must pay an application/registration fee at this initial step either by a demand draught made out to Continental Education and payable in Delhi or New Delhi, OR you can bank transfer the required sum to the business account.

Step 4
You'll get a confirmation email after paying the application cost and submitting your application. Your application is then forwarded to the relevant university after this is finished. An acceptance or admission letter from the university verifying the seat reservation will be issued within two weeks. The student is subsequently handed this letter of admission.
Read also: The cost of studying MBBS in Russia will blow your mind.

Step 5
Next, we will apply for the VISA INVITATION LETTER, a legal document issued by the Russian Federation's Ministry of Foreign Affairs. It takes about a month to find the invitation letter, which is a tiresome process. The student should turn in his original passport at this point.

Step 6
The Russian embassy will then receive the INVITATION LETTER and Original Passport and process CEC's application for a student VISA. The student gets informed of the departure date as soon as the visa is prepared. The student must make plans to obtain the requisite foreign currency (US Dollars) for living expenses and tuition at the university. The student receives all original paperwork, including their passport, visa, and diplomas.
Step 7
The students ought to start getting ready for their trip to Russia at this point. Additionally, a list of instructions and necessities will be sent to the travelling pupils.

Step 8
The students must also make sure they have all the required paperwork because they will need to produce it when they arrive at the university office.

Step 9
The students will be met upon arrival in Moscow by one of our representatives, who will assist them in travelling from the airport to the university hostel. The agent will help them the following day in paying the administrative and college fees for the university where they will be enrolling in the MBBS programme. The student won't encounter any difficulties because they will be led during the entire admissions process. On foreign terrain, we will go with the young students at every step.
Read also: How to do MBBS from Russia? See the Complete Admission Procedure Here!
Frequently Asked Questions (FAQs)
Is it easy to get an MBBS seat in Russia?
The admission procedure in Russia is simple, and Russia has one of the best medical universities with affordable fees. For further detail regarding the admission procedure, you can contact us at -9873056333
Is there any age limit for MBBS in Russia?
The age limit for doing MBBS in Russia is:
Minimum Age Limit – 17yr
Maximum Age Limit – 25yr
How many years does it take to complete MBBS in Russia?
MBBS degree duration in Russia is 6yrs (English Medium). Indian students who study MBBS in Russia (English medium) have to do a preparatory course of 1  year which increases their course duration.
Is a Russian MBBS degree valid in India?
Yes, an MBBS degree from Russia is valid in India, but for practice or internship in India, you have first to qualify FMGE exam.
Read Also: