10 Tips on How to Save Money for Students While Studying Abroad: Congratulations! You're heading to study abroad in a great city, jumping through all the paperwork hoops and arriving at a foreign country's airport with just your suitcase and a heady sense of excitement. What Now? In a few months, you'll have made new friends and gained invaluable knowledge of a new culture, but you'll also be broke. Like, totally, broke. You're not sure if you can afford the plane ticket home anymore because you've had to pawn everything you own. It's that bad. The euphoria of going on an exchange to a new country is something everyone should experience, but it can also be one of the most financially stressful times of your life. You want to see everything and do everything, but it's hard to budget when you're thinking in a strange currency, and everything is so shiny and new.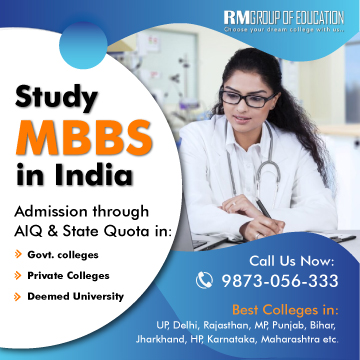 One of the main concerns while studying abroad is how to manage money while studying abroad. Analyze your cost of living, courses and visa fees to work out possible savings. Aspects such as the exchange rate, the cost of living and potential ways to save money are questions you will often be asking. Ultimately, this will define the success or failure of your experience. So, before you reach this point of no return, take a quick peek at the list below. By following these suggestions, you might be able to pull off the perfect, stress-free study abroad experience. Here we offer you Tips on How to Save Money for Students While Studying Abroad to help you take care of your pocket while having a great study abroad experience.
Subscribe to RM Group of Education Newsletter, Get Admission, Fees, Seats etc.
Table of Contents
10 Tips on How to Save Money for Students While Studying Abroad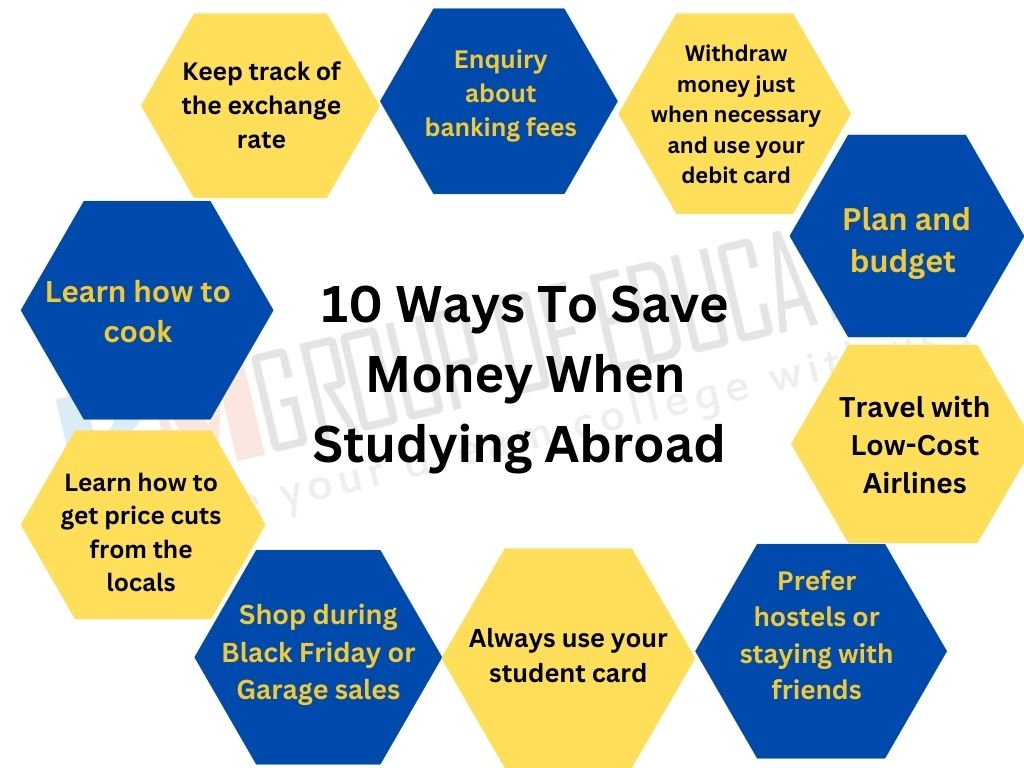 1. Keep track of the exchange rate
The exchange rate is the amount of money you get when you change your currency to another country's currency. Check the rate before making any changes for large sums of money, especially before your trip and at the beginning of each month. Analyze whether the rate benefits you and think twice if it's worth waiting a couple of days and maybe get a bit more money.
2. Enquiry about banking fees
Before your trip, try to talk at your bank branch and ask about all related costs associated with transactions overseas. Costs can range from minimum fees per transaction, commission rates for the currency conversion and even fees for using cashpoints abroad. Before you know it, you could be incurred in a high cost for each transaction, and if you make several per month, you could be paying a large proportion of your monthly budget in bank fees. Our advice is to set a budget including the number of transactions that you think you will make per month, include this cost in your monthly budget, and minimize the number of transactions.
3. Withdraw money just when necessary and use your debit card
Limit the frequency of visits to the cashpoint and use your debit card for purchases, even small ones. When withdrawing the cash needed, try to make a single transaction per month. Keep your money in a safe place and take the necessary safety measures to withdraw cash, accompanied by friends when withdrawing large sums and if you're paying for accommodation, transport, or phone bills, do it by money transfers or by making all payments the same day to avoid having cash with you all the time, in addition, there is the temptation of spending the money on drinks or shopping with your monthly budget when you have cash all the time!
4. Plan and budget
The easiest way to save money is to plan and stick to the budget. Knowing the associated bank fees when overseas and the cost of living at your destination, all you need is to keep a simple diary of expenses based on your budget. Remember to keep a small fund for unexpected overheads in case of an accident or an emergency during your trips. It is one of the important points of 10 Tips on How to Save Money for Students While Studying Abroad.
5. Travel with Low-Cost Airlines
Once you have started your course or program, an exciting part of your experience is the opportunity to travel to nearby towns and go sightseeing outside the country. An advantage of large cities worldwide is the number of daily flights and the wide range of low-cost airlines that offer special deals all the time. However, before travelling, we advise you to review in detail other aspects such as excess baggage costs, transportation, fees for additional services for food and fast-boarding, plus do some research about how to get to the airport.
6. Prefer hostels or staying with friends
Hostels are the best choice when it comes to budget, but they are prepared to share with people from different backgrounds and routines; in most cases, you will have to pay for additional services such as internet, toiletries and a still water bathroom for strangers. Be careful with your belongings; use a padlock in your suitcase when you leave the room and do not leave valuable items or cash in the room.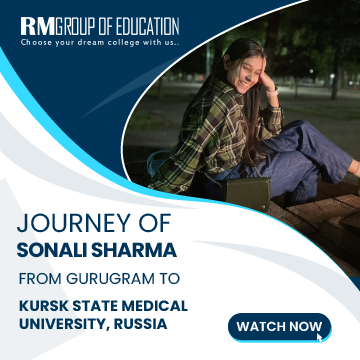 7. Always use your student card
Wherever you go, ask for a student discount. You will be thankfully surprised by the many establishments that offer student discounts and, in some cases, freebies like free tours, city guides and maps. In most cases, you could get a 10-20% discount. Always check the expiry date of your student ID and ask your university or college if they issue a special student discount card.
If, despite your best efforts, you're still strapped for cash at the end of the month and your study abroad visa prevents you from working in this country, what can you do? Well, an easy way to make some money in exchange is by tutoring, translating or babysitting on the side. If you don't want to commit to anything drastic, check out the psychology labs at local universities. They're often looking for participants for studies and will pay you to spend an hour answering a survey or doing some mindless task. A bit of pocket money should keep the wolf at bay for a little longer!
8. Shop during Black Friday or Garage sales
You might be eager to purchase all of your essentials at once when you first arrive at your study abroad location. But we advise you to wait before doing it. It is usually less expensive to purchase items like furniture or other trinkets at garage sales or flea markets as opposed to regular stores. When it comes to the rest of your daily necessities, you can always shop in bulk at places like Costco or Walmart. What is the best choice? Seasonal deals like Black Friday, Boxing Day, Cyber Monday, etc., should be attended. It's incredibly affordable, and these sales offer unbelievable savings.
9. Learn how to get price cuts from the locals
Your local contacts and friends might be a huge help in keeping your study abroad costs low. Locals everywhere are aware of the trick of getting discounts on goods and services in that specific area. A local will be able to guide you better regarding where hackling works and where it doesn't. You'll be able to make some savings using their tips and tactics on every purchase.
10. Learn how to cook
This is one of the best pieces of advice you can obtain while studying abroad. It not only teaches you discipline, but you can also make significant financial savings. When you have to prepare every meal by yourself, ordering cuisine and gorging on takeout is not the answer. You may prepare your meals for the entire upcoming week for less money than it could cost to order two or three takeouts by making a few recipes in huge amounts on the weekends. You can also personalize your diet and maintain a healthy lifestyle by cooking for yourself.
Conclusion
There are various ways in which students can manage while studying abroad by having a part-time job while studying abroad and make a budget for daily expenses. Studying abroad and crossing off the bucket list is a dream come true opportunity for many, while it may seem high and mighty but it's not as it may drain all your funds if not spent wisely. We have mentioned some of the ways on how to save money while studying abroad.
Frequently Asked Questions (FAQs)
How can I travel for less money?
Purchasing a used bike in this situation is an extremely smart move. With a bike, you may save a lot on fuel and maintenance. In addition, you can always go exploring on your own terms!
Can I pay for my own college expenses?
Yes, you can always finance your education on your own via loans, grants, scholarships, or even part-time employment.
Where may I study abroad for the least money?
How do I save money when study abroad?
The following are the ways to save money as a students:
>Keep track of the exchange rate
>Enquiry about banking fees
>Withdraw money just when necessary and use your debit card
>Plan and budget
>Travel with Low-Cost Airlines
Which country is best for study abroad for free for international students?
The following are the country for study abroad for free for international students:
>Germany
>Greece
>Norway
>Austria
>Belgium
Can I earn while studying abroad?
Many students opt for working a part-time job while studying abroad as it helps them to earn some funds as well as experience the culture and making connections. Students can work in barista, restaurants or in college itself.
Read Also: