The Medical University of Lodz Poland is one of the largest universities in Poland. The University is known as MUL Poland, established in 1949. It has 60 years of academic tradition, including over ten years of experience conducting medical and dental studies in English for international students. Lodz Medical University offers a 6-year MD program for high school/secondary school graduates. It is a full-time study program based on obligatory requirements for Polish medical higher education institutions and is adequate to EU standards.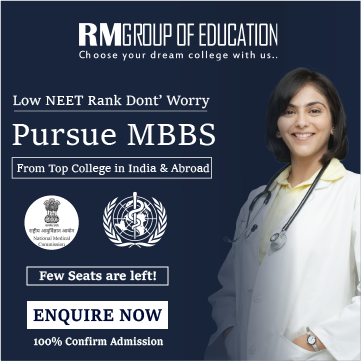 Hey Students, we have tried to keep you updated & informed about one of the Best Medical Colleges for MBBS in Poland, i.e. Medical University of Lodz Poland.
Subscribe to RM Group of Education Newsletter, Get Admission, Fees, Seats etc.
Table of Contents
Medical University of Lodz, Poland
The Lodz Medical University is listed in the International Medical Education Directory (IMED), which provides information about international medical schools that the appropriate government agencies recognize in the countries in which they are located.
College Summary
Before we go through the detailed information about Lodz Medical University Poland, let's examine the college's essential details.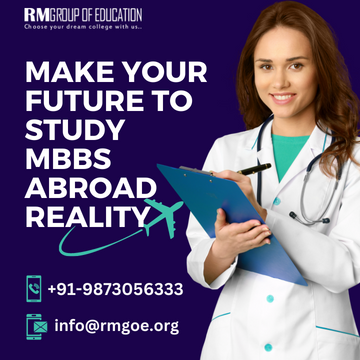 Affiliation, Recognition and Achievement
Affiliated with: European University Foundation
Approved by: NMC, WHO
Aid Status: Public
Student Support
| | |
| --- | --- |
| Anti Ragging | Counselling Services |
| Healthcare Services | Hostel |
| Report | Query |
| Local Language Learning Classes | NMC Screening Test Help Centre |
Facilities
| | |
| --- | --- |
| Medical | Library |
| Auditorium | Hostel |
| Computer labs | Sports |
| Cafeteria | Laboratory |
Courses Offered
The Lodz Medical University courses offer quality medical programs under highly qualified faculty and state-of-the-art infrastructure. The College is famous for its medical programs.
| | |
| --- | --- |
| Program Name | Duration |
| MD (Medicine) / MBBS | 6 Years |
| DMD (Dentistry) | 5 Years |
| PhD | – |
| Premed | – |
Faculty & Staff
The Medical University of Lodz provides a good ratio of well-trained and highly educated faculty members equipped with modern technology. It also provides sufficient non-technical staff to provide an ambience of self-learning to the students. The college is committed to uplifting the health care education and output delivery system for the country's people.
Admission Procedure
If you want to be admitted to Lodz Medical University, you must qualify for the National Eligibility Entrance Exam (NEET). One must remember that you only have to be eligible for the exam. Here are the valuable resources for the NEET Exam that will help boost your preparation.
Eligibility Criteria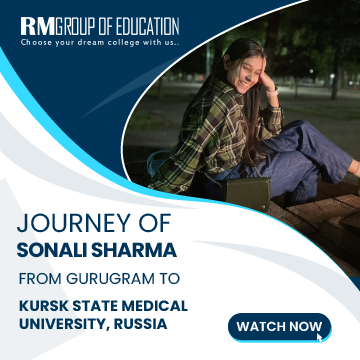 Graphical Representation of Eligibility Criteria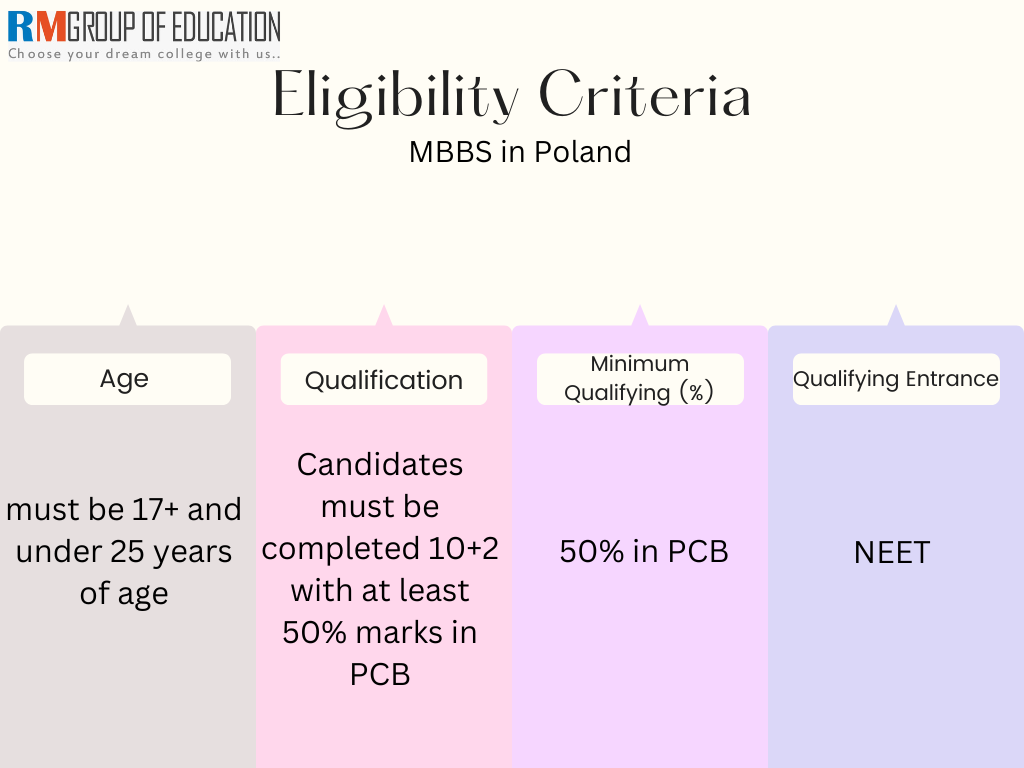 Documents Required
Before admission to the Medical University of Lodz, Poland, please do not carry all these related documents.
Passport (Minimum 18 months validity).
10th Certificate & Mark sheet.
12th Certificate & Mark sheet.
Birth Certificate.
Ten passport-size Photographs
Official Invitation letter from the Medical University of Poland.
Authorization of all documents from the Ministry of External Affairs, New Delhi.
Legalization of all documents from the Poland Embassy.
Visa fees.
Bank receipt of 1st Year of Medical University of Lodz Tuition fees (required for some Universities).
HIV test documents.
Fee Structure
This section shows the Medical University of Lodz tuition fees for the MBBS course and Medical University of Lodz fees. The stated data is given below:-
| | | |
| --- | --- | --- |
| Courses | Tuition Fee (Ist Year) | Tuition Fee (Other Year) |
| 6-year MD program | 11.400 EUR | 11.200 EUR/year |
| MD Advanced program | 14.700 EUR for the 3rd year | 14.500 EUR/year for years from the 4th to the 6th |
| 5-year DMD program | 13.200 EUR | 13.000 EUR/year for years from the 2nd to the 5th |
| 5-year DMD program -"Taiwanese curricular pathway." | 15.400 EUR | 15.200 EUR/year for years from the 2nd to the 5th |
NOTE:- The mentioned fee is approximate and will be subject to change.
MBBS Syllabus in Poland
Before going to Poland for Medical, studies compare the MBBS in the Poland Syllabus of some of Poland's top-ranked, NMC-approved medical universities. You can see the MBBS in Poland Syllabus in PDF, also downloadable.
Ranking and Reputation
The Medical University of Lodz Ranking all over country Nigeria and World Ranking all over the world are mentioned below:
Name of Institute
Medical University of Lodz, Poland
Ranking
Country Rank: 51
Global Rank: 3310
(Sources: 4icu.org/ )
Reputation
Good
Education
Good
Faculty
Good
Infrastructure
Excellent
Graphical Representation of Medical University of Lodz Ranking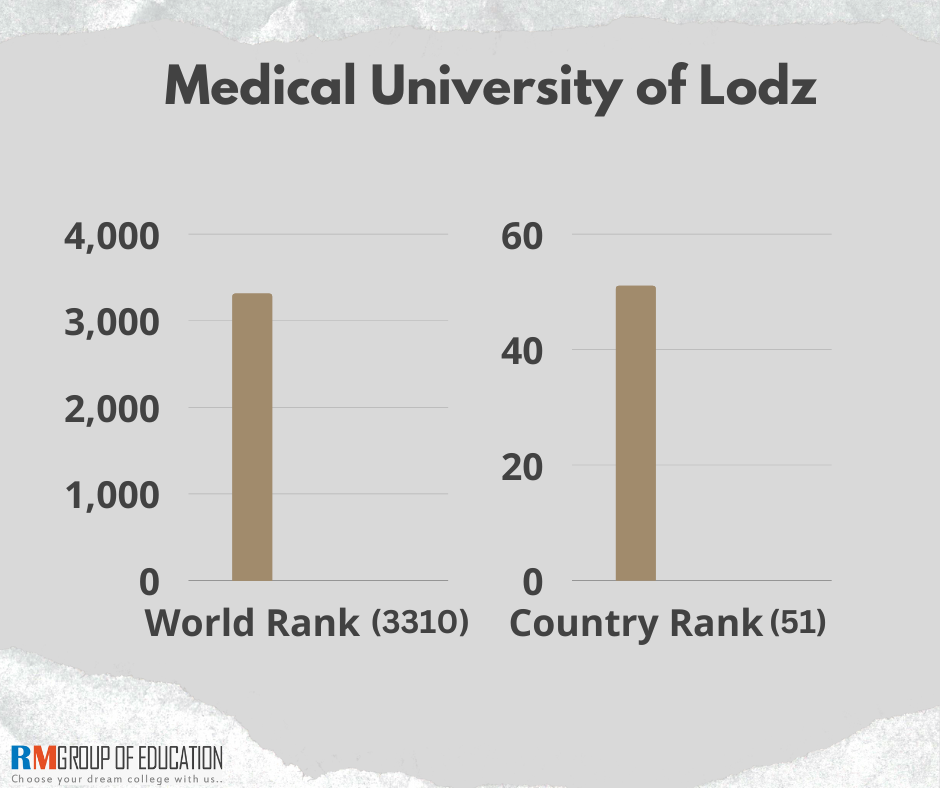 Country Summary
Poland, officially the Republic of Poland, is located in Central Europe. It is divided into 16 administrative subdivisions, covering 312,696 square kilometres, and has a largely temperate seasonal climate.
Population
37,846,611
Area
It has an area of 306,230 km2
Capital City
Warsaw
Language
The official language: Polish
Other Language: Slavic
Climate
Warm and continental (18-30 degrees)
Literacy Rate
Male literacy rate: 99.28%
Females: 98.25%
Time Zone
UTC+1 (CET)
UTC+2 (CEST)
Currency
Polish złoty (PLN) (4)
Religion
Roman Catholic
Other: Irreligion
About Lodz City
The city of Łódź (Lodz) is located about 85 miles southwest of Warsaw, Poland.
The Jews of Lodz formed the second largest Jewish community in prewar Poland, after Warsaw.
Lodz was the centre of the textile industry in prewar Poland. T
The Lodz ghetto thus became a major production centre under the German occupation.
Temperature

Daylight

Contact Details
Medical University of Lodz Poland
Address: Pl. Hallera 1, 90-647 Lodz
Phone: +91-9999709233 (For Indian Students)
E-mail: info@rmgoe.org
Frequently Asked Questions (FAQ)
Where is the Medical University of Lodz located?
The Medical University of Lodz is located along Pl. Hallera 1, 90-647 Lodz.
What scholarships and grants are available to students?
Various scholarships and service grants are available to deserving students. The Study Now, Pay Later Plan is also available case-to-case basis.
Does Lodz Medical University accept transferees?
Lodz Medical University accepts transferees on a case-to-case basis.
Can non-Catholics study and work at MUL Poland?
Yes, MUL Poland does not discriminate against the admission and employment of non-Catholics.
Which country is best for Indian students to study abroad?
Canada, Germany, Australia, the United States and Italy are some of the best destinations for Indian students to study abroad.
Can poor Indian students study abroad?
Of course, there is no rich and poor when it comes to education; it is all about knowledge. Several scholarships are open to students, and the government of India also provides a scholarship option for academically intelligent students.
Which country has the lowest fees for MBBS?
Russia, Nepal, Bangladesh, Poland, China and Ukraine are a few countries that provide low-cost MBBS education.
Reference: