| | |
| --- | --- |
| Download MCC NEET UG Counselling 2023 eBook (College Wise Cutoff, Fees, Seat Matrix etc.) | Download |
| Download MCC NEET PG Counselling 2023 eBook (College Wise Cutoff, Fees, Seat Matrix etc.) | Download |
| Download All State NEET UG Counselling 2023 eBook (College Wise Cutoff, Fees, Seat Matrix etc.) | Download |
Best Career Options after BDS: Dental schools all throughout the nation provide the five-year BDS undergraduate degree programme. Students in the course are taught about dentures, dental issues, and surgery. NEET is how candidates are admitted to BDS programmes. BDS is one of the most demanded degree programmes due to a sharp increase in dental problems caused by various factors and a shortage of qualified dentists.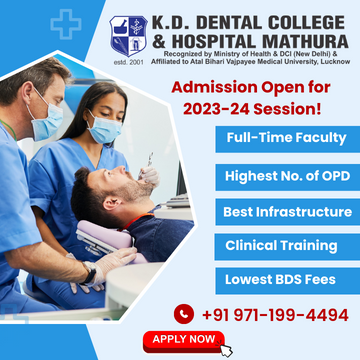 Students who complete the BDS degree have many career options after BDS, including positions at medical device manufacturing companies, pharmaceutical firms, and hospitals. Candidates can launch their own practice as a dentist who analyses dental problems and recommends treatment methods in accordance after receiving a degree from a reputable college or university.
Subscribe to RM Group of Education Newsletter, Get Admission, Fees, Seats etc.
Career Options After BDS
Candidates look for opportunities in this profession after completing a five-year BDS programme that consists of four years of academic study and a one-year internship. Due to the increased demand for graduates in India and internationally in several medical and dental studies fields, BDS gives students a promising career path. There are numerous employment paths available for BDS students. This industry offers some of the most alluring employment opportunities and pays graduates a respectable annual wage. The following categories broadly classify the career options: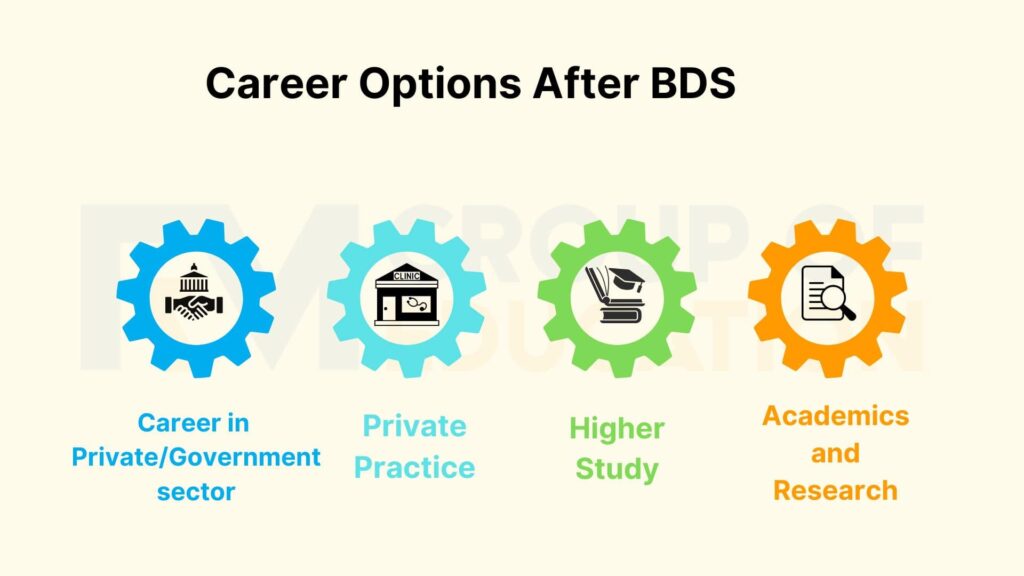 Career Scope After BDS
1. A career in the Private /Government Sector after BDS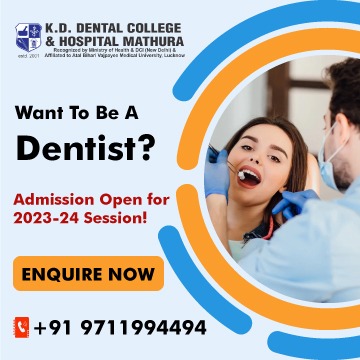 Government Sector: Depending on the departments, the central and state governments have openings for dentists in various industries with temporary and later permanent postings. Government employment is, in fact, stable and offers some benefits, including insurance and pension plans.
List of some government dental jobs:
Army Dental Corps
Join the Indian Navy or Indian Airforce as a Dental Officer
State Government Jobs, such as Dental Surgeons etc
Private Sector: They can take on many professions and work in hospitals, clinics, and pharmaceutical businesses in the private sector.
2. Private Practice
BDS graduates who choose to practise on their own can become self-employed. One of the more established career paths in private clinical practice provides both professional and personal benefits. Opening a private clinic does not need a large initial investment, but it might pay off in the long term. Own practice does not always relate to a single dentist's private office; it can also refer to a corporate dental clinic or a dental office with a hospital affiliation.
3. Higher Studies
Masters in Dental Surgery (MDS)
After earning a BDS degree, a student can pursue MDS by passing the NEET test and enrolling in either a governmental or private college. You will get additional clinical knowledge that you may apply to your clinical practice by obtaining an MDS, which is an advantage.
MBA in Hospital Management
Another professional course that gives students other career alternatives is this one. The professional managerial and administrative skills that students acquire assist them in landing jobs at hospitals, nursing homes, medical facilities, and NGOs working in the health sector.
Master in Public Health (MPH)
MPH after BDS is another possible professional path for dentists, similar to MBA. The opportunity to relocate abroad is this career's main attraction. Government and corporate sectors are looking for masters in public health professionals.
4. Academics and Research
BDS candidates might become lecturers in private or public dental colleges or universities. Academic occupations are typically pursued by recent graduates with a talent for teaching. As teaching faculty, they are also permitted to instruct in state government colleges. Additionally, some of them decide to pursue careers in research. Dental professionals are needed by organisations like the ICMR, AIIMS, National Institute of Epidemiology, and Dental and Medical Institutes as research associates or assistants.
Career after BDS (Higher Study)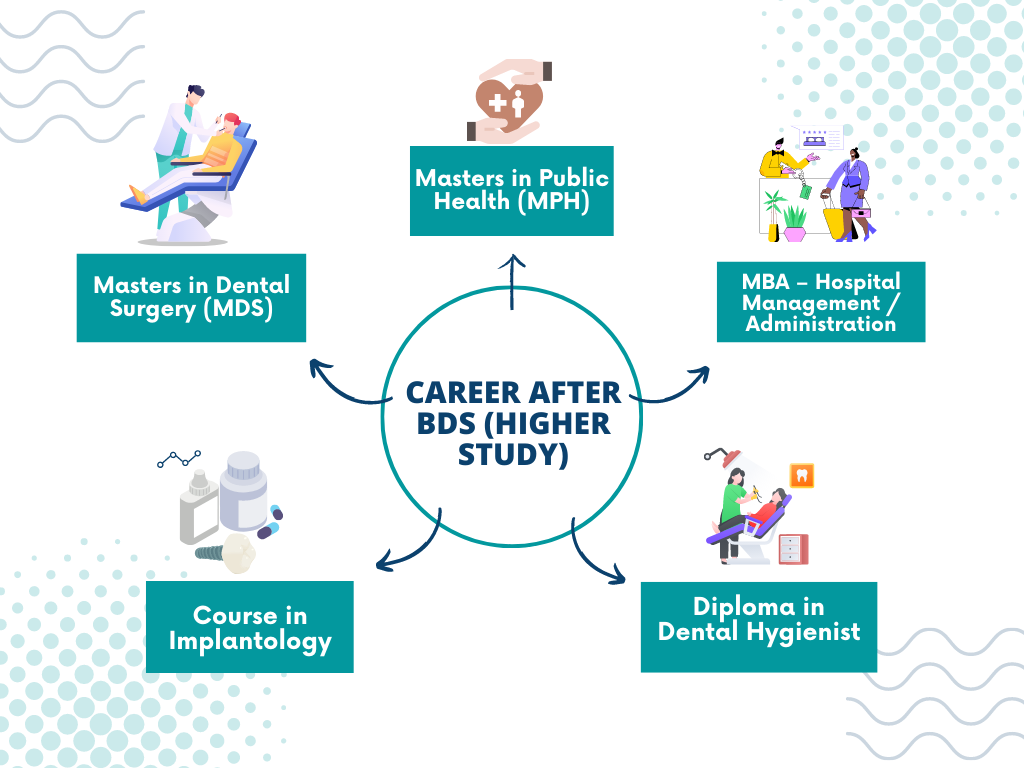 Other Dental Course
| Course name | Type of programme | Duration |
| --- | --- | --- |
| Diploma in Dental Hygienist | Diploma programme | 2 years |
| Diploma in Dental Ceramic Technology | Diploma programme | 3 year |
| Diploma in Dental Mechanic and Hygienist | Diploma programme | 2 years |
| Course in Aesthetic Dentistry | Certificate programme | 1 year |
| Course in Implantology | Certificate programme | 1 year |
| PG Diploma in Laser Dentistry | Post-graduate programme | 2 years |
Career after BDS (Job Profiles and Salary)
| Job Profile | Average salary (in Rs) |
| --- | --- |
| Dentist | 3.5 LPA |
| Dental Hygienist | 3 LPA |
| Oral Pathologist | 4 LPA |
| Dental Surgeon | 5-7 LPA |
| Dental Scientist | 6-8 LPA |
| Lecturer | 4-5 LPA |
Conclusion
Student has a wide range of professional opportunities after earning their BDS degree. Furthermore, one of the highest feelings in the world is becoming a dentist. One's interests and priorities will determine everything. Therefore, one should carefully consider all options before deciding on the future.
Frequently Asked Questions (FAQs)
Is BDS good for the future?
After high school, one of the most promising job alternatives in the medical field is the bachelor of dental surgery (BDS). It is a thoughtfully constructed undergraduate programme that, in terms of medical education, is nearly identical to the MBBS.
Who earns more BDS or MBBS?
It is quite difficult to determine which of the MBBS and BDS programmes is superior. Both programmes are highly competitive and will earn you well. All human body organs fall under the purview of MBBS doctors, while BDS doctors specialise in surgery and dental care.
Can I do Dermatology after BDS?
You can, absolutely. Other short-term courses offered by the BDS include a thorough three-month course in prosthodontics and endodontics, certificate programmes in cosmetic dermatology and cosmetology, and a diploma programme in dental assisting.
Is BDS easy than MBBS?
Both MBBS and BDS are equally challenging and straightforward. Bachelor of Medicine, Bachelor of Surgery is referred to as MBBS. BDS, on the other hand, stands for Bachelor of Dental Surgery. BDS focuses on dental standards. Therefore, graduates will become dentists and doctors.
How much does BDS earn in India?
Dentists' Salary in BDS ranges from ₹ 3.5 Lakhs to ₹ 4.5 Lakhs in the Initial stage of their career.