Importance of Mentorship for MBBS Abroad: One of the most popular medical degree programmes for most Indian students is an MBBS from abroad. Depending on the university or the country's medical universities' rules, it is a specialised, demanding, and thorough medical degree whose courses take 5 to 6 years to finish.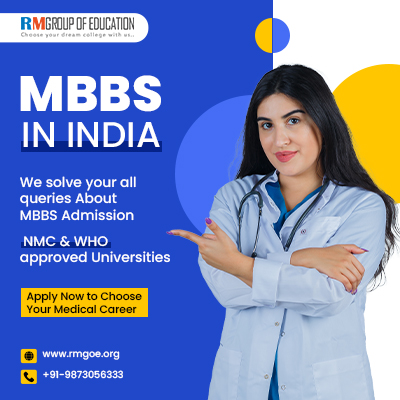 Additionally, so the medical degrees granted by medical colleges abroad are worldwide recognised, students who successfully complete their MBBS programmes are eligible to work as a doctor in any nation after passing the local FMGE.
Subscribe to RM Group of Education Newsletter, Get Admission, Fees, Seats etc.
Choosing the appropriate career path is critical. However, it can get confusing and even seem impossible at times. It can be difficult for medical students who want to pursue MBBS to select the medical degree that best fits their financial situation. In this article, we'll go through the reasons why mentoring is essential for MBBS study abroad.
The Reasons Why Mentorship is Important for MBBS Abroad
It is usually a good idea to have a mentor when you study MBBS overseas. A mentor is somebody who can guide you in finding solutions to your problems that could run into you while applying for MBBS abroad. However, having a professional mentor while you pursue your MBBS abroad helps you in every step from start to end.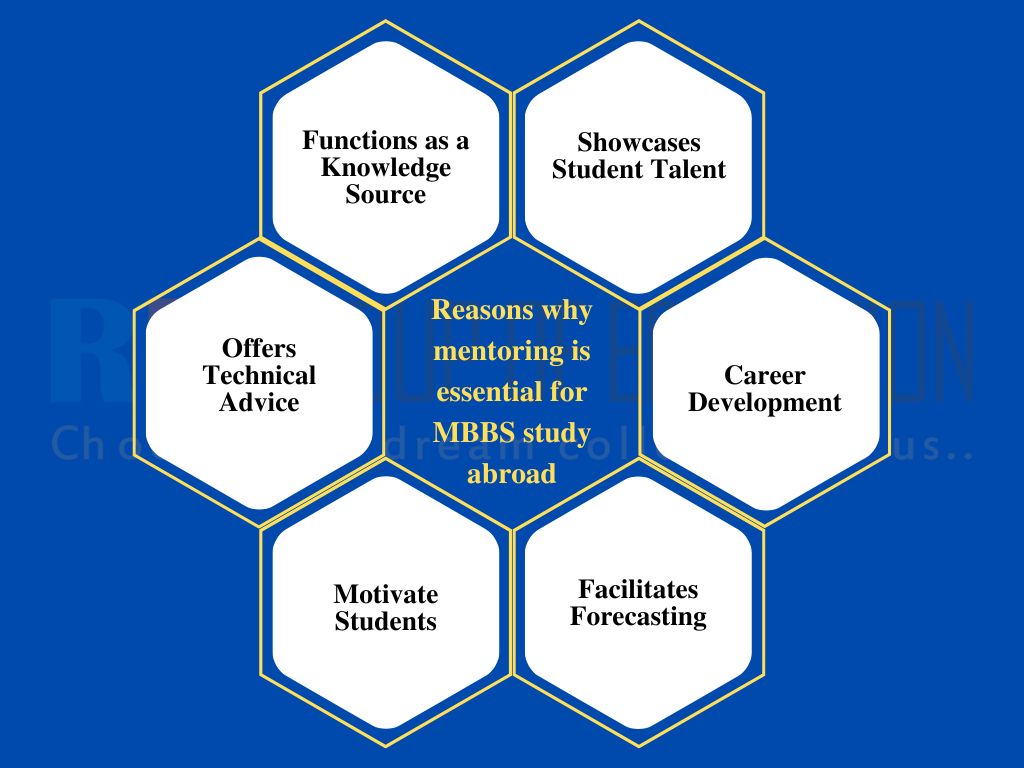 Reason1. Functions as a Knowledge Source
In many different ways, a mentor supports students. They provide the students with knowledge as well. Education Abroad is the take destination for medical aspirants looking to pursue an MBBS abroad. We inform the students about the MBBS programme, medical universities abroad, and other topics in a genuine, understandable, and comprehensive manner.
Reason 2. Offers Technical Advice
A mentor improves students' ability to think critically, teaches them how to handle certain situations differently, and helps them reach their full potential. In other words, by simply guiding, supporting, and assisting students when necessary, a mentor tends to reduce their load.
When a student dreams of studying MBBS abroad, the major fear or problem they face is related to the technical admission procedure, visa and accommodation procedure, but in this situation, the mentor rises as great support and solves this problem by using their knowledge and experience.
Reason 3. Motivate Students
During the whole process of studying MBBS abrod, students experience different issues, which leads to demotivation, but having a mentor who helps in this situation as a mentor will also motivate the students to do their best to be their best version. They act as the support system for the students studying MBBS abroad.
Reason 4. Facilitates Forecasting
A mentor implores students to create a brighter future. A mentor gives a student advice on how to handle various situations and helps in their physical and mental preparation for any impending activities. Students benefit from having a mentor because they can choose their path to success with better clarity. Education abroad enables students to maintain their professional focus and to be informed of any new events important to their international MBBS programme or medical career.
Reason 5. Career Development
Mentors are wonderful sources for career development! They also work as career counsellors, assisting students in identifying their career ambitions. Mentors push students to step outside of their comfort zones so they can easily pursue their ideal careers. In order to work on making their ambition of becoming a doctor a reality, medical aspirants will need to step outside of their comfort zones with the help of knowledgeable counsellors.
Reason 6. Showcases Student Talent
A mentor genuinely is aware of each student's potential. Students can follow their guidance and be helped to focus on a particular passion in order to better develop their skills. A mentor also helps students in developing their professional and personal development.
Putting it all together! When students choose to study MBBS overseas, mentors assist them in achieving their desired outcomes. Although every mentoring relationship is unique and has its own set of requirements and qualities. It helps students develop better careers and choose their dream university.
Conclusion
Mentoring helps students in achieving their objectives. Although every mentoring relationship is unique and has its own set of requirements and qualities. It helps students develop better careers in a certain way. and a lot of students get confused between studying MBBS in India vs MBBS Abroad a mentor can also guide you and give a solution to your confusion . Future Doctors in the medical field can be made via Education Abroad by assisting medical aspirants in choosing what they want to do with their lives, discovering their purpose, and advancing their careers in a variety of ways. You can contact us at (RM Group of Education) for any queries related to admission.
Frequently Asked Questions (FAQs)
Why is a mentor necessary in university?
Your academic issues, personal life, future aspirations, and other topics are all fair game for discussion with mentors. They are there to serve as a confidant, and someone students can rely on. Sometimes, students may not require study or career assistance. Sometimes all they need is someone to listen to them in order to feel more encouraged or motivated.
Why is mentoring necessary, and what does it imply?
Mentoring: What Is It? Through mentoring, people can learn from one another and transfer expertise. In the workplace, for instance, an experienced professional can mentor a less experienced colleague by imparting expertise and ideas.
What makes mentoring important in medicine?
Academic medical and allied health faculty who have a significant impact on and contribute to the development of the next generation of healthcare professionals benefit greatly from having mentoring abilities. Mentors serve as role models and coaches for students' long-term professional and personal growth.
What advantages does mentoring offer you?
Enhanced output and improved time management. Improved achievement of outside research grants. Personal and professional growth, including improved work-life balance, self-esteem and confidence, and job-related well-being. Increased job objectives and future planning.