MBBS in India vs MBBS Abroad: There are many medical universities in India and abroad. 84,000 target MBBS seats are available in Indian medical institutes, and 18 lakh applicants participate in the intended NEET exam. There is strong competition, but those who achieve high NEET scores will surely be accepted into India's top government medical schools, which are among the best in the world. One of the top medical colleges in India is AIIMS Delhi. Apart from AIIMS Delhi, there are various best government and private medical colleges in India. However, for individuals who perform low on the NEET Exam, MBBS abroad is a great option because it will be more challenging for them to get accepted into Indian medical universities. Students can access top-notch, government-run medical universities abroad at reasonable costs. So both choices are unquestionably good; it only relies on the student's performance and preferences.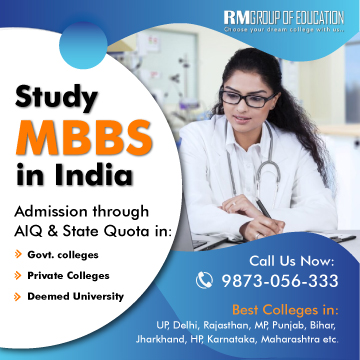 Table of Contents
MBBS in India
In India, the MBBS programme can be finished in 5.5 years. It consists of 4.5 years of academic study and a 1-year internship that is required. Candidates for the MBBS programme must have finished their 12th grade with Physics, Chemistry, and Biology as the required subjects. To get admitted to one of the universities, students must also pass several medical tests.
Subscribe to RM Group of Education Newsletter, Get Admission, Fees, Seats etc.
Each year, more and more Indian students choose to take a medical examination. The number of students taking the NEET exam reportedly rises every year. Figures demonstrate the fierce rivalry that Indians who want to become doctors must endure enrolling in medical schools.
Due to the subsidized cost system, there is intense competition for MBBS seats in government medical colleges in India. In government medical institutes, the annual cost of the MBBS programme is approximately INR 10,000/- Top NEET scorers have a chance of admission to government medical schools. Numerous top private MBBS colleges in India provide students with a high-quality education in addition to government MBBS schools. However, private MBBS institutes in India charge a minimum of roughly Rs. 4,000,000/-
Top Reason Why students choose MBBS from India (Graphical Representation )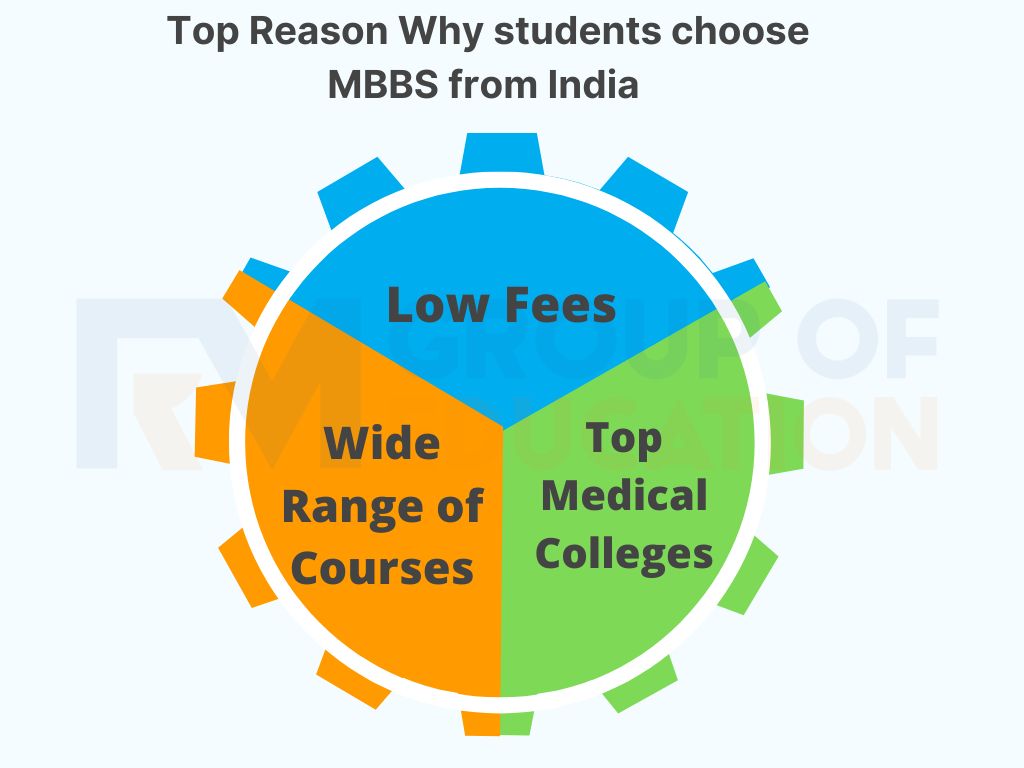 Top Reason Why students choose MBBS from India (Brief Description)
1. Low Fees
In comparison to other nations, India has a relatively low cost of living. Compared to other nations like China, the United Kingdom, and the United States, the cost of a medical degree from a good government college in India is quite low. International students are welcome at every university in India, and they don't have to worry about living expenses.
2. Top Medical Colleges
Indian university programs rate quite high and are capable of competing with the best institutions worldwide. The top universities are AIIMS, Christian Medical College, PGIMER, and many others. The teaching hospitals at these medical schools provide a variety of clinical experiences for students. The average amount of teaching and training experience for the faculty at these colleges is 40 years.
3. Wide Range of Courses
Almost all medical colleges offer a wide range of courses, making India a preferred educational destination.MBBS, BPT, BSc, Medicine, BAMS, and many PG programmes like MD, MS, M.ch, and DM are offered by the best medical institutes in various states and cities.
MBBS in India Admission Criteria
This section provides detailed information about the MBBS in India Admission Criteria like Indian MBBS Admissions Entrance Examinations, qualification, eligibility etc.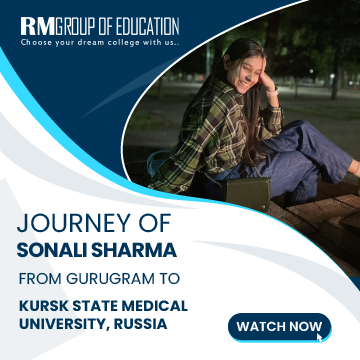 | Particulars | Description |
| --- | --- |
| Entrance Exam | All entrance tests for MBBS admissions in India were replaced by NEET in December 2019 and were administered by the National Testing Agency (NTA). |
| Qualifications | In India, admission to medical colleges is based on the entrance exam results. However, to apply for the MBBS programme in one of the colleges, the student must first meet the minimum qualifying requirements. |
Eligibility Criteria
Students must fulfil the requirements given below to be eligible to pursue an MBBS abroad :
| Particulars | Description |
| --- | --- |
| Qualification | Biology, Physics, and Chemistry should be required for Class 12 students. |
| Minimum percentage | The student's PCB grade must have been at least 50%. |
| Age limit | The candidate should be at least 17 years old. |
Graphical Representation of Eligibility Criteria for MBBS in India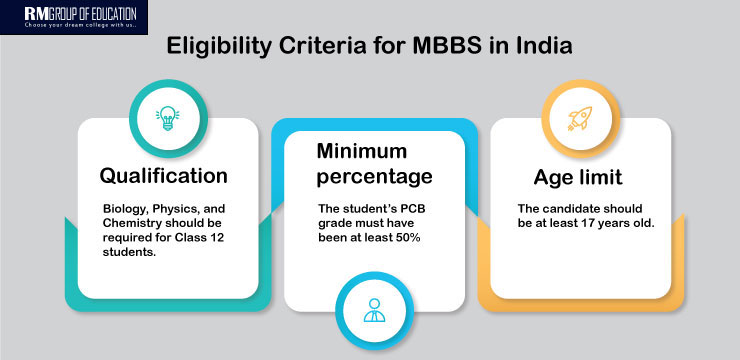 MBBS Admission Procedure in India
In India, the NEET, AIIMS Exam, and JIPMER national-level exams serve as the first step in the application process for medical universities. The only way to apply for MBBS admission in India is to pass these three tests. A merit list will be created based on the score attained in the entrance exam once the applicant has passed it. According to the candidates' ranks, the chosen candidates will be invited to the counselling procedure.
Candidates can select a university from the list of top medical colleges in India during the counselling process for MBBS admission in India.
MBBS Course Fees in India
Different government, private, and deemed universities have different MBBS cost structures.
| Particulars | Average Fees (INR) |
| --- | --- |
| Government Medical College in India | 11,000 and 7.5 lakh |
| Private Medical College in India | 20 lakhs to 80 lakhs |
Top MBBS Colleges in India
Every student works hard to get into their dream college, so we are here to help you fulfil your dream; here are some of the Best MBBS colleges in India with their fee structure.
MBBS in Abroad
The Philippines, China, Russia, Ukraine, and Kazakhstan, are widely recognised for drawing Indian students' attention and interest in MBBS programmes. Studying abroad, however, requires proper planning and effort. To enrol in an MBBS program abroad, students must have strong motivations.
Top Reason Why students choose MBBS from Abroad (Graphical Representation )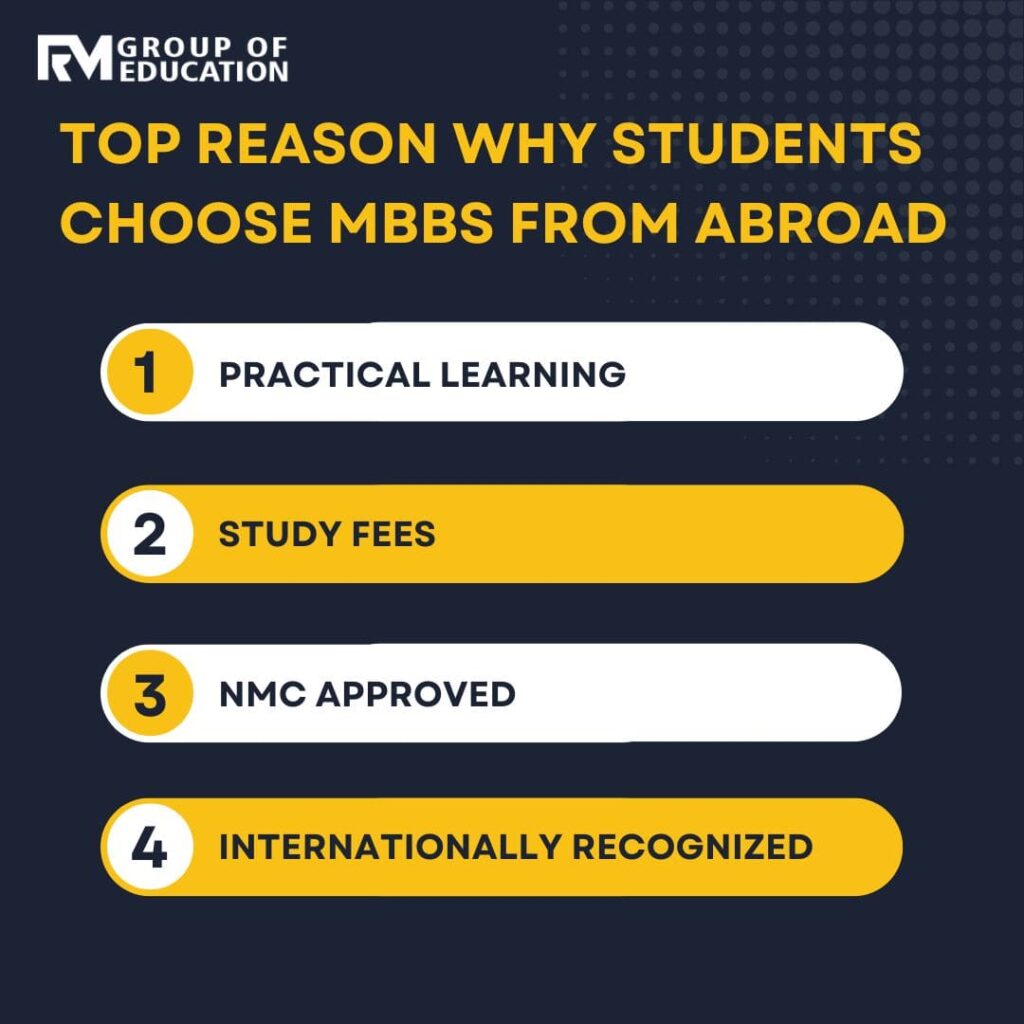 Top Reason Why students choose MBBS from Abroad (Brief Description)
Here are a few explanations of why Indian students choose to study medicine abroad:
Reason 1. Practical Learning: Medical colleges abroad strongly emphasise giving students hands-on learning opportunities. The students can study under experienced physicians and participate in a training programme offered by connected hospitals.
Reason 2. Study Fees: Some medical schools outside of India charge lesser, if not identical, tuition than those in India. The Infrastructure of medical colleges in India and the foreign medical university is far better. It has the necessary tools, a lab, and room for experiments and studies.
Reason 3. NMC Approved: The Medical Council of India has approved degrees earned from medical schools abroad. After passing the Foreign Medical Graduate Examination, doctors can obtain a medical license and work in India (FMGE).
Reason 4. Internationally Recognized: MBBS graduates can meet with members of other communities. When they return to India, they also receive acclaim on a global scale.
MBBS in Abroad Admission Criteria
This section provides detailed information about the MBBS in Abroad Admission Criteria like MBBS Admissions Entrance Examinations, qualification, eligibility etc.
| Particulars | Description |
| --- | --- |
| Entrance Exam for MBBS Study Abroad | Students from other countries who want to study MBBS must also sit for the NEET exam. To pursue MBBS in a foreign medical university, Indian candidates must take the NEET test starting in 2019. |
| Qualification | Must qualify for the NEET-UG entrance test conducted by NTA. |
| Minimum percentage | Must receive at least a 50% PCB and English score on the 12th board |
| Age limit | The candidate should be between the ages of 17 and 25. |
Top MBBS Colleges Abroad
Every student's dream is to get into the best college, so here are some of the Best MBBS colleges abroad for Indian Students with their fees structure :
Comparison Chart Between MBBS in India and Abroad
Completing an MBBS degree is a prestigious thing in itself and is something that not all can achieve. As a student decides to study medicine, one of the greatest dilemmas is whether to opt for a college in his own nation or go abroad to attain the degree if his financial position allows it. As some students cannot afford the high fees that private colleges and medical colleges abroad charge, students, opt for government medical colleges. Over the last few years, the medical education scenario in India has undergone a radical transformation. Let us compare MBBS at a College in India vs MBBS from Abroad and see what each has to offer :
| Particulars | Abroad | India |
| --- | --- | --- |
| Education Standards | If compared with western countries far more advanced and developed than India, you can get a superior education abroad. When it comes to pursuing MBBS from a university abroad, you cannot go wrong when it comes to top-notch faculty, extensive practical training, advanced equipment and amenities; Financial FactorMBBS Degree is a costly course. | However, Government colleges in India are very cheap and can be far more affordable than getting a degree in medicine in a foreign destination. Also, India is a developing nation and offers cheaper living costs to its residents, especially the student class, even in metropolitan and big cities. If you have less budget, then India would be a better option. Other expenses such as lodging, food and commuting make overseas education expensive. |
| Global Exposure and Experience | The global experience and exposure that countries abroad offer to Indian students make all the difference. Such an experience will come to you automatically when you stay in a foreign land, meet new people and overcome new and difficult situations every day of your life. | Staying in your native land will not get the exposure and experience you must gain during your college years. |
| Residence abroad | Most students, who pursue an MBBS degree abroad, take up jobs in the developed country itself, settle there and do not return to their native land. Students consider this a great opportunity as they reside in developed countries that are better than their own, allowing them to earn more and lead a better life there. | So, think about your prospects, budget, and whether you wish to settle in your own country or abroad before deciding whether to pursue MBBS in a private college in India or abroad. |
| Seat Availability | When it comes to pursuing an MBBS abroad, there are numerous countries to choose from and thousands of universities at a student's disposal, making it easy for him to choose the one that suits his own budget and requirements best. | With very few seats and high competition, it becomes quite difficult for students to secure a place in a Government or private college. Even though there are several colleges in our nation, the ever-growing population manages to outdo the availability of seats. |
Frequently Asked Questions (FAQs)
Is it better to study MBBS abroad?
Compared to Indian private universities, other countries like Kyrgyzstan, Kazakhstan, and Georgia have low fees for MBBS. MBBS degree from these countries holds good value in India also.
What are the Age Criteria for the NEET exam?
A candidate's age should be a minimum 17yr old during the admission procedure, and the maximum limit of NEET exam age criteria is 25yr.
What are the disadvantages of studying MBBS abroad?
Differences in climate, culture and language can be a disadvantage for Indian students .but these problems can be resolved by taking proper measures.
Is MBBS from abroad valid in India?
Yes, an MBBS degree from abroad is valid in India. But you must clear the FMGE exam in India after completing your degree abroad.
Which country MBBS degree is most valuable?
Kyrgyzstan, Georgia, has one of the best medical universities on a low budget. And their degree holds a good value in India also.