MBBS in Kazakhstan: According to a survey conducted by the Kazakh government, India is one of the top 50 countries that send the most students to Kazakhstan. The government authorities of India provide sufficient protection and safety for students already registered for a course in Kazakhstan. For any Indian student interested in the MBBS programme, Kazakhstan has been a popular alternative. The duration of the MBBS curriculum is only five years, and studying medicine in Kazakhstan is less expensive than in other nations. If you want to study MBBS abroad, Kazakhstan is one of the best choices.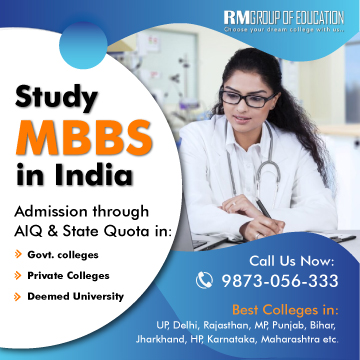 Comparing Kazakhstan to the Philippines, Bangladesh, and Ukraine, MBBS is less expensive there. Indian students must consider the teaching style to study medicine in Kazakhstan. However, Kazakhstan is for students who want to train cheaply to become well-known specialists in medicine. In contrast to many other nations, Kazakhstan's admissions procedure is also very simple.
Subscribe to RM Group of Education Newsletter, Get Admission, Fees, Seats etc.
So, if you want to learn about every part of MBBS and hope to get into some of the most prestigious colleges in the world, Continue reading this post to find the answers to all your questions about Kazakhstan's winter.
Table of Contents
Country Summary
The Republic of Kazakhstan is the name given to Kazakhstan. It is seen as a continental nation with a significant Central Asian core. With a total land area of 2,724,900 square kilometres (1,052,100 sq mi), Turkmenistan shares land boundaries with Russia in the north, China in the east, Kyrgyzstan, Uzbekistan, and Turkmenistan in the south, as well as a significant portion of the Caspian Sea in the southwest. Despite being only 37 kilometres apart, Kazakhstan does not border Mongolia; instead, a small section of the border between Russia and China separates the two countries. The ninth-biggest nation in the world, Kazakhstan is the largest landlocked nation.
Population
18,784,539
Area
2,699,700 km2(1,042,360 sq mi)
Capital City
Nursultan
The other largest cities are Almaty, Karagandy, Shymkent, and Taraz.
Language
Kazakh, Russian
Climate
Markedly continental climate and Maximum temperatures in July (about 19 °C in the far north and 30°C in the far south)
Literacy Rate
99.78% (Estimated)
Time Zone
GMT+6hrs
Currency
Kazakhstani Tenge
Religion
Muslim (Official), Christianity.
Quick Facts
Before reading the complete information about MBBS in Kazakhstan, please look at the Quick facts :
Particulars
Description
Courses Offered
Bachelor of Medicine and Bachelor of Surgery (MBBS)
Courses Duration
6 Years (English Medium)
7 Years (Including Internship)
Basic Eligibility
50% in 10+2 (UR)
45% (SC/OBC/ST)
Medium of Teaching
English, Kazakh
Universities Recognition
NMC & WHO-accredited
Cost of Living in Kazakhstan
USD 150/Month
Entrance Exam
NEET Qualified (Only)
Minimum Course Fee (Approx.)
Rs 16,00,000/ Year
Maximum Course Fee (Approx.)
RS 19,92,000/ Year
Talk to our Abroad Counsellor
+91-9999709233 (India)
Recognition of Kazakhstan MBBS College
Checking the affiliation, recognition and other affiliating parameters are the most critical factors that decide good and the best medical college. Medical colleges in Kazakhstan are affiliated with these authorities.
Ministry of Education, Kazakhstan
ECFMG (Educational Commission for Foreign Medical Graduates)
FAIMER (The Foundation for Advancement of International Medical Education and Research)
Read also: Things you need to know before pursuing MBBS in Kazakhstan
Eligibility Criteria
Kazakhstan has been one of the top preferred destinations for international students to pursue their Medical Degree Courses. If you, too, want to study MBBS in Kazakhstan, check the eligibility below.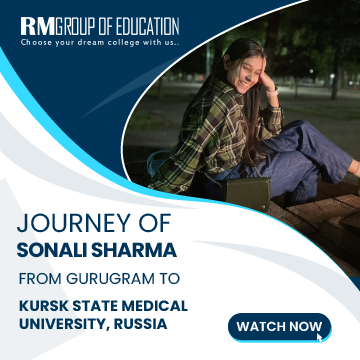 Age
Your age should be at least 17 years on or before 31st December of the admission year.
Qualification
Class 12th in Science, with PCB and English subjects from a board recognized by the authorities in India.
Minimum Qualifying (%)
50% in 10+2 (UR)
45% (SC/OBC/ST)
Qualifying Entrance
NEET
Medium of Teaching
English
Duration of Course
5 Years
Read also: Direct Admission in MBBS in Kazakhstan
Admission Procedure
If you want to take Admission to Kazakhstan, you must qualify for the National Eligibility Entrance Exam (NEET). One must remember that you only have to be eligible for the exam. Here are the valuable resources for NEET Exam that will help you boost preparing for the NEET exam.
Is Kazakistan safe for Indian students or not?
If you have chosen this country for your MBBS education, it is the right choice. Kazakhstan is considered one of the safest countries in the world.
So the candidates do not have to worry about safety.
As per the record of the survey, there are no issues regarding safety have been found here.
The Indian and international students are provided with super security.
Document Required
Before admission to the Medical College of Kazakhstan, please do not forget to carry all these related documents. Passport (Minimum 18 months validity).
10th Certificate & Mark sheet.
12th Certificate & Mark sheet.
Birth Certificate.
10 passport-size photographs
Official Invitation letter from the Medical University of Kazakhstan.
Authorization of all documents from the Ministry of External Affairs, New Delhi.
Legalization of all documents from the Kazakhstan Embassy.
Visa fees
Bank receipt of University 1st year Tuition fee (required for some Universities).
MBBS Syllabus in Kazakhstan
Before applying for MBBS in Kazakhstan, please compare the MBBS Syllabus of some of Kazakhstan's Top-ranked, NMC-approved medical universities.
Year
Subjects Covered
1st Year
Fundamentals of Psychology, Bioorganic Chemistry, Medical Chemistry,
Embryology, Human Anatomy, Cytology, Elective Courses, Patient Care,
Embryology
2nd Year
Human Anatomy, Histology, Physiology, Philosophy, Emergency Medicine,
Microbiology, Immunology
NMC Approved Universities for MBBS in Kazakhstan
So, now that we have covered why MBBS in Kazakhstan is good and the eligibility criteria, let's get into the Best MBBS in Kazakhstan colleges updated and approved by NMC for 2023-2024. Below is the updated list of all the NMC-accredited Kazakhstan MBBS colleges and universities with fees.
| | | | |
| --- | --- | --- | --- |
| S.No. | Name of Colleges | Tuition Fees | Hostel Fees |
| 1 | Asfendiyarov Kazakh National Medical University | ₹ 17,96,00 | ₹ 1,14,000 |
| 2 | Al-Farabi Kazakh National University | ₹ 15,09,000 | ₹ 3,59,000 |
| 3 | JSC South Kazakhstan Medical Academy | ₹ 12,93,000 | ₹ 2,15,000 |
| 4 | Karaganda State Medical University | ₹ 16,88,000 | ₹ 2,40,000 |
| 5 | Kazakh Medical University of Continuing Education | ₹ 12,57,000 | ₹ 2,51,000 |
| 6 | Kazakhstan-Russian Medical University | ₹ 14,37,000 | ₹ 2,51,000 |
| 7 | Kokshetau State University | ₹ 10,78,000 | ₹ 1,79,000 |
| 8 | M. Kozybayev North Kazakhstan State University | ₹ 10,77,000 | ₹ 1,79,000 |
| 9 | Semey State Medical University | ₹ 3,25,000 | ₹ 2,40,00 |
| 10 | University of International Business | ₹ 21,55,000 | ₹ 7,86,000 |
| 11. | West Kazakhstan Marat Ospanov State Medical University Aktobe | ₹ 1,98,310 | ₹ 40,000 |
| 12. | Astana Medical University Kazakhstan | ₹ 3,43,127 | ₹ 53,093 |
NOTE: Mentioned fee is approximate in nature, and it will be subject to change.
Top MBBS Colleges in Kazakhstan with Fees Structure( Graphical Representation)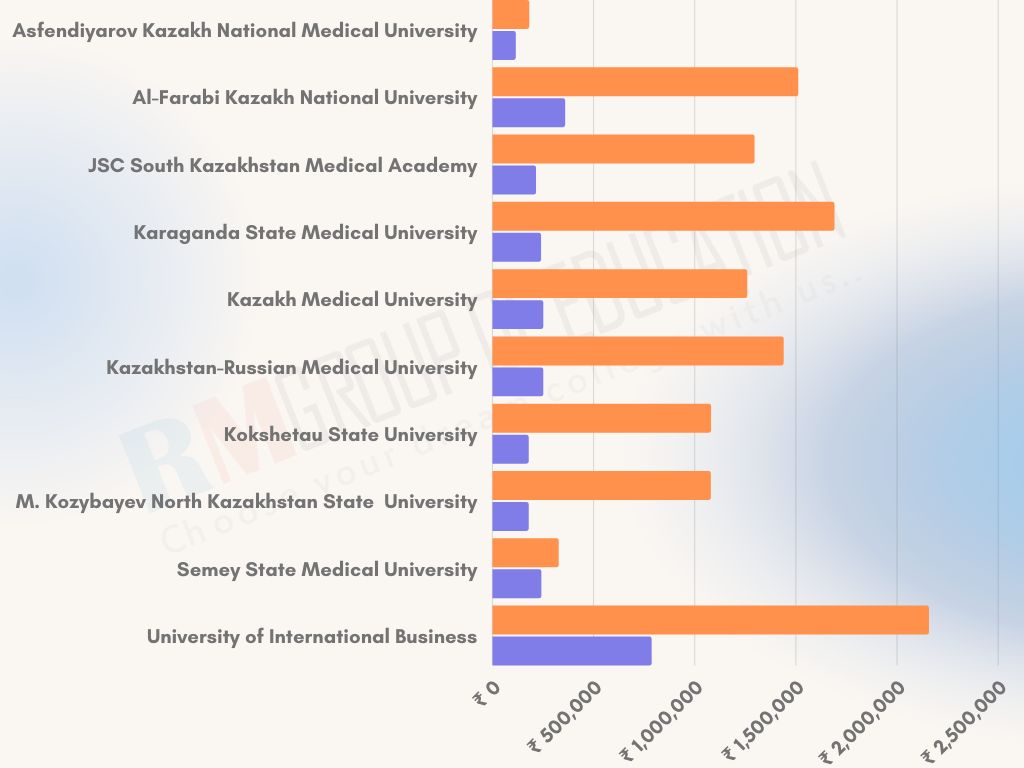 Scholarships for Studying MBBS in Kazakhstan
Most of the universities of this country provide scholarship facilities to the candidates.
Candidates from developing countries will get many opportunities to avail of many international scholarships.
The government of Kazakhstan will also provide scholarship facilities to the candidates.
In addition, brilliant candidates are given scholarship opportunities for MBBS studies in Kazakhstan.
Comparison between MBBS in Kazakhstan & MBBS in India
| | |
| --- | --- |
| MBBS in Kazakhstan | MBBS in India |
| The cost of studying medicine in Kazakhstan is relatively low. | The cost of studying medicine in India is quite high. |
| MBBS in Kazakhstan duration is of 5 years. | The duration of the MBBS in India is 6 years. |
| An entrance test is not mandatory in almost every university in Kazakhstan. | Entrance test required. |
| A donation is not required at the time of admission. | Various colleges in India take donations for admission to medical courses. |
| Degree awarded as MBBS in Medicine. | Degree awarded as MBBS in Medicine. |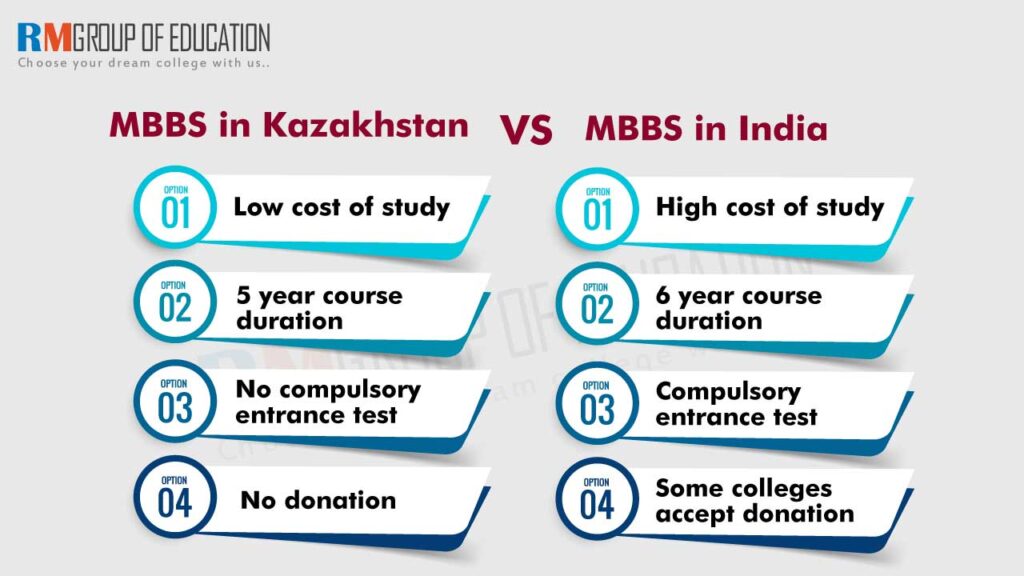 Future Career Opportunity After MBBS in Kazakhstan
Students can do Post Graduation after completing MBBS if they clear their respective country's medical licence examination.
Full assistance for the preparation of USMLE is available in colleges.
Clinical rotation programs are conducted in any country.
Indian students can return to India after passing the NEXT exam.
Advantages of Studying in Kazakhstan
An education system focused on imparting both theoretical and practical skills.
Renowned teaching staff and faculty members
Affordable tuition fees and living expenses
Worldwide recognition of Kazakhstan's MBBS degrees
1:10 teacher-student ratio
English as the medium of MBBS in Kazakhstan
High standards of living
Excellent weather conditions for students
Availability of Indian foods and cuisines
Thousands of Indians reach Kazakhstan to study medicine.
The passing percentage of FMGE is higher in Kazakhstan than in other destinations of MBBS.
Down-to-earth and friendly natives.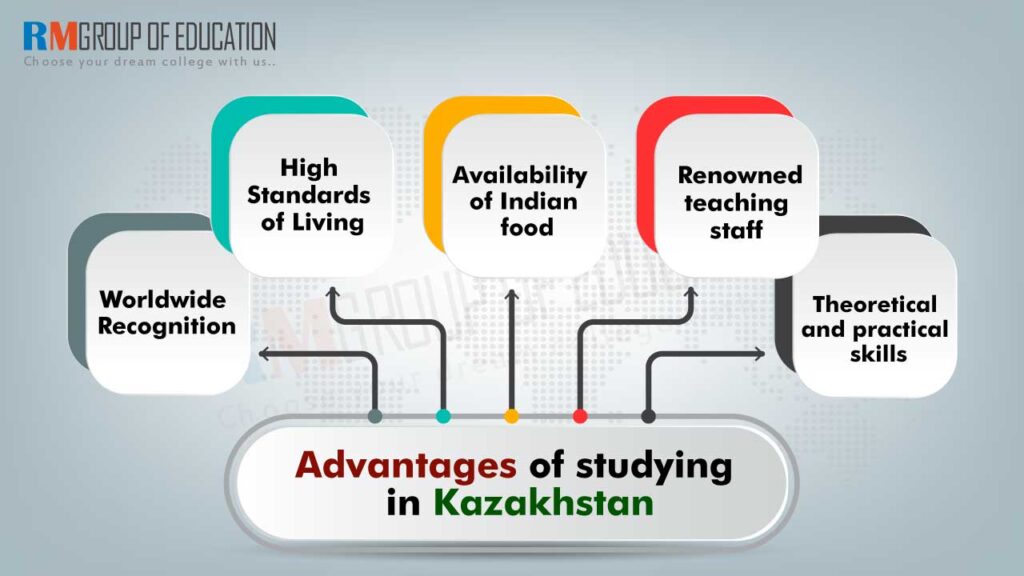 Disadvantages of Studying in Kazakhstan
As Kazakh is the local language in Kazakhstan, therefore, students might feel the language is a barrier (outside the university campus).
One might have to put extra effort into learning the Kazakh Language after the class hour.
Those who wish to study and work together to cover their expenses may face difficulties as it requires a lot of self-study and concentration.
Conclusion
With quality education, affordable medical fees, and a reasonable cost of living, MBBS in Kazakhstan for Indian students is a destination to complete their dream of becoming a doctor. Kazakhstan is home to some of the world's best Medical Universities, recognised by a few influential organisations like WHO and NMC.
Frequently Asked Questions (FAQs)
Which country is best for MBBS abroad?
Russia, Ukraine, Kyrgyzstan, Germany, and Georgia are supposed to be the top 5 destinations to study MBBS abroad.
Yes, MBBS abroad is a good option for Indian students. It provides a chance to learn from some of the best professors globally and provides exposure to different people. Also, MBBS abroad gives you the flexibility to practice in India or any foreign country.
What are the fees for MBBS abroad?
It can cost you around 20-25 lakh minimum. However, in some countries, the amount can go up to 30 to 35 lakhs.
Is MBBS good in Kazakhstan?
Kazakhstan is known for providing quality education at a low cost. Its excellence in teaching and research makes it a popular destination for MBBS.
How much does MBBS cost in Kazakhstan?
It might cost you somewhere around 20-25 lakh.
What is MBBS called in Kazakhstan?
MBBS is known as "Physician in General Medicine". It is the same thing, just the difference in nomenclature.
Why is MBBS cheap (Low Budget) in Kazakhstan?
The tuition fee for MBBS in Kazakhstan is subsidized by the Kazakhstan Education Ministry, which makes it reasonable to pursue MBBS in Kazakhstan for Indian students. Medical colleges/universities in Kazakhstan are approved by the NMC and WHO, and the degree has worldwide recognition.
What is the admission procedure for MBBS in Kazakhstan?
Candidates must have passed 10+2 or equivalent with PCB and English. The student must have passed with an aggregate of 50% marks and 50% marks. Candidates must have completed 17 years, and students must have qualified for the NEET entrance exam.
Which country is best for MBBS, China or Kazakhstan?
The course structure, duration, and quality of education in the medical universities of both countries are quite similar. Even the fees and cost of living in these countries for Indian students are almost identical, with MBBS in Kazakhstan being the lowest and MBBS in China not far behind.
Which country has the lowest fee structure for Indian students?
Russia, Kyrgyzstan, Kazakhstan, China, and Georgia are examples of the lowest fee structure for Indian students.
Can an Indian student get an education loan?
Yes, Indian students get an education loan, and students can get a loan of up to INR 20 Lakh. After six months (if you get a job) of completing the course, you must start your loan repayment.
Can I get scholarships or subsidized allowances while studying MBBS in Kazakhstan?
There are some medical universities in Kazakhstan which offer scholarships and fellowships based on a merit basis or as per the university norms. & yes, for foreign students, the government provides partial funding depending on the type of university.
Is MBBS in Kazakhstan Possible Without NEET?
There is no possibility of getting MBBS admission in Kazakhstan without appearing in the NEET examination.
Read Also: