Is it good to do MBBS from abroad: Medicine is one of the most sought-after career paths across the globe, and obviously, the journey of becoming a doctor starts with gaining a degree, degree of MBBS. However, many of us already know the drastic difference between the number of MBBS seats available in India and the number of applicants. On average, more than 12 lakhs of students try to attempt NEET, and the approximate number of seats available yearly is around 60,000. That makes about 22 students fight for one seat. Crazy, right? This is where MBBS from abroad comes into play.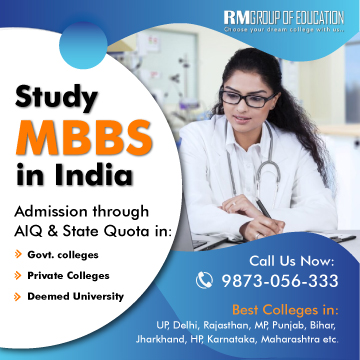 The allure of studying in a foreign destination never fails, a different city, culture, another experience altogether. That is why we are not surprised if we say that MBBS from abroad is becoming among the most popular choices among Indian medical aspirants.
Subscribe to RM Group of Education Newsletter, Get Admission, Fees, Seats etc.
Yet, many students are still in a pickle about whether or not to choose MBBS from abroad. This means that a chance to study in a foreign country might be great, but at the same time, moving so far away from your home and homeland sounds scary. So, students and their parents must decide whether studying MBBS abroad is a good option. And for that, we will enlist all the good and the bad things that will help you understand every aspect of it and make an informed decision.
Table of Contents
Reasons Why is it Good to do MBBS from Abroad??
So, before making the right call, know all the points that will make you understand why MBBS from abroad is a good option.
1. Less Competition
NEET is a highly competitive entrance exam that becomes compulsory for applying for MBBS courses on an international level. Yet, the competition is less compared to Indian institutes. Around three times as many students are using the MBBS course in India as the number of seats available; the competition is cutthroat as admission takes place based on the rank secured. Hurray! In short, for Indian students to apply for MBBS from abroad have minor requirements in terms of NEET, which is a low dependency on NEET rank.
2. Affordable Tuition Fees
Whereas the government medical educational institutes in India are affordable, private medical colleges create a hole in the pocket, costing students around 50 to 60 lakhs to complete the MBBS degree. On the other hand, other countries like China, the Philippines, Russia, Germany, and a few others offer the same course with a minimum cost of up to 25 to 30 lakhs (based on the country). Furthermore, many hidden fees are included in studying at a private medical college in India, which can easily be omitted by studying MBBS from abroad, where the costs are considerably upfront. To know about the best overseas country for MBBS.
3. NMC Approved
NMC approved broad medical institutes, when meeting the local standards of education regulations, to provide high-quality education to all MBBS students. Compared to domestic institutes, medical colleges abroad face criticism for maintaining quality standards. The abroad medical institutes are well equipped with modern technologies that help students learn and gain practical knowledge on an advanced level. Also, various institutes that offer MBBS from abroad use English to understand, allowing students from different nations to avoid language problems on campus.
4. International Exposure
Education from abroad is a learning experience, no matter what the course is. It aids the students in learning about a different culture and makes them understand and adopt a new environment. Studying MBBS from abroad exposes students to various medical conditions, advanced technology, state-of-the-art machinery, and facilities. Also, Indian students interact with other students from other nations, helping them understand and learn things from different mindsets.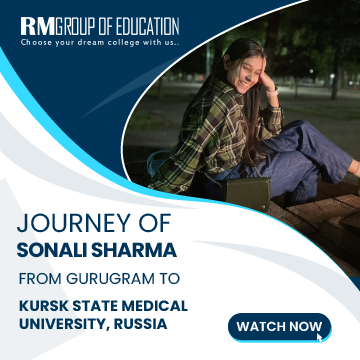 Points to Remember Before Applying for MBBS Abroad
Now that you know the pros of studying MBBS from abroad, it is time to know about the points to keep in mind before applying for MBBS Abroad :
1. Check NMC Approval
Medical colleges are sprouting everywhere, be it in India or abroad, but not all of them are recognised. Before selecting a country to study MBBS from abroad, students must know whether the college/university they choose is recognised in their own country and by the National Medical Commission (NMC).
Visit the website of the NMC and know if the college you are interested in is recognised by the NMC or not. Along with the NMC, students must also check if the WHO admits them to the college or not. If the given organisations do not approve the college, then a degree from those colleges will most likely not be used in the student's career.
2. FMGE Exam
After completing their MBBS degree from abroad, students must pass the Foreign Medical Graduate Examination (FMGE) screening test to obtain a license to practice in India. FMGE is based on the MBBS curriculum; the student must get at least 50% marks to qualify.
3. Practical Knowledge
Some abroad colleges do not let their students gain practical knowledge, which is essential for studying MBBS. So, while checking about the college, check out the valuable exposure provided by the institutes. Also, never forget to check the reviews given to the colleges by their fellow students to gain maximum knowledge about the university.
4. Mandatory Local Language
Even in the medium of learning English in various nations, the local language plays an important role. In some countries, the students might also have to know the local language; for example, in China, the students must learn Mandarin; which is essential, etc. but there are countries where learning the local language is not mandatory, like – Russia, Georgia, Armenia, Kazakhstan etc. Also, staying away from your family for more than five years is not easy and certainly takes a lot of time for students to adjust.
Conclusion
In light of the fact that universities abroad provide high-quality education at affordable costs, There are many countries which are best for Indian Students for MBBS. MBBS abroad is unquestionably a fantastic option for Indian students. But all you need to do is submit an application for an MBBS programme overseas under professional guidance, which will make the admissions process simple and straightforward and help you to accomplish your ambition of becoming a doctor.
Frequently Asked Questions (FAQs)
Which country is best for MBBS for Indian students?
Below we have mentioned the Top Countries for Indian Students to Study MBBS Abroad at low-cost admission.
Russia, Philippines, Ukraine, Kyrgyzstan, Bangladesh, Belarus, China, Nepal, Kazakhstan
Is life abroad better than in India?
Every person mostly has a dream to live abroad. But no other country is better than living in India because India is a combination of the world's various countries and every region has its specification for life there. Every person mostly has a dream to live abroad.
How can I get an MBBS seat abroad?
No entrance test is required to seek Admission for MBBS Abroad; students must secure a minimum of 50% in their 12th with Physics, Chemistry, and Biology.
Can I study MBBS abroad without NEET?
No. Without NEET, MBBS admission is not possible in India and abroad.