MBBS in Germany: Medicine is one field that keeps expanding. Many countries, including Germany, have most of the top NMC-approved medical universities. In India, there are large numbers of students who wish to go for MBBS in Germany. Germany is undoubtedly one of the most preferred MBBS destinations in abroad for Indian students. It offers the best and most low-cost education options for aspiring international students.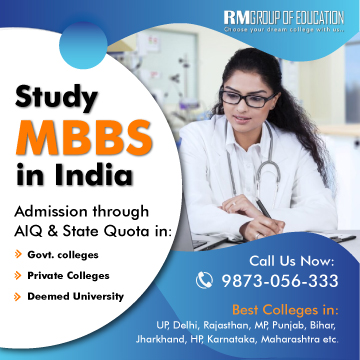 Medical universities in Germany are recognised by some of the world's foremost organisations like WHO and NMC. Some medical universities in Germany allot free education to international students. For candidates who want to pursue medical course degrees, Germany is the best destination to get MBBS. This article will provide information about the Country summary, Eligibility Criteria, Documents Required, MBBS syllabus in Germany and Top MBBS colleges in Germany, etc.
Subscribe to RM Group of Education Newsletter, Get Admission, Fees, Seats etc.
Table of Contents
Country Summary
Germany is also known as the Federal Republic of Germany & it is also the heart of Europe. It is the 6th largest country in Europe. Germany was a compilation of 1000 small states and 350 principalities in the middle of the 19th century.
| | |
| --- | --- |
| Population | 84,422,322 |
| Area | 357,022 km2 (137,847 sq mi) |
| Capital City | Berlin |
| Language | German |
| Climate | Germany's climate is moderate and generally has no more extended periods of cold or hot weather. |
| Literacy Rate | 99% |
| Time Zone | UTC+1 (CET) Summer (DST) UTC+2 (CEST) |
| Currency | Euro (€) (EUR) |
| Religion | 57% Christian 36% No religion 7% Others / Undeclared |
Is MBBS in Germany Safe or not for Indian students?
With the lowest crime rate compared to any other country in the world, Germany is the safest country for every student. Germany also has the lowest rate of discrimination based on colour/ religion and even gender. The universities themselves take special care to ensure that every student, especially international students, feels safe inside and outside the campus. CCTV cameras are installed on the campus, and strict vigil is maintained outside the girl's hostel by deploying a German police officer at the gate.
Quick facts
Before reading the complete information about MBBS in Germany, let's look at Quick facts about studying MBBS in Germany.
| | |
| --- | --- |
| Course Offered | Bachelor of Medicine and Bachelor of Surgery (MBBS) |
| Course Duration | 5+1 ( 1 Year Internship) |
| Basic Eligibility | 10+2 (PCB) with 60% |
| Medium of Teaching | English & German |
| Universities Recognition | MCI & WHO accredited |
| Cost of Living in Germany | 15,000-20,000/Per month |
| Minimum Course Fee | Rs. 5,000,00/- Lakhs/Year |
| Entrance Exam | NEET Yes, it is necessary |
| IELTS | Required |
| TOEFL | Required |
Recognition of Germany Medical College
Checking the affiliation, recognition and other affiliating parameters are the most critical factors that decide good and the best medical college. Medical colleges in Germany are affiliated with these authorities.
Ministry of Education, Germany.
ECFMG (Educational Commission for Foreign Medical Graduates)
FAIMER (The Foundation for Advancement of International Medical Education and Research)
Why MBBS in Germany? (Graphical Representation)
Eligibility Criteria
Germany has been one of the top preferred destinations for Indian and international students to pursue their Medical Degree Courses. If you want to study MBBS in Germany in 2023-24, check the eligibility criteria below.
Particular
Description
Age
Your age should be at least 17 years on or before 31st December of the admission year.
No Upper Age Limit.
Qualification
Admission Seekers should complete their Higher Secondary Education with a minimum 50% mark covering Physics, Chemistry and Biology streams.
Minimum Qualifying (%)
50% in 10+2
Qualifying Entrance
NEET
Proof of certificate of passing DSH (Deutsche Sprachprüfung für den Hochschulzugang) exam.
TOEFL and IELTS exams are also compulsory in some universities.
Graphical Representation of Eligibility Criteria
Admission Procedure
If you want to be Admission to Germany, you must qualify for the National Eligibility Entrance Exam (NEET). One must remember that you only have to be eligible for the exam. Here are the valuable resources for NEET Exam that will help you boost preparing the NEET exam.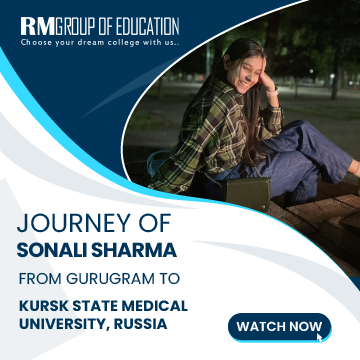 Documents Required
Before admission to Medical Colleges in Germany, please do not forget to carry all these related documents.
Passport (Minimum 18 months validity).
Class 10th Certificate & Mark sheet.
Class 12th Certificate & Mark sheet.
Birth Certificate.
Ten passport-size Photographs
10 Photocopies of the school leaving certificate
Official Invitation letter from the Medical University of Germany.

Legalization of all documents from the German Embassy.

Valid Travel Passport
Bank receipt of University 1st year Tuition fee (required for some Universities).
Medical Fitness Certificate (By hospital with stamp)
Read also: Top 5 countries to study MBBS in abroad.
Cost of living in Germany
The overall cost of pursuing an MBBS degree in Germany is majorly governed by the cost of living in Germany. Some of the major expenses you will face when studying in Germany are given below.
| | |
| --- | --- |
| Type of Cost | Cost (EURO) |
| Rent and Utilities | EUR 323 |
| Food and Drink | EUR 168 |
| Clothing | EUR 42 |
| Learning Material | EUR 20 |
| Travel Expenses | EUR 94 |
| Phone, Internet, and TV | EUR 31 |
| Leisure, culture, and sports | EUR 61 |
| Total | EUR 739 |
Note; Mentioned data is subject to change.
Read also: Difference between indianMBBSand abroad MBBS.
MBBS Syllabus in Germany
Before going to Germany for Medical Studies, please compare the MBBS Syllabus of some of Germany's top-ranked, NMC-approved medical universities.
Year
Subjects Covered
1st Year
Gross Anatomy, Physiology, Biophysics, Biochemistry, Cellular And
Molecular Biology, Medical Mathematics, Foreign language Summer
practical 30 hrs/week 2 weeks
2nd Year
Genetical Anatomy, Topographical Anatomy, Physiology, Virology,
Parasitology, Histology, Genetics, Foreign Language, Medical
Psychology, Medical Pedagogy, Summer Practical 30 Hrs/ 2 Weeks
Top MBBS Colleges in Germany
The updated list of 2023-24 of all Medical or MBBS Colleges in Germany was officially made by the Medical Council of India. To know detailed info about Fees Structure, Courses offered, Admission Procedure, Placement Stats, Cut-off, and Facilities available and complete the college review, click the college link or Read more link will provide the list of best medical colleges.
| | | |
| --- | --- | --- |
| S. No. | Name of Colleges | Official Website |
| 1 | Humboldt University | https://www.hu-berlin.de/en |
| 2 | Philipps-University Marburg | https://www.uni-marburg.de/en |
| 3 | University Heidelburg | https://www.heidelberg.edu/ |
| 4 | RWTH Aachen University | https://www.rwth-aachen.de/ |
| 5 | Lübeck University | https://www.uni-luebeck.de/ |
| 6 | Free University of Berlin | https://www.fu-berlin.de/ |
| 7 | Würzburg University | https://www.uni-wuerzburg.de/ |
| 8 | University of Hamburg | https://www.uni-hamburg.de/en |
| 9 | University of Göttingen | https://www.uni-goettingen.de/en/ |
| 10 | Leipzig University | https://www.uni-leipzig.de/en |
| 11 | University of Bonn | https://www.uni-bonn.de/en/university/university |
| 12 | Witten/Hercke University | https://www.uni-wh.de/en/uwh-international/ |
| 13 | Dresden University of Technology | https://tu-dresden.de/ |
| 14 | Tübingen University | https://uni-tuebingen.de/ |
| 15 | Technical University of Munich | https://www.tum.de/en/ |
| 16 | University of Duisburg-Essen | https://www.uni-due.de/en/ |
| 17 | Freiburg University | https://uni-freiburg.de/en/ |
| 18 | University of Erlangen-Nuremberg | https://www.fau.eu/ |
| 19 | Goethe University Frankfurt | https://www.goethe-university-frankfurt.de/en |
Top Medical colleges fee Comparison in Germany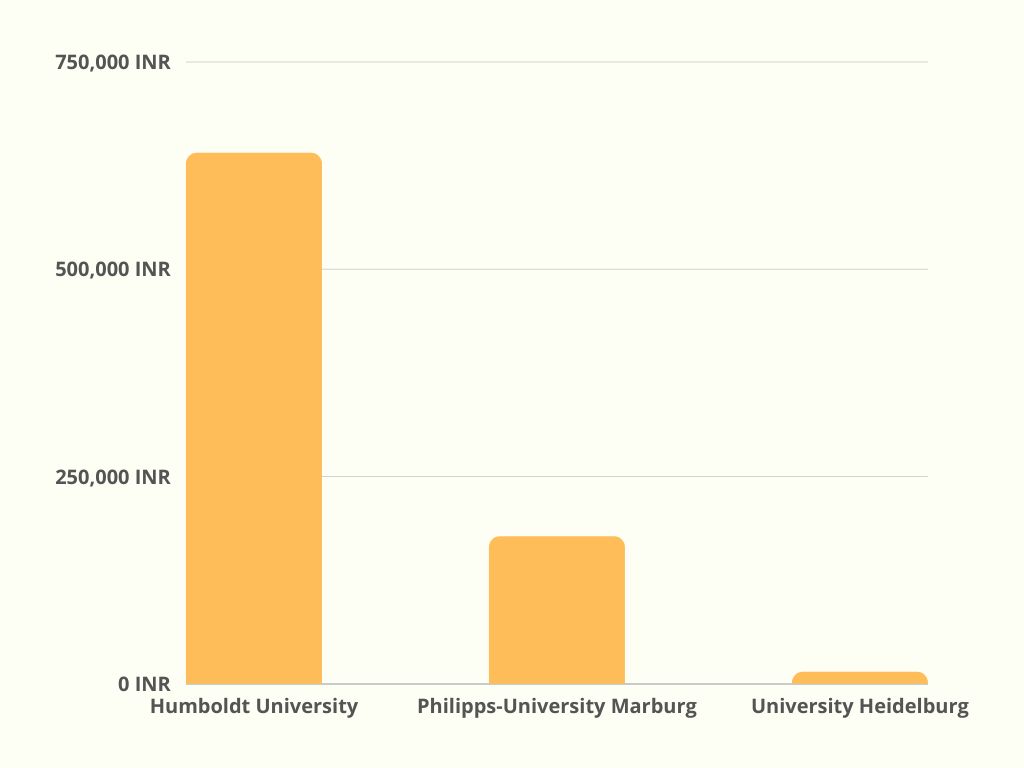 Scholarship for MBBS in Germany
Some of the scholarships available to study MBBS in Germany are detailed below, followed by some other scholarships available to study in Germany:
MBBS Scolarship in Germany for Indian students:
| | | |
| --- | --- | --- |
| Scholarship | Eligibility | Benefits |
| Carl Duisberg Scholarship for Medical Students | Students from any developing nation with 2 years of experience in Human and veterinary medicine, medical sciences, medical engineering, public health, and health economics | Covers living, travel and project costs |
| University Hamburg Scholarship for International Students | Any international student from a developing nation with strong academic background | EUR 1000 per month |
| Friedrich-Ebert-Stiftung Scholarship | Any international student from a developing nation with strong academic background | Basic scholarship allowance: EUR 650; Family Allowance: EUR 276; Complete healthcare cost |
| Bachelor and Masters UDE International Scholarships | International students from developing countries enrolled in Bachelor's or Masters's Degree courses at the University of Duisburg-Essen | EUR 30 |
Future Career Opportunity After MBBS in Germany
Students can do Post Graduation after completing MBBS if they clear their respective county's medical licence examination.
Complete assistance for the preparation of USMLE is available in colleges.
Clinical rotation programs are conducted in any country.
Indian students can return to India after passing the NEXT exam.
Read also: Is it good to study abroad?
Advantages and Disadvantages of studying in Germany
Do you know that the German education system has an excellent reputation? Germany witnesses many international students and provides excellent vocational training opportunities. There are a lot of advantages to studying in Germany, here are just a few:
Advantages of studying in Germany
Wide range of possibilities and broad exposure to clinical practice due to highly equipped multi-profile hospitals.
Colleges in Germany don't ask for any donations during the time of admission.
The tuition fee is relatively low and affordable.
Elite bodies like WHO and NMC acknowledge medical colleges in Germany.
The cost of living for students is relatively low too.
Disadvantages of studying in Germany
As German is the local language in Germany, students might feel the tongue is a barrier (outside the university campus).
One might have to put extra effort into learning the German Language after the class hour.
The entire Visa process for Germany could be callous as it can take more than two months after document submission to the embassy.
The climate of the country is cold most of the time. Therefore, it might be a little hard for students to adapt.
Those who wish to study and work together to cover their expenses may face difficulties because it requires a lot of self-study and concentration.
Read also: Advantages and disadvantages of study MBBS abroad.
Frequently Asked Questions (FAQs)
A. Russia, Ukraine, Kyrgyzstan, Germany and the Philippines are supposed to be the top 5 destinations to study MBBS abroad
Q. Is MBBS good in Germany?
A. Germany is known for providing quality education at a low cost. Its excellence in teaching and research makes it a popular destination for MBBS.
Q. What is MBBS called in Germany?
A. MBBS is Known as 'MD in Germany'. It is the same thing, just the difference in terminology.
Q. How many years is MBBS in Germany?
A. The duration of MBBS in Germany is of 6 years.
Q. Is Germany Good for medical studies?
A. Germany is well-known for providing world-class education at a very considerable cost.
Q. Is NEET required to study MBBS in Germany?
A. To get admission to German universities, candidates are required to qualify NEET entrance exam with a minimum of 60% marks. According to the Gazette Notification of the Medical Council of India, qualifying for the NEET examination to pursue Medical courses abroad is mandatory.
Q. How can I study MBBS in Germany for free?
A. No tuition fees are charged for doctoral study at public universities in Germany. The cost of living varies significantly around the country. This is estimated to be about 6,000 euros a year. Thus, there is an option for free MBBS in Germany for Indian students.