Situated just south of the Equator, Tanzania is one of Africa's most prominent economic giants. With some of the Best Medical Universities globally, studying MBBS in Tanzania is manageable and affordable. It proves what it takes to be significant in the world of the economy and education.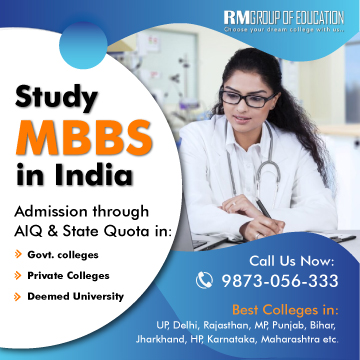 Tanzania is one of the leading destinations for all Medical Aspirants in India. So, keep reading as this article will inform you about various aspects related to MBBS in Tanzania Admission 2022-23 and all its pros and cons.
Subscribe to RM Group of Education Newsletter, Get Admission, Fees, Seats etc.
Table of Contents
Quick facts
Before reading the complete information about MBBS in Tanzania, let's look at Quick facts about Study MBBS in Tanzania.
| | |
| --- | --- |
| Course Offered | Bachelor of Medicine and Bachelor of Surgery(MBBS) |
| Course Duration | 6 Years |
| Basic Eligibility | Class 12th in Science, with PCB and English subjects from a board recognized by the authorities in India. |
| Medium of Teaching | English language |
| Universities Recognition | NMC & WHO |
| NEET Entrance Exam | NEET Qualified (Only) |
Graphical Representation of why study MBBS in Tanzania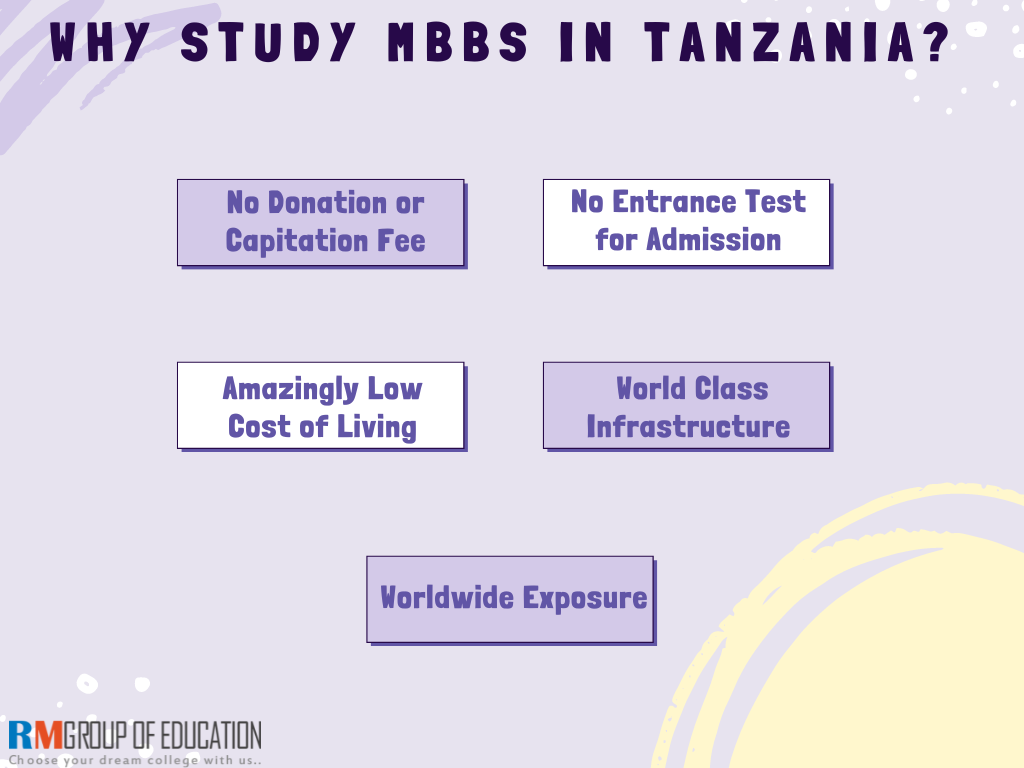 Eligibility C

riteria

Tanzania has been one of the top preferred destinations for international students to pursue their Medical Degree Courses. If you too want to Study MBBS in Tanzania, check the eligibility criteria below.
Age
Your age should be at least 17 years old on or before 31st December of the admission year.
No Upper Age Limit.
Qualification
Class 12th in Science, with PCB and English subjects from a board recognized by the authorities in India.
Minimum Qualifying (%)
70% marks with NEET score
Qualifying Entrance
NEET
IELTS or TOEFL
IELTS & TOEFL scores are not required
Graphical Representation of Eligibility Criteria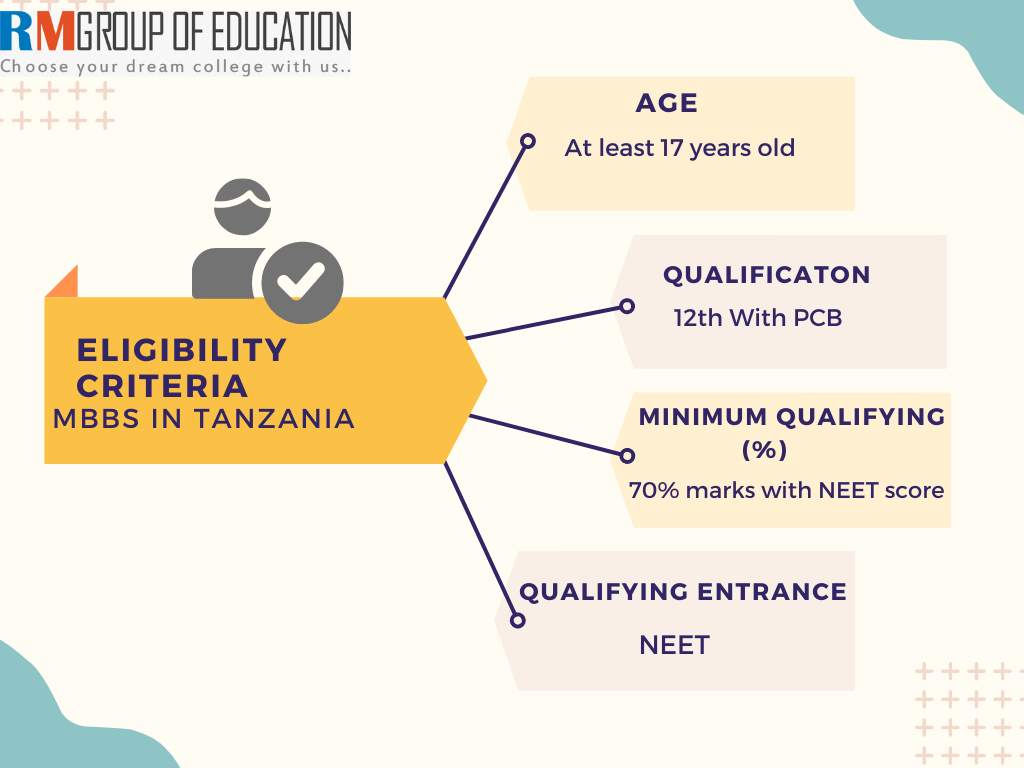 Admission Procedure
To take MBBS admission in Tanzania, you must qualify for the National Eligibility Entrance Exam (NEET). One must remember that you only have to be eligible for the exam. Here are the valuable resources for NEET Exam that will help you boost Preparing NEET Exam.
Documents Required
Before addmission to a Medical college in Tanzania, please do not forget to carry all these related documents.
Passport (Minimum 18 months validity).
Class 10th Passing Certificate & Mark sheet.
Class 12th Passing Certificate & Mark sheet.
Birth Certificate.
10 passport-size Photographs
Official Invitation letter from the Medical University of Tanzania.
Authorization of all documents from the Ministry of External Affairs, New Delhi.
Legalization of all documents from the Tenza Embassy.
Visa fees.
Bank receipt of University 1st year Tuition fee (required for some Universities).
HIV test documents.
Syllabus of MBBS in Tanzania
Before admission to MBBS in Tanzania, please compare the MBBS Syllabus of some of the Top-ranked, NMC-approved medical universities in Tanzania. The structure and the pattern of MBBS in Tanzania are as follow:
| Year | Syllabus |
| --- | --- |
| 1st | Introduction to Health & Disease, Musculoskeletal System, Blood, Respiratory & Cardiovascular Systems, Renal, Fluid & Electrolyte Systems, Gastrointestinal, Nutrition & Metabolism Systems, Endocrine & Reproduction Systems, Neuroscience with Head & Neck |
| 2nd | Genetics and Genomics, Cancer Biology, Immunology, Clinical Microbiology & Infection, Principles of Pharmacology and Systemic Pharmacology, Principles of Pathology and Systemic Pathology, Neuroscience & Musculoskeletal, Foundations in Geriatric Medicine, Clinical Skills Foundation Programme |
| 3rd | Family Medicine, Medicine, Orthopaedic Surgery, Paediatrics, Surgery, Electives |
| 4th | Acute Care comprising Anaesthesia and Emergency Medicine, Obstetrics and Gynaecology, Psychological Medicine, Forensic Medicine, Ophthalmology, Otolaryngology, Community Health Posting, Electives |
| 5th | Medicine Student Internship Programme, Surgery Student Internship Programme, Paediatrics Student Internship Programme, Geriatric Medicine Student Internship Programme, Orthopaedic Surgery Student Internship Programm, Dermatology, Infectious Diseases, Clinical Skills and Life Support Training, Electives |
Top MBBS Colleges in Tanzania
Below is the update of all Medical or MBBS Colleges in Tanzania officially made by India's Medical Council. To know detailed info about Fees Structure, Courses offered, Admission Procedure, and Facilities available and complete the college review, click the college link or Read more link.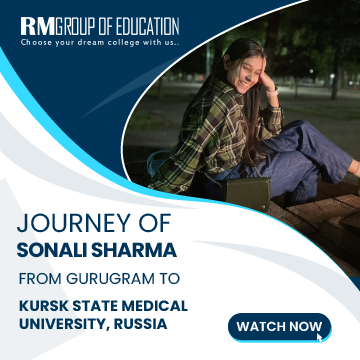 International Medical & Technological University
The Vignan Institute of Science and Technology is a private institute recognized by the Government of the United Republic of Tanzania through the National Council for Technical Education (NACTE). VIST will appropriately use its experienced teachers and state-of-the-art teaching facilities to prepare competent healthcare professionals deployed all over Tanzania to achieve equity-oriented national health goals. Read More>>
| | |
| --- | --- |
| Course Offered | MBBS (5 Years + 1 Year Internship) |
| Official Website | imtu.edu/ |
The Hubert Kairuki Memorial University, Dar es Salam
Hubert Kairuki Memorial University (HKMU) was established in 1997; It was among the first private universities to be accredited in Tanzania in 2000; it has since then received local, regional and international recognition. Initially, HKMU University was established as Mikocheni International University of Health Sciences (MIUHS), focusing on addressing training needs for health professionals in Tanzania and sub-Saharan Africa.
| | |
| --- | --- |
| Course Offered | MBBS (5 Years + 1 Year Internship) |
| Official Website | hkmu.ac.tz/ |
Fees Structure
All universities are perceived by WHO, NMC, and other international medical bodies. MBBS in Tanzania fees structure of any medical institute is more petite than Indian Medical Colleges. Let's look at the MBBS fee structure of some of the best Medical Universities in Tanzania.
NOTE: Mentioned fee is approximate in nature, and it will be subject to change.
Country
Summary
Tanzania is an East African country known for its vast wilderness areas. They include the plains of Serengeti National Park, a safari mecca populated by the "big five" game (elephant, lion, leopard, buffalo, rhino), and Kilimanjaro National Park, home to Africa's highest mountain.
Population
59,734,218
Area
885,800 km2 (342,009 sq mi)
Capital City
Dodoma
Language
The official language: Swahili
Other Language: English
Climate
Hot and Humid
Literacy Rate
77.89%
Time Zone
UTC+3 (EAT)
Currency
Tanzanian shilling (TSh)
Religion
Christian: 61% Islam: 35% Folk Religion: 2%
Pros & Cons
Do you know Tanzania has an extensive international network of public and state-affiliated universities and schools offering degrees in higher education? There are a lot of advantages to studying in Tanzania, here are just a few:
Advantages of studying MBBS in Tanzania
No Entrance test is required to study at the Medical Universities of Tanzania (Only a NEET Qualification is enough).
No capitalization fee.
The Indian students seeking admission are admitted to those recognized by the medical council of India for screening tests conducted by NMC.
Wide range of possibilities and broad exposure to clinical practice due to highly equipped multi-profile hospitals.
Colleges in Tanzania don't ask for any donations during admission.
The tuition fee is quite low and affordable.
Elite bodies like WHO and NMC acknowledge medical colleges in Tanzania.
The cost of living for students is quite low too.
Tanzania MBBS courses follow the English language mode as it is one of the most spoken languages in the world.
Hostel accommodations are comfortable and up to the mark for a student's comfort.
MBBS colleges in Tanzania provide great academics as well as sports.
The MBBS degree students get from Tanzania medical colleges is globally renowned and holds great worth.
Students become eligible to work in government hospitals after completing their MBBS course.
Government hospitals in Tanzania offer practical training to medical students.
Disadvantages of studying MBBS in Tanzania
The country's climate is hot most of the year, so adapting might be a little hot.
Those who wish to study and work together to cover their expenses may face difficulties because it requires a lot of self-study and concentration.
In hospitals, international students cannot touch the patients during an internship while studying MBBS in Tanzania.
Frequently Asked Questions (FAQs)
Q. Which country is best for MBBS abroad?
A. Tanzania, Ukraine, Kyrgyzstan, Germany and the Philippines are the top 5 destinations to study MBBS abroad.
Q. Is MBBS abroad a good option?
A. Yes, MBBS abroad is a good option for Indian students. It provides a chance to learn from some of the best professors in the w and expose me to different people. Also, MBBS abroad gives you the flexibility to practice in India or any foreign country.
Q. What are the fees for MBBS abroad?
A. It can cost you around 20-30 lakh minimum. However, in some countries, the amount can go up to 50 to 60 lakhs.
Q. What is MBBS abroad?
A. MBBS abroad is a chance to study and complete your MBBS degree from a foreign university in a foreign country.
Q. Which country is best for MBBS in Europe?
A. Romania, Poland, Germany, Belarus and Georgia are some of Europe's most popular destinations for MBBS.
Q. Is MBBS good in Tanzania?
A. Tanzania is known for providing quality education at a low cost. Its excellence in teaching and research makes it a popular destination for MBBS.
Q. How much does MBBS cost in Tanzania?
A. It might cost you somewhere around 20-25 lakh.
Q. What is MBBS called in Tanzania?
A. MBBS is Known as "MBBS in Tanzania", It is the same thing, just the difference of terminology.
Q. How many years is MBBS in Tanzania?
A. The duration of MBBS in Tanzania is of 6 years.
Q. Is Tanzania Good for medical studies?
A. Tanzania is well-known for providing world-class education at a very considerable cost.
Q. Is NEET required for MBBS in Tanzania in 2022?
A. Yes, NEET is required for MBBS in Tanzania.
Q. Why is MBBS cheap in Tanzania?
A. The cost of pursuing MBBS in Tanzania is low because the Tanzania government provides subsidies for education.
Q. Which country is best for MBBS, China or Tanzania?
A. Tanzania is better for MBBS abroad than China for specific reasons: Method of education, Language, MCI clearing rate, Observership program, and Education fees.
Q. Which is the cheapest country for Indian students to study abroad?
A. Norway, Tanzania, Germany, Poland, Switzerland, Belgium and Denmark are the cheapest countries for Indian students to study abroad.
Q. Which country is best for Indian students to study abroad?
A. Canada, Germany, Australia, the United States and Italy are some of the best destinations for Indian students to study abroad.
Q. Can poor Indian students study abroad?
A. Of course, there is no rich and poor when it comes to education; it is all about knowledge. There are several scholarships open to students, and the government of India also provides a scholarship option for academically brilliant students
Q. Which country is best for foreign students?
A. Switzerland, Netherlands, Costa Rica, Mexico, Canada, Thailand, Spain and New Zealand are ranked as top destinations for international students.
Q. Which country has the lowest fees for MBBS?
A. Ans. Russia, Kazakhstan, Bangladesh, China, and Ukraine are few countries that provide low-cost MBBS education.