Medical Colleges in Jammu & Kashmir: Jammu & Kashmir popularly known as J&K is a state in northern India located mostly in the Himalayan mountains. It is the beauty of the state that is termed " Asian Switzerland". The state is world-famous for its spices, agricultural products and Tourist Spots. After the independence, the government established many high profile institutions like All India Institute of Medical Science Awantipora, Acharya Shri Chandra college of medical sciences, Jammu and Government Medical College etc. to uplift the youth and society with top-class medical facilities.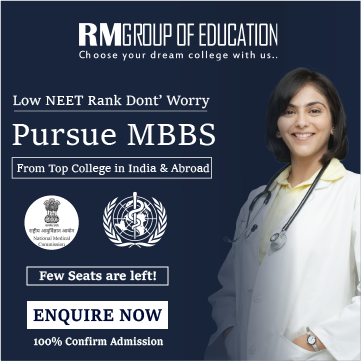 Throughout the article, you will get to know about Top Medical Colleges in Jammu and Kashmir. If you too want to pursue MBBS then this article is for you only. Throughout this article, we will let you know with Top MBBS Colleges in J&K. Have a look.
Subscribe to RM Group of Education Newsletter, Get Admission, Fees, Seats etc.
Government Medical Colleges in Jammu & Kashmir
Here are the updated Best Government MBBS Colleges in J&K officially made by the Medical Council of India. To know the detailed info about Government Colleges Fees Structure, Course offered, Admission Procedure, Placement Stats, Cutoff, Facilities available and complete college List here, click the college link.
Private Medical Colleges in Jammu & Kashmir
Here in this section, we are providing detailed information about Best private medical colleges in Jammu & Kashmir. You can check the complete list mentioned below, and if you want to complete details about colleges, you click the link.
Admission Procedure
RM Group of Education's mission is "To create a platform where students get recognition for their hard work." We have an elite team of 50+ expert Domestic & Overseas Consultants, partnered with 30+ Educational Institutes, 100+ MOU Signed Colleges, and 15+ Distance Centers, and currently dealing with 120+ courses making us one of the Best Admission Consultancies. Since our inception, we have counselled 5100+ students and fulfilled 2500+ clients' dreams. Our Student Counsellors are confident to help each of the student's queries, from finding the Right college, admission assistance, document verification, and foreign admission. Book a meeting by applying on our website and filling out the form. The form will cost you around Rs1200/-. Your Journey to a leading future start here.
Below mention, STEPS TO FILL FORM
STEP 1- Click on the link https://blog.rmgoe.org/
STEP 2- Read the instruction shown on the web page carefully. The form cost Rs1200/-. After reading the instruction, click on the button "I ACCEPT".
STEP 3- By clicking the "I ACCEPT" button, it takes you to the personal details page. Fill in your personal details. Text your name, select gender, add birth date and choose the graduation course you are applying for, then select the course you are interested in; after filling the form, click NEXT.
STEP 4- After clicking "NEXT", you come to the Academic History page. Here you have to fill in your academic details. You have to mention 10th class marks and year of passing. For the 12th class, you have to answer whether you appear for exams this academic year; if yes or no, mention your 12th passing year, marks, PCM/PCB Percentage and name of the school. People applying for postgraduation have to fill in their graduation details, that is, their graduation marks, passing year and name of the school, and those applying for under graduation courses have to mention N/A. Submit the form by clicking on NEXT.
STEP 5- After clicking the NEXT button. You come to the payment page. Choose an online payment option and pay Rs1200. After payment, you come to complete the application, and here you can check your full application details.
How we can help you?
RM Group of Education, feel proud in solving the candidate's dilemma to identify the best college for MBBS. We understand not all can afford MBBS. With our top in class expert admission consultants, we help in domestic as well as overseas admission to top colleges around the globe. Our ISO Certified centre, dealing with 120+ courses helped many students to achieve their dream of becoming a doctor. With a success rate of 96 per cent, we are one of the best consultancies in India.
50+ Expert career guidance & suggestions.
Complete Interest-based counselling and career assistance support.
24×7*365 Days Notification panel access of major entrance exams in India.
1000+ Hand Written Notes & study materials support to boost Test preparation.
Career Counseling assistance (Seat locking, Freezing & Documentation).
Assured admission in 50+ MOU signed colleges across the country.
Personalized counselling videos and live updates of major entrance exams in India.
Frequently Asked Question (FAQ)
Q. How many government and private colleges are approved by National Medical Commission (NMC) in Jammu & Kashmir?
A. There are 9 Government and 1 Private College approved by NMC in Jammu & Kashmir.
Q. What is the total no. of seats offered for Government Colleges in Jammu & Kashmir?
Q. What is the total no. of seats offered for Private Colleges in Jammu & Kashmir?
A. There are a total of 100 seats in 1 Private College of Jammu & Kashmir.