North-Caucasus Federal University Russia[1] was established in 2012 to merge the three largest universities – North-Caucasus State University, Stavropol State University, and Pyatigorsk University for Humanities and Technology. Each of these was established at a certain point in the history of our country to meet the demand experienced in various sectors of the economy – in the Stavropol Region, the North Caucasus, and all over the country. And each of the institutions had gone a long way to build a distinguished history behind. North-Caucasian Federal University Russia is one of the leading of Russia's best leading medical universities.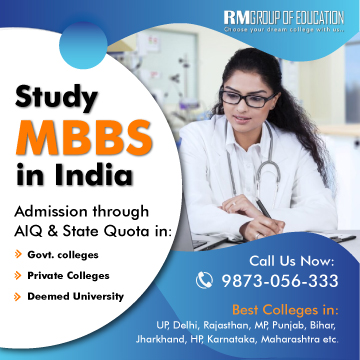 Table of Contents
College Summary
Name of Institute
North-Caucasian Federal University Russia
Location
Russia
Year of Establishment
2012
Institute Type
Public
Language of Teaching
Russian/ English
Students
15 thousand Russian and foreign students
Approved by
NMC[2] & WHO[3]-accredited
Courses Offered
MBBS
Ranking
Country Rank: 53
World Rank: 2844
Official Portal
http://eng.ncfu.ru/
Talk to our Abroad Counsellor
Call Now > +91-9999709233
Category
Medical Colleges in Russia
Courses Offered
| | |
| --- | --- |
| Course | Duration |
| MBBS | 6 Years |
Why Choose North-Caucasus Federal University?
Subscribe to RM Group of Education Newsletter, Get Admission, Fees, Seats etc.
North-Caucasus Federal University is proud of its strong faculty members, and 75% of professors have academic degrees.
North-Caucasus Federal University regularly invites top experts from various countries to deliver lectures and seminars to students.
The institute has established partnerships with leading higher education institutions worldwide to facilitate academic exchange programs with International Partners.
The university conducts training sessions in the form of lectures, seminars, practical and laboratory studies, tests, independent works, colloquiums, scientific and research work of students, practices and course design.
NCFU receives more than 10 foreign experts and graduate students to participate in conferences and symposia annually.
Eligibility Criteria for Admission
North-Caucasian Federal University Russia has been one of the top preferred destinations for international students to pursue their Medical Degree Courses. If you want to study MBBS at North-Caucasian Federal University Russia, check the eligibility below.
Age
You are at least 17 years old on or before 31st December of the admission year.
*No Upper Age Limit.
Qualification
Class 12th in Science, with PCB and English subjects from a board recognized by the authorities in India.
Minimum Qualifying (%)
50% in 10+2 (UR)
45% (SC/OBC/ST)
Qualifying Entrance
NEET (Some Medical College offers Direct entry to a valid NEET Card Holder)
Medium of Teaching
Russian/English
Fee Structure
Note: Subject to be changed
North-Caucasian Federal University Russia – Ranking
According to 4icu.org, the following is the country and world ranking for North-Caucasian Federal University Russia :
| | |
| --- | --- |
| Country Rank | World Rank |
| 53 | 2844 |
Country Summary
Population
143,912,690
Area
17,098,246 km2
Capital City
Moscow
Language
Russian is one of the six official languages of the UN. Russian is the one and only official state language. Other languages spoken in Russia are Tatar, Ukrainian and Bashkir etc.
Climate
Warm to hot in dry summers and (very) cold winters with temperatures of -30°C and lower
Literacy Rate
99.68%
Time Zone
UTC+2 to +12
Currency
Russian ruble (₽) (RUB)[4]
Religion
73% Christianity, 70% Russian Orthodoxy, 3% Other Christian, 15% No religion, 10% of Islam
& 2% Others
About Stavropol City
Stavropol is a city in the south of Russia.
It is located on the watershed of the Azov and Caspian Seas.
The unique souvenirs for Stavropol include the healing herbal balsam Strizhament.
Temperature

Rainfall
Daylight
Advantages of Studying in Russia
North-Caucasian Federal University Russia Has become a famous MBBS study-abroad Location for Indian students. Russia is the Country with the second-highest number of Indian students studying medicine There is a whole range of reasons why MBBS in Russian.
The tuition Fee is very affordable compared to Indian Medical Colleges.
Russian Universities have the best and Easy Admission Procedure
They are Providing world-class infrastructure with modern facilities in colleges
International Exposure for those who are also from Different country backgrounds
V.I. Vernadsky Crimean Federal University work with great professionals, doctors and researchers. That's why Indian students will be admitted to Russia.
Disadvantages of Studying in Russia
North-Caucasian Federal University Russia also has some of disadvantages. These points are mentioned below.
Local language going to any foreign country will mean that you have to adjust yourself according to the new country.
Some students find it hard to adjust to the cold climate or weather of Russia. The temperature will be below 0 degrees for about 3 to 4 months.
Cultural Hindrance is understandable that the student may find it difficult to adjust and adapt to the new country and culture.
Frequently Asked Questions ( FAQs)
Where is North-Caucasian Federal University Russia located?
355017, Stavropol, Pushkin str., 1
What scholarships and grants are available to students?
Does North-Caucasian Federal University Russia accept transferees?
North-Caucasian Federal University Russia accepts transferees on a case-to-case basis.
Can non-Catholics study and work at North-Caucasian Federal University Russia?
Yes, North-Caucasian Federal University Russia does not discriminate against the admission and employment of non-Catholics.
Are there any hostel facilities available at North-Caucasus Federal University?
Fully furnished and comfortable hostel with modern amenities at North-Caucasus Federal University.
Reference