One of the most modern and developed educational systems in the world is that of Russia. Today, medical College in India is a challenging undertaking for students because there aren't many MBBS seats compared to the number of candidates. The student, therefore, tries to finish their MBBS in different countries. There are intense contests to pass the exams in India, where the Indian government conducts the NEET exams for medical entrance. When it comes to the most significant medical College and countries giving a plethora of chances for MBBS study abroad, Russia tops the list. They are several Benefits of studying MBBS in Russia for Indian Students, and as a result, it attracts many medical professionals from India. It is not surprising that changes like the MBBS in Russia thrill and lure thousands of students from MBBS in India and that the number is steadily rising over time.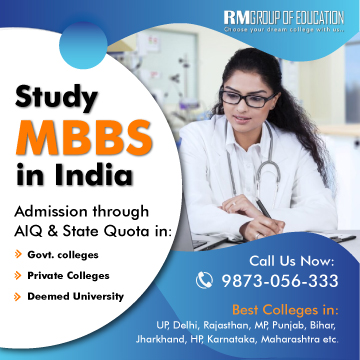 The population of Indian students studying in Russia is increasing day by day because of the quality of life and general well-being which Russian universities are providing. Moreover, another reason for migration from India to Russia is to receive a top-notch education at a reasonable price.
Subscribe to RM Group of Education Newsletter, Get Admission, Fees, Seats etc.
Table of Contents
Country Summary
It is a brief overview of Russia, which you should be familiar with if you plan to study for your MBBS degree in Russia.
| | |
| --- | --- |
| Population | 143,912,690 |
| Area | 16,376,870 Km² (6,323,142 mi²) |
| Capital City | Moscow |
| Language | Russian is one of the six official languages of the UN. Russian is the one and only official state language. Other languages spoken in Russia are Tatar, Ukrainian and Bashkir etc. |
| Climate | Warm to hot in dry summers and (very) cold winters with temperatures of -30°C and lower |
| Literacy Rate | 99.68% |
| Time Zone | UTC + 2:30 |
| Currency | Russian Ruble (RUB) |
| Religion | Christianity, Islam, Judaism, Buddhism etc. |
Advantages and Disadvantages of Studying MBBS in Russia
Candidates should be aware of the advantages and disadvantages of studying in any country. Nothing comes with absolute assurance, there are always going to be some advantages and disadvantages whether we like it or not. Similarly, the advantages and disadvantages of studying MBBS in Russia are given below.
Advantages
So, as you can see from the before-mentioned list, there are a total of 53 NMC-approved universities in Russia that you can apply for, which gives students great seats for admission, which is by far one of the most highlighting points about MBBS in Russia and considered as a major benefit of studying MBBS in Russia for Indian Students.
Apart from this, the language of teaching in Russia is English and Russian.
Also, the tuition fees for MBBS in Russia are way cheap compared to various Indian private medical universities.
Students could easily practise in India after passing the NMC screening test. These are only a few of the good things about studying in Russia from the pool of many.
Disadvantages
However, like everything studying in Russia also have its flaws. We will not say that there are only benefits of studying MBBS in Russia for Indian Students; specific points are considered the disadvantages of learning in the country.
Factors like food, language barrier, cold climate, exposure to modern culture, nightlife and addiction problems are among the downsides of studying in the country.
Benefits of studying MBBS in Russia for Indian Students (Top Reasons)
There are always going to be pros and cons of studying in any country whether in India or abroad. Candidates should be aware of these benefits, so we have compiled some of the benefits of studying MBBS in Russia for Indian students to help them choose the country they want to pursue an MBBS degree.
1. Easy Admission Procedure
The best selection procedures are used at Russian universities. Russia has made admissions for international students much simpler than in other parts of Europe and the US. Which makes studying MBBS in Russia for Indian Students simple and easy.
2. No Entrance Test for Admission
Russian medical colleges do not require entrance exams, in contrast to those in India. Your ability to enrol will be solely determined by how well you performed in 12th grade on a first-come, first-served basis. Preference is given to students with a grade point average of at least 60% in their 12th standard. All Indian students can grab this opportunity very easily.
3. International Exposure
Russian Universities are full of exposure; a number of students from all over the world participate here, which gives a beautiful International exposure. All the students can interact with different sets of students, which gives them a platform where they can experience other nations. The culture and ethnicities of the students will immensely aid them in settling down. One of the important benefits of studying MBBS in Russia for Indian Students is the fantastic opportunity to get exposed to a high patient intake in a nation like Russia.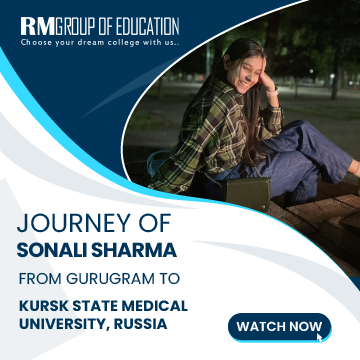 4. Exciting Student Life
There is always something for students to do while studying in Russia. They participate in sporting events, competitions, student festivals, and other leisure activities. Student construction teams, sports teams, and volunteer organizations are all present in universities. The funny KVN games (Club of the Merry and the Quick-Witted) provide Russian students with a singular creative outlet. The top university KVN teams compete in a televised competition broadcast on a major Russian TV channel in comfortable & Well-Equipped Dormitories and Campuses.
5. Subsidized Fee Structure
The MBBS in Russia fees for Indian students are highly subsidized as the top medical universities of Russia are aided by the Russian government. Moreover, the Russian MBBS Fees are subsidized by the Russian Ministry of Health & Education, which makes education affordable and cheaper compared to other countries. It is quite cheaper than Indian Universities. High fees of medical colleges in India are a major reason for Indian students getting attracted to Russia for MBBS and is considered a benefit of studying MBBS in Russia for Indian Students as they get high-quality education on a low budget.
Read also: Benefits of studying MBBS in Russia for Indian Students
Comparison between MBBS in Russia & MBBS in India
| | | |
| --- | --- | --- |
| Particular | MBBS in Russia | MBBS in India |
| Cost of Course | The cost of studying medicine in Russia is relatively low. | The cost of studying medicine in India is relatively high. |
| Duration | MBBS course duration in Russia is six years. | The duration of the MBBS course in India is 5.5 years. |
| Entrance Exam | An entrance test is not mandatory in almost every university in Russia. | Entrance test required. |
| Donation | A donation is not required at the time of admission. | Various colleges in India take donations for admission to medical courses. |
| Degree | Degree awarded as MD in Medicine. | Degree awarded as MBBS in Medicine. |
Top MBBS Colleges in Russia with Fee Structure
Below is the updated list of 2022-23 of all Medical or MBBS Colleges in Russia officially made by India's Medical Council. MBBS fees in Russia are lower than the fees in medical colleges in India.
| | | | | | |
| --- | --- | --- | --- | --- | --- |
| | Russian Medical Universities | Tuition Fee (Per Year) In USD | Hostel Fee (Per Year) In USD | One-Time Charges In USD | Complete In USD |
| 1. | Altai State Medical University | 4,000 | 700 | 1,800 | 30,000 |
| 2. | Amur State Medical University | 3,404 | – | – | 20,424 |
| 3. | Bashkir State Medical University | 3,900 | 200 | 1,900 | 26,500 |
| 4. | Chuvash State Medical University | 3,200 | 700 | 1,500 | 24,900 |
| 5. | Crimea Federal University | 3,000 | 500 | 2,500 | 23,500 |
| 6. | Dagestan State Medical University | 4,000 | 500 | 1,500 | 18,500 |
| 7. | Kabardino Balkarian State University | 2,500 | 250 | 1,750 | 18,250 |
| 8. | Far Eastern Federal University | 5,000 | 700 | 2,000 | 36,200 |
| 9. | First Moscow State Medical University | 10,000 | 1,500 | 1,800 | 70,800 |
| 10. | Voronezh State Medical University | 6,000 | 850 | 2,000 | 43,100 |
Conclusion
Wrapping the topic, we will say that the pros and cons will always be there, no matter the country, type of education or subject you choose. we are not saying that there are only benefits of studying MBBS in Russia for Indian Students it's up to the student to decide whether they make advantage of their power or let the cons destroy their dream. Everything has its flaws and goodness, but to make both of them your forte is what education and ambition are all about. So, consider Russia if you are pondering about MBBS.
Frequently Asked Questions (FAQs)
Is it beneficial for Indian students to pursue MBBS in Russia?
Yes, it is worthwhile to pursue an MBBS in Russia because that country boasts world-class medical universities. The degree is accepted by NMC and acknowledged by numerous organisations. The cost of living is reasonable, with fees only costing between 4 and 8 lakhs each year.
What will Indian students in Russia do after finishing their MBBS?
The majority of Indian students who study for their MBBS in Russia desire to return after studying MBBS in Russia. To practise medicine in India, they will have to take an NMC exam, also referred to as the Foreign Medical Graduates Examination (FMGE).
Does MBBS from Russia hold any significance in India?
Due to its top-notch facilities, Russia is one of the preferred countries for medical students seeking admission to the MBBS programme. Around 10,000 foreign students enrol in Russian medical universities each year to study medicine.
Can I find employment in Russia after receiving my medical degree?
In Russia, an MBBS degree requires five to six years of study, training, and internship. Students can apply to work at any hospital around the globe after graduating as doctors. They can continue working there, and obtaining a work visa is simple in Russia as well.
Can we work part-time jobs in Russia while pursuing MBBS degrees?
Students can easily find part-time jobs in Russia, but keep in mind that a work permit is required for any employment that is not on a Russian university campus. Students can also obtain employment at some businesses and institutions connected to their college.
Read Also: