Hello Candidates, As we all know the candidates who have cleared NEET PG 2023 Results dream that he/she will pursue post-graduation in medical sciences and want to get admission to the Top Govt. Medical Colleges in India. Acquiring a seat in Top Govt. PG medical colleges in India are definitely a back-breaking task, but it's not impossible.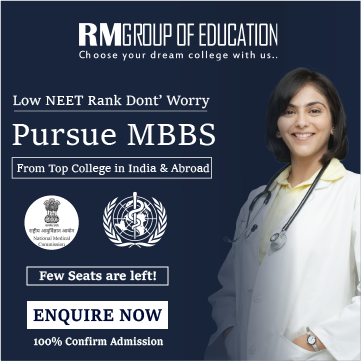 Choosing one of the best government PG medical colleges can be a fantastic task. Here in this article, the team of Edufever have listed the Top Government PG medical colleges in India with their rank and rating. Applicants can go through this article and decide subsequently which college meets the requirement of their best.
Subscribe to RM Group of Education Newsletter, Get Admission, Fees, Seats etc.
List of PG Medical Colleges in India
As we are frequently getting emails, and comments listing PG Medical colleges according to their rating, and NIRF ranking to get easily decide which college is best among these Top 10 PG medical colleges in India. So, we have included Top government PG medical colleges in India and private medical colleges in India.
S.No.
Name of Colleges
Establishment Year
Intake Capacity
Fee Structure
1
Maulana Azad Medical College, New Delhi
1958
250
4,445/- (AQI)
2
University College of Medical Sciences, University of Delhi, Delhi
1971
150
5,295/-
3
King George's Medical University, Lucknow
1911
250
Rs. 18000 / – per year ( Rs. 9000 / – per annum for SC / ST / OBC
students)
4
Institute of Medical Sciences Banaras Hindu University, Varanasi
1960
100
29,874/-
5
Government Medical College and Hospital, Chandigarh
1991
100
25,000/- (Approx.)
6
Lady Hardinge Medical College for Women, New Delhi
1914
200
1,355/-
7
Andhra Medical College, Visakhapatnam
1923
250
7000/-
8
Bangalore Medical College and Research Institute, Bangalore
1955
250
70,170/- (AIQ)
9
Lokmanya Tilak Municipal Medical College, Sion, Mumbai
1964
150
85,800/-
10
Osmania Medical College, Hyderabad
1846
250
60,000/-
11
SCB Medical College, Cuttack
1944
250
30,000/- (Government Quota/State Quota Fees)
12
Madras Medical College, Chennai
1835
250
4,000/-
13
Indira Gandhi Medical College, Shimla
1966
120
40,000/-
14
Vardhman Mahavir Medical College and Safdarjung Hospital, New Delhi
2001
150
36,000/- (AIQ)
15
Seth GS Medical College, Mumbai
1926
180
85,800/-
16
Jawaharlal Nehru Medical College, Aligarh Muslim University, Aligarh
1961
150
46,340/-(AIQ)
17
Medical College, Kolkata
1838
250
4500/-
18
Mysore Medical College and Research Institute, Mysore
1924
150
67,050/- (AIQ)
19
B J Medical College, Ahmedabad
1871
250
25,000/- (Govt. Quota)
20
Goa Medical College, Panaji
1842
180
1,12,500/-
Admission Procedure
RM Group of Education's mission is "To create a platform where students get recognition for their hard work." We have an elite team of 50+ expert Domestic & Overseas Consultants, partnered with 30+ Educational Institutes, 100+ MOU Signed Colleges, and 15+ Distance Centers, and currently dealing with 120+ courses making us one of the Best Admission Consultancies. Since our inception, we have counselled 5100+ students and fulfilled 2500+ clients' dreams. Our Student Counsellors are confident to help with each student's queries, from finding the right college, admission assistance, document verification, and foreign admission. Book a meeting by applying on our website and filling out the form.
Your Journey to a leading future start here.
Below Mention, STEPS TO FILL FORM
STEP 1- Click on the link https://blog.rmgoe.org/
STEP 2- Read the instruction shown on the web page carefully. The form cost Rs1200/-. After reading the instruction, click on the button "I ACCEPT".
STEP 3- By clicking the "I ACCEPT" button, it takes you to the personal details page. Fill in your personal details. Text your name, select gender, add a birth date, choose the graduation course you are applying for, and then select the course you are interested in; after filling out the form, click NEXT.
STEP 4- After clicking "NEXT", you come to the Academic History page. Here you have to fill in your academic details. You have to mention 10th class marks and year of passing. For the 12th class, you have to answer whether you appear for exams this academic year; if yes or no, mention your 12th passing year, marks, PCM/PCB Percentage and name of the school. People applying for postgraduation have to fill in their graduation details, that is, their graduation marks, passing year and name of the school, and those applying for under-graduation courses have to mention N/A. Submit the form by clicking on NEXT.
STEP 5- After clicking the NEXT button. You come to the payment page. Choose an online payment option. After payment, you come to complete the application, and here you can check your full application details.
How can we help you?
RM Group of Education feels proud in solving the candidate's dilemma in identifying the best college for MBBS. We understand not all can afford MBBS. With our top-in-class expert admission consultants, we help with domestic and overseas admission to top colleges around the globe. Our ISO Certified centre, dealing with 120+ courses, helped many students to achieve their dream of becoming a doctor. With a success rate of 96 per cent, we are one of the best consultancies in India. 
50+ Expert career guidance & suggestions.
Complete Interest-based counselling and career assistance support.
24×7*365 Days Notification panel access of major entrance exams in India.
1000+ Hand Written Notes & study materials support to boost Test preparation.
Career Counseling assistance (Seat locking, Freezing & Documentation).
Assured admission to 50+ MOU-signed colleges across the country.
Personalized counselling videos and live updates of major entrance exams in India.
Frequently Asked Questions (FAQs)
Which is the No 1 Medical College in India?
All India Institute of Medical Sciences, Delhi.
How many medical colleges are in India?
Which city is best for MBBS in India?
List of Cheapest Medical Colleges in India.
1. R.G Kar Medical College and Hospital, Kolkata.
2. Bangalore Medical College and Research Institute, Bangalore.
3. Christian Medical College, Vellore.
4. Topiwala National Medical College, Mumbai.
5. Osmania Medical College.
6. Maharaja Agrasen Medical College, Agroha.
How many seats is NEET in India?
NEET UG offers 91415 MBBS seats, 26,949 BDS seats, 50,720 AYUSH seats, and 525 B. VSc & AH seats. From the data provided by MCI and the Ministry of Health and Family Welfare (MoHFW), the figures for MBBS government seats through NEET 2023 have been compiled.
Which medical course is best?
Best Medical Courses in India:
Bachelor of Medicine and Bachelor of Surgery (MBBS): …
Bachelor of Physiotherapy (BPT): …
Bachelor of Science (B.Sc) in Medical Laboratory Technology: …
Diploma in Nursing: …
Bachelor of Dental Surgery (BDS): …
Bachelor of Homeopathic Medicine and Surgery (BHMS):