Reasons to study MBBS in Asia: Asian nations have made significant investments in providing high-quality education and enhancing their standing in international rankings as a result of their continuously expanding economies. International students from all over the world are increasingly using it as a centre for education as time goes on. One of the most desired job paths is medicine. Obtaining an MBBS degree is often the first step on the path to becoming a doctor. But it is not that easy to secure a medical seat in India.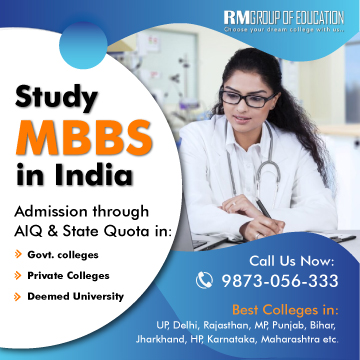 The number of MBBS seats available in India and the number of applications is drastically different. For admission to roughly 60,000 seats, nearly 13 lakh candidates attempted the NEET exam in the past year. Let's examine some of the factors that make Asia a popular choice for study abroad programmes.
Subscribe to RM Group of Education Newsletter, Get Admission, Fees, Seats etc.
Table of Contents
Reasons to Study MBBS in Asia
Wherever you study, studying abroad is always worthwhile. There will never be a moment when you will regret your decision because education is something that matters more and more wherever you go. But, here are 6 reasons why studying in Asia can benefit you.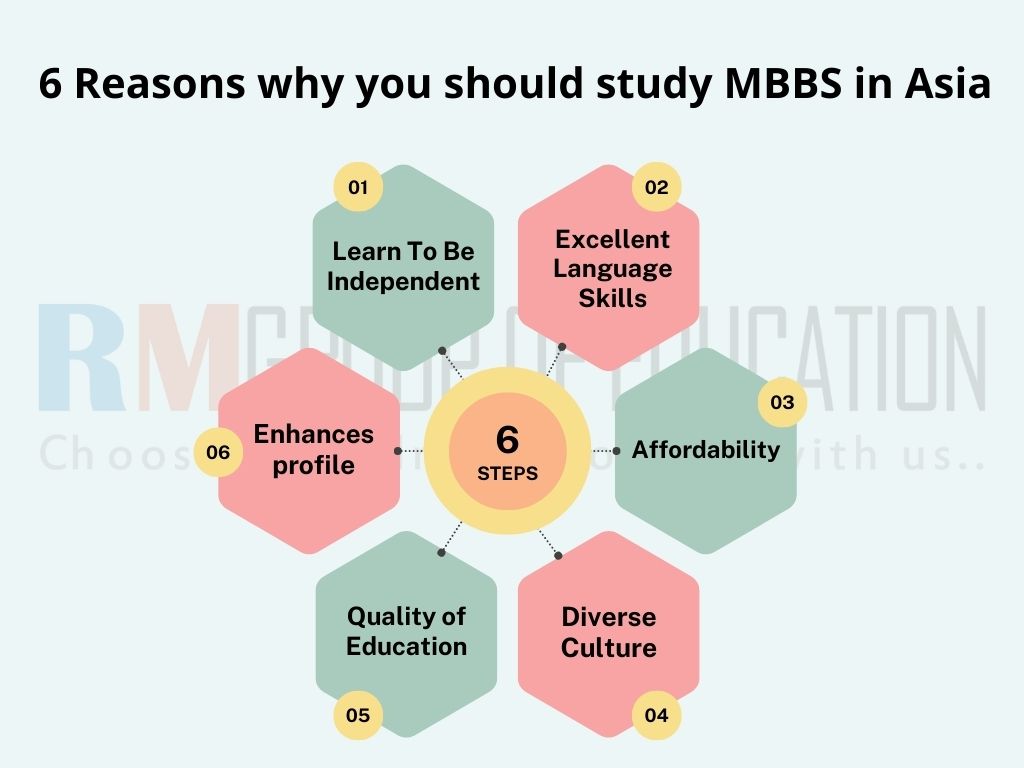 1. Learn To Be Independent
Have you ever lived in another country? All by yourself? No? Then, this is your chance to take the risk and challenge yourself. If you can make it in Asia, you can make it anywhere. Living in a country that's completely different from your own will teach you the skills needed to live an independent life. You will find new sides of yourself that you wouldn't have discovered if you hadn't stepped out of your comfort zone.
2. Excellent Language Skills
Do you know what makes a statement? It has basic conversational skills in a more exotic language. You're willing and able to learn niche skills and develop your portfolio creatively and ambitiously. Even if you don't understand a completely new language abroad, improving your existing English language skills will become extremely useful to you. Being able to communicate confidently in English and give presentations in a foreign language is necessary regardless of your future career path. Comprehensive, polished and confident language skills never go out of style when interviewing for a job.
3. Affordability
In comparison to other study-abroad locations like Europe and the US, Asia has considerably lower living and educational costs. Some of the most reasonably priced travel destinations in Asia are places like Kuala Lumpur, Malaysia; Chennai, India; and Istanbul, Turkey. In order to allow students to live in Asia while they are studying without burning a hole in their wallets.
4. Diverse Culture
Asia is a melting pot of many cultures and welcomes visitors from all backgrounds. Asia places a strong emphasis on harmony and unity in its core values and beliefs. Students may find it fascinating and a great learning opportunity to immerse themselves in a rich and varied culture.
5. Quality of Education
Asian nations now have the highest standard of education. The focus on high-quality education and competitive programs has transformed Asia's literacy rate scenario. Some of the greatest universities in the globe are found in nations like Japan, Singapore, China, and others.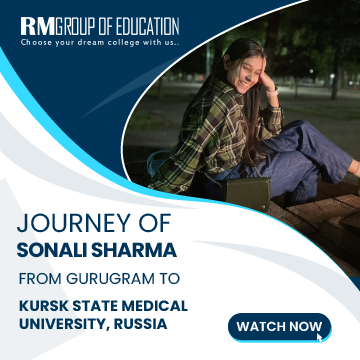 6. Enhances profile
Essential skills like critical thinking, teamwork, originality, and others are promoted in the curriculum of Asian educational institutions because they help you update your resume and raise your professional profile. Your capacity to adapt to a multicultural workplace, as well as your potential for networking and proficiency, is demonstrated by your education in an Asian country.
Top 3 Asian Countries to Study MBBS
There are 48 countries in Asia, but how to know which is the best country to study MBBS in Asia? So, here are the top 3 Countries in Asia to Study MBBS.
| S.no. | Country Name | Capital | Currency |
| --- | --- | --- | --- |
| 1. | Singapore | Singapore | Singapore Dollar |
| 2. | Malaysia | Kuala Lumpur | Malaysian Ringgit |
| 3. | Nepal | Kathmandu | Nepalese rupee |
Singapore
Top medical universities in Singapore that offer the best and most advanced education of MBBS. Singapore universities have the best professors and highly qualified staff. Here is the list of Top medical colleges in Singapore :
Malaysia
Top medical universities in Malaysia that provide the greatest and most comprehensive MBBS education. Malaysian universities have the best instructors and highly qualified workers. Here is a list of Malaysia's top medical universities:
Nepal
MBBS in Nepal is just the target for you. Earning a place among the world's top-notch medical institutions, MBBS In Nepal is an ideal destination for providing quality and affordable medical education. Top medical universities in Nepal that provide the greatest and most comprehensive MBBS education. Nepalese universities have the best instructors and highly qualified workers. Here is a list of Nepal's top Medical Universities:
Conclusion
The top medical universities in Asia are located in the nations above. However, numerous additional countries provide affordable, high-quality medical education, including Georgia, Kazakhstan, Russia, and Kyrgyzstan. Numerous Indian students have graduated with MBBS degrees from these countries There are multiple advantages of studying MBBS in Kyrgyzstan, Georgia, Russia etc. So, if you're looking for a top-notch medical education, you can also think about these countries.