Best Country for MBBS Abroad: Education is something that no one can comprise, be it engineering, aviation, or medicine. Every parent and every student wants what is best for them. Talking about medicine, we can easily say that it is one of the most sought-after fields blooming in India. As the number of Indian medical students wanting to become a doctor or pursue a career in medicine increases, so are the number of Indian students looking to complete their MBBS abroad. It is the dream of every student to get admission to the Best Country for MBBS Abroad.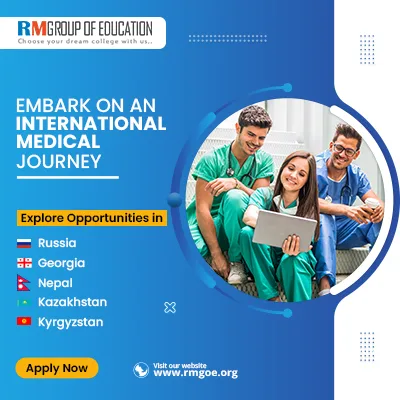 The state-of-the-art colleges, well-equipped labs, highly experienced faculties and various other points are becoming a major pull point for MBBS abroad among Indian students.
Subscribe to RM Group of Education Newsletter, Get Admission, Fees, Seats etc.
However, choosing a perfect destination in the sea of 195 countries across the globe is a real head-scratcher and believe us when we say how daunting this task could be. There are thousands of Indian students that are looking for MBBS abroad options after completing their 10+2, and finding the best option for those students is our ulterior motive.
So, this is why we will discuss the best country for studying medicine right after completing secondary education. To know about it, read the whole article, as you will find it more informative than any other articles there are on the internet, as every information you will need is, in fact, here in this one place.
Why Study MBBS Abroad After 12th?
Reason 1. Medical universities abroad offer a huge number of seats every year for international students. This is the main reason why many students from India opt for MBBS abroad, as there are very few medical and educational institutions in India and even fewer seats.
Reason 2. Many people have a hard time believing this, but the cost of MBBS abroad is way lower than the cost of MBBS in India.
Reason 3. There are various countries whose medical college degrees are recognised on a global scale.
Reason 4. After completing the degree in medicine, various countries allow Indian students to work in that country. They are also allowed to practise in India after completing their MBBS from overseas. All they have to do is to pass the NMC Screening Test.
Reason 5. Various medical institutions abroad help their students with financial aid and scholarships.
Reason 6. The safety of their students is essential for medical institutions abroad.
Reason 7. One of the major attractions of MBBS abroad amongst Indian students is that various MBBS abroad medical institutions use English as their primary language of instruction.
Eligibility Criteria To Study MBBS Abroad After 12th
Before starting, students must know that several countries and their institutions have their own eligibility criteria. So, we will mention the most obvious and significant one found in nearly every country.
| S.no. | Particulars | Description |
| --- | --- | --- |
| 1. | Age Criteria | The min age limit of students required by almost every institution for MBBS abroad is 17. Some institutions also put a max-age limit in their eligibility criteria. |
| 2. | Qualification | The candidate should have completed class 12. The candidate must have an aggregate percentage of at least 50% or above in PCB and have English as a compulsory subject. (The aggregate percentage might also increase in some colleges, whereas a few colleges give SC/ST some relaxation.) |
| 3. | Eligibility Certificate | The candidate should have an Eligibility Certificate issued by the National Medical Commission during foreign admission. |
| 4. | NEET Exam | The last and major point is that students must qualify for the National Eligibility Entrance Exam (NEET). This is compulsory for all the students planning for MBBS abroad. |
MBBS In Russia-Best Country for MBBS Abroad
The best Country for MBBS Abroad is definitely Russia for Indian Students. Studying MBBS in Russia 2022 is easy, cheap and flexible. The country has one of the Best Medical Universities. Admission to MBBS Russia is simple because you can easily apply to approximately 896 universities in 85 regions of Russia without donating to the institute. It sounds like a bell chime. The quality of education by the top MBBS colleges in Russia is the only reason behind it. Russia has always been ahead in education, specifically medicine, making it a premier destination for all Medical Aspirants in India. Pass-outs from Russian Medical Universities are presently working within the leading Hospitals across the world.
Reasons why MBBS in Russia is the best option are listed below:
Reason 1. Tests like IELTS and TOEFL are not required.
Reason 2. The candidate does not need to pay any form of donation or capitation fee.
Reason 3. The medical universities of Russia are recognised by the NMC, WHO, UNESCO, IMED, and FAIMER.
Reason 4. The tuition fees and living costs in Russia are meagre.
Reason 5. Medical universities of Russia are affiliated with the Government of Russia.
Reason 6. Indian students can practise in Russia after passing the Next entrance exam.
Reason 7. The medium of teaching in Russia is English.
Reason 8. Russian medical colleges are famed for their well-maintained medical faculty, advanced labs, and practical teaching techniques.
Reason 9. International exposure is provided to medical students in Russia due to the country's affiliation with the world's universities.
Reason 10. The admission procedure of Russian colleges is straightforward and hassle-free.
Eligibility Criteria For MBBS In Russia
Particulars
Description
Last Month To Apply
September 2021
Basic Eligibility
1. Min age – 17 years
2. Max age – 25 years
3. 50% aggregate mask in PCB
4. A little relaxation to SC/ST.
Qualifying NEET
Yes required
Course Fee
Min- USD 3,500 per year
Max- USD 8,000 per year
Course Duration
7 years including internship period
Medium of Teaching
English
Nationality Certificate
Very much required
Basic Eligibility Details
Best NMC Approved MBBS Colleges in Russia
Some of the top NMC-approved MBBS colleges in Russia are a graphical representation
How To Get Admission In MBBS In Russian Colleges
The first step is obviously to choose the university you want to study for MBBS abroad in Russia.
Fill out the application form of the desired university along with all the documents required for admission.
After reviewing your application form, if the university sees you fitting, they will send you an offer letter or an invitation letter.
Once you receive the offer letter, it proves that you are eligible to apply for MBBS in Russia.
The candidate should apply for a visa at the Russian embassy in India.
Then the candidate is required to deposit the admission fee to the MBBS college in Russia.
Medical Courses Offered In Russia
Apart from MBBS, several courses are offered by Russian medical colleges.
| | |
| --- | --- |
| General Medicine | Pharmaceutical |
| Paediatrics & Surgery | Nursing |
| Dentistry & M.Ch | PG & MDS |
Scholarship Offered In MBBS In Russian Colleges
There are in total of 3 scholarships that are offered at Russian Medical University.
The Russian Government Scholarships
Free Tuition Fees
Students Accommodation
Maintenance Allowance
The Russian Non-Government Scholarships
School of Russian and Asian Studies
Benjamin Scholarships
BP in Russia Research Scholarship
American Council Scholarship
Russia Scholarship For International Students
Moscow Institute of Physics and Technology-Scholarship based on superior academic attainment.
Saint Petersburg Polytechnic University-Individual scholarships are accessible for Master's programs.
Other Top Countries For MBBS Abroad
Apart from Russia, some other countries famous for medical studies are:
Frequently Asked Questions (FAQs)
Q. Is there any entrance exam to study MBBS abroad?
Ans. While planning to study MBBS abroad, if you choose countries like Ukraine, Russia, China etc., you will have to qualify for the NEET exam, an eligibility criterion for admission to many foreign medical universities. Suppose you think of studying in the USA so you will have to appear for the MCAT exam.
Q. Can I get Admission to an abroad University if I am not NEET Qualified?
Ans. This is not possible, but if you choose to study in countries like Germany and the US, you can get admission without any NEET score. In the US, you have to do PG also, and if you opt for Germany, you won't be able to come back to India as the students there have to settle and practice in Germany only.
Q. What are the Merit and Demerits of MBBS abroad?
Ans. Merits of studying MBBS Abroad: The tuition Fee in most NMC-approved universities is much less than that of Indian private universities. There is no donation required; Exposure is New, and different culture.
Demerits of studying MBBS in India: The instant you start inquiring about MBBS abroad, you will be accosted by numerous agents who will try to dupe you. Many students have suffered miserably Because of this.
Q. Which are the safest places for Indians to pursue MBBS abroad?
Ans. While we plan to study abroad, the first thing that comes to our mind is selecting a safe country.
Either your parents or a lot of research before choosing a country or you should also bookmark abroad. Remove the site for abroad information and let us worry about everything.
Q. Which are the Cheapest Places to study MBBS abroad?
Ans. Germany, Ukraine, Kazakhstan, Russia etc.