Now, for those who still believe it's not true, or are somewhat sceptical about it, worries not. Today, we will finally erase all your worries and help you understand why studying MBBS in Ukraine is becoming an elite destination to study MBBS abroad. As we have already mentioned, MBBS in Ukraine is among the best options for studying MBBS abroad. Ukraine has always been a destination that gives a tremendous amount of thinking to education and has always tried to advance itself. It is home to some of the best medical universities globally and recognises various important organisational giants.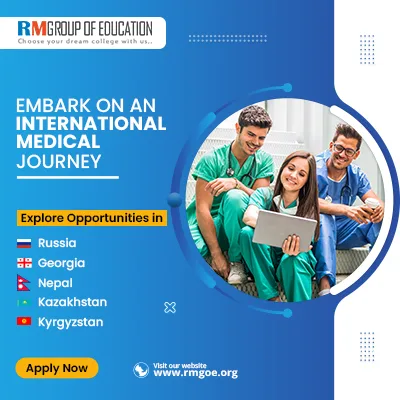 Why Study MBBS in Ukraine
The answer to why studying MBBS in Ukraine is not confined to one; rather, so many points will elucidate this why. So, We have enlisted the Top 10 reasons that make Ukraine a Great MBBS study destination. Let's take a look.
Subscribe to RM Group of Education Newsletter, Get Admission, Fees, Seats etc.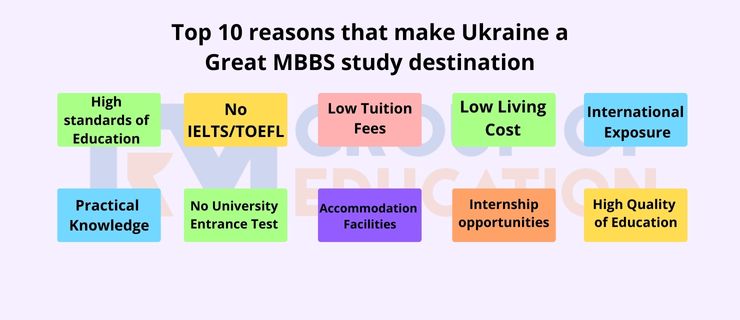 Top 10 Reasons Why Study MBBS in Ukraine
Below we have mentioned the top 10 reasons to why study MBBS in Ukraine. Let's take a look.
Reason 1: High standards of Education
The first reason is Ukraine's high standards of education. The MBBS colleges in Ukraine are the only state-of-the-art and comprise highly qualified and experienced teaching staff. Ukraine medical colleges and their medical courses are recognised by the World Health Organisation (WHO), the Medical Council of India, UNESCO and the European Council. Ukraine's education system and teaching method are recognised on a global scale. The medium of education is English, and for that reason alone, Indian students choose MBBS in Ukraine to reduce language problems.
Reason 2: No IELTS/TOEFL
The second point is that to gain a seat in some of the top MBBS Colleges in Ukraine, Indian medical aspirants do not need to appear in IELTS, TOEFL or any other language test. But various Ukraine Medical Universities have Bilateral Student Exchange Programmes with other universities like Germany, Sweden, Finland, Norway and Poland. This makes another good reason why you are studying MBBS in Ukraine.
Reason 3: Low Tuition Fees
This one is among the major factors that attract thousands of students to Ukraine, the low cost of studying MBBS. We all know that private medical colleges in India are costly when it comes to tuition fees; on the other hand, the cost of MBBS in Ukraine is comparatively low. Not only that, but unlike various private medical and educational institutions in India, medical universities of Ukraine do not take any capitation fees or donations.
Reason 4: Low Living Cost
However, the low-cost factor is not limited to the tuition fee only, as the living cost of Ukraine is also low compared to some other popular destinations for medical education. Students can survive between $100-$150 a month.
Reason 5: International Exposure
Another reason why study MBBS in Ukraine is the chance of synergy with international exposure. One thing that is true for every foreign destination is that students meet with different countries and cultures. This helps them develop an international network that can help them open up opportunities across the globe. It also helps students think beyond their horizon and understands things on different scales, apart from theoretical knowledge.
Reason 6: Practical Knowledge
Apart from theoretical knowledge, what is the other foremost point required while studying MBBS or any other specialised field of science? The answer would be practical knowledge. Books can only give you knowledge enclosed on white pages, but real practical knowledge comes through lab work. Another answer to why you study MBBS in Ukraine is their world-class campuses, laced with modern technologies in their lab and hospitals. This gives students a chance to learn things with the help of the latest technology.
Reason 7: No University Entrance Test
Besides not having to clear IELTS and TOEFL, most medical universities offering MBBS in Ukraine follow simple and easy admission procedures. The best students don't have to give any entrance tests. This gives an edge to Indian students who already face the hassle of competition to get admission to medical colleges in their own country. Hence, once again, proving why studying MBBS in Ukraine is a good option.
Reason 8: Accommodation Facilities
If you are to pursue MBBS or any course from an abroad destination, the quality education that students look for is the accommodation facilities. Education is important, but so is a student's place to live, especially far from the homeland. MBBS in Ukraine comes into play as Ukraine's medical universities hostel are well-maintained and highly secured. Students can enjoy their facilitated accommodation with modern conveniences and a protected environment.
Reason 9: Internship opportunities
Another reason studying MBBS in Ukraine is becoming famous is that Indian students can enjoy many internship opportunities. They allow them to have great clinical practice expertise by serving in multi-speciality government hospitals across Ukraine.
Reason 10: High Quality of Education
Ukraine is among the top nations across the globe to offer MBBS courses. The curriculum of the Ukraine MBBS Colleges is updated each year as per the international standards allowing MBBS students to stay familiar with the latest technologies prevalent in the medical sector. And not just that, but along with top education and quality learning, students can also relish the diverse culture, food, and climate and enjoy a true and memorable learning experience.
Frequently Asked Questions (FAQs)
What is MBBS called in Ukraine?
Bachelor of Medicine and Bachelor of Surgery (MBBS) programs offered by Ukrainian universities are 6 years long. It is the most popular course opted for by the science (PCB) stream students.
Is Ukraine MBBS valid in India?
Yes, the Ukrainian MBBS degree has value in India.
Is Ukraine cheaper than India?
India is 10.9% cheaper than Ukraine.
What can I study in Ukraine?
Medicine Courses, Computer ScienceNursing Courses, Economics courses, Civil Aviation courses, Engineering Courses, MBA and PhD Programs
Is MBBS in Ukraine a good option?
MBBS in Ukraine is a good option as government colleges offer MBBS and MD courses at a feasible rate, and there is no university entrance test like TOEFL or IELTS.
Is NEET required for MBBS in Ukraine?
Yes, NEET is required for MBBS in Ukraine for Indian students.
Read Also: